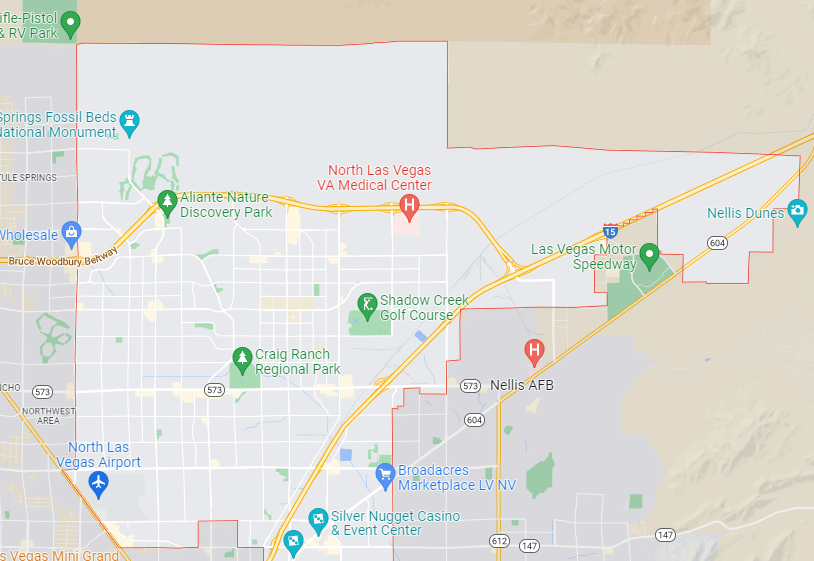 North Las Vegas Personal Injury Attorney
On May1, 1946 in the state of Nevada, North Las Vegas officially became an incorporated city.
Today the city has been estimated at over 250,000 and growing.
North Las Vegas is now the fourth largest city in the state only behind Las Vegas, Henderson and Reno.
The Interstate 15 and the US 93 are two major highways running through this part of Nevada.
With increasing daily traffic those traveling to work can experience busy roads and speeding cars and trucks can make for a dangerous commute.
With weekend travel to Valley of Fire State Park and others just passing through for a vacation the opportunity for accidents rises in the North Las Vegas area.
Beside the fact that it is so close to the world-famous strip, North Las Vegas has a lot to offer when it comes to residential living, casinos, restaurants and parks.
There are endless adventures for those of all ages.
Below is a list of some popular neighborhoods in North Las Vegas:
Craig Ranch
North Ranch
Aliante
Villages at the Tule Springs
Valley Vista
North Las Vegas has some fun casinos which can be high traffic areas and cause accidents for vehicles and pedestrians alike.
Some of the most popular casino and resorts are the Aliante Casino Hotel and Spa, Cannery Casino and Hotel and the old school flavor of Jerry's Nugget Casino.
Whenever foot traffic and motor vehicles share the same space, the pedestrian is always at a disadvantage.
Another area where these worlds can collide is at the Broadacres Market Place and Event Center.
Even a North Las Vegas flea market with vendors of all types.
There is food and drinks and live music and a lot of people.
North Las Vegas seems like a bit of a drive to many of us that live closer to the city of Las Vegas but it is still within 15 miles of Henderson, Spring Valley, Winchester, Sunrise Manor and Whitney.
An accident can occur at any time. You could be sitting at a red light or stop sign and a distracted driver rear ends you.
You can be walking across an intersection and a driver of a vehicle doesn't see you in the cross walk.
Motorcycle and bike accidents occur in North Las Vegas when a driver is unaware you are sharing the road with them.
Call The Richard Harris Law Firm
No matter where you are in North Las Vegas an accident with an injury can occur.
Whether you are in a car accident, motorcycle accident, pedestrian accident, bicycle accident etc., if you are injured by the fault of another you will need a personal injury attorney.
The Law Offices of Richard Harris have been serving the North Las Vegas area for over 40 years.
Our expert personal injury lawyers are ready to help.
Our highly trained staff is available 24 hours a day, 7 days a week.
Remember, our first consultation is always free.
The different types and reasons are endless, but North Las Vegas is no exception to personal injury accidents.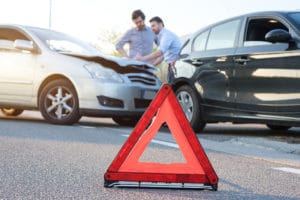 Types of Personal Injury Accidents in North Las Vegas
Car Accident – Automobile accidents in North Las Vegas happen all the time. The amount of injury and damage is often related to how big the vehicles are and how fast they are going. If there is a roll over or direct hit can make a big difference as well.
Pedestrian Accident – The streets of North Las Vegas can be dangerous for pedestrians walking, jogging or standing around. Some of the more dangerous streets in N Las Vegas include: Centennial Parkway, Lamb Road, Anne Road, Lone Mountain Road, N Pecos Road and Alexander Road.
Motorcycle Accident – Out for a ride or even commuting to work can a lot of fun on a motorcycle, but the chance of an accident with injury is far greater. When a motorcyclist goes down the injuries can range from minor to major and even fatal.
Slip and Fall – Often a worker can slip, trip or fall due to the negligence of the employer. This type of workman comp case can be tricky. It is always in your best interest to have a personal injury attorney like Richard Harris to fight the big insurance companies. Slip and falls can also occur at your home, condo, or casino, and may be due to the negligence of the HOA.
Semi-Truck Accident – This stretch of the 215 is often where a big rig starts to open things up again if heading east or west and accidents are always major if a large truck crashes with a vehicle. These large trucks can take time to slow down and may have a hard time seeing smaller vehicles. Give them the room they need for a safe ride.
Bike Accident – Like a pedestrian accident these can really cause injury. Always wear a helmet as a cyclist and take the proper precautions necessary to try an avoid an accident. Vehicles often have a tough time seeing bikes especially if they are pulling out or looking in a side or rear-view mirror.
Other Common Types of Personal injury Accidents
Medical Malpractice
Defective Product
If you ever find yourself or a loved one in any of these personal injury situations it is in your best interest to call a North Las Vegas law firm like Richard Harris.
Our professional attorneys and entire team can help guide you through these turbulent times.
If your case were to go to trial our attorneys will be there every step of the way.
If you are healing an injury often income is lost.
Medical expenses can add up fast.
Our job is to help you focus on your recovery and get you the compensation you deserve.
There are a lot of fun things to do in North Las Vegas, but as we know accidents do happen.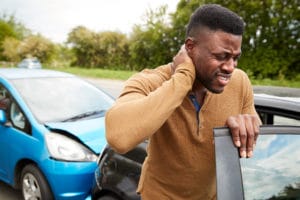 Common Injuries from Accidents in North Las Vegas
Head – Bam! you're sitting at a light in your car and get rear ended. You could go face first into an air bag or steering wheel. Neither one is good. Best case scenario a couple scratches and a little bruising. The alternative is Traumatic Brain Injury (TBI) concussion, loss of memory. All sorts of injuries can occur to the head and face. If you are a pedestrian or on a bike the head can hit the pavement and long-term injury and care could be the outcome.
Neck – Whiplash is quite common in car accidents because the neck moves back and forth too fast leaving strains and torn tendons. This could be minor and take days to heal but in these types of cases medical attention in needed and often takes months to get back to normal.
Arms – Any time an accident occurs a person often will use their arms if they fall to the ground or protect themselves from an on coming object. Broken hands, wrists and arms are common in car accidents when clutching a steering wheel upon impact. Other types of accidents where arms sprains or breaks occur are in trips, slips and falls.
Legs – If you are a cyclist and get clipped by an automobile it is likely your legs will be injured. When a person injures their legs, it can be debilitating. Crutches or a wheel chair may be needed to move around and often this can directly affect a person's working ability. In all the injuries surgery may be necessary which will extend the time of healing.
Spine – Car accidents are a major cause of spinal injuries. If the injury is really bad then a person can lose their feeling in lower extremities and become paralyzed. This can really do a number on a person's life. Long term care and medical attention can be involved and will alter the lives of the victim, family and friends.
Personal Injury Cases and Settlement Amounts
There are a number of defining factors that will determine how much a personal injury case gets paid out.
The insurance companies over the years have created a type of system that takes into account the injuries, expenses and what they are able to settle a case for.
Obviously, all cases come with their own special set of circumstances but State Farm and the others have a general playbook they will go by.
They will usually try and settle at a lower cost at first, especially if you are not represented by a highly trained personal injury attorney.
Here is a list of some common factors
Accident type – Slip and fall, car accident, pedestrian accident, hit by a city bus or semi-truck all play in to the outcome.
Injury type – Head, neck, spine, arms and legs etc. will be all part of the equation.
Severity of injury – Minor cuts and bruises to major head or spinal trauma will determine a large amount of the payout.
Where injury happened – Was it at work, home, city hall or big box store plays a role.
Liable party – Who is the responsible party is important in the determination.
How is work affected – Missing work or not being able to earn a living will be important information.
These are just some of the things that will ultimately determine the outcome in a personal injury case.
The Richard Harris Law Firm is your best bet in a North Las Vegas personal injury case.