Semi Truck Accident Lawyer Las Vegas, Nevada
Representing injured people of trucking crashes in Nevada
If you've been injured in an accident with a commercial truck or semi tractor trailer, the Las Vegas semi truck accident lawyers at Richard Harris Personal Injury Law Firm are dedicated to protecting your rights.
We understand the stress you're facing as the victim of a trucking accident, and we can help you deal with all parties involved.
We want to relieve your burden so you can focus on recovering.
Who's at Fault?
It can be difficult to establish exactly who's responsible when you've been involved in an accident with a commercial truck.
Our Las Vegas semi-truck accident lawyers can help determine who's at fault for your accident, and will make sure they're held accountable for the harm they've done to you.
In many cases, truck accident victims face one or more of the following parties following a crash:
Maintenance contractors—faulty equipment, service lapses, unsatisfactory repairs
Truck drivers—careless, impaired, or negligent behavior
Trucking companies—lack of training, supervision, or safety standards for drivers
Truck Accident Injury Resources
OUR PROCESS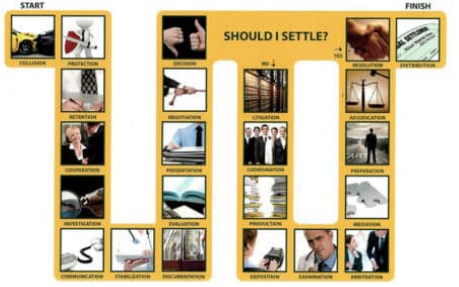 The timeline of a personal injury case can be complex and emotionally draining.
At the Richard Harris Personal Injury Law Firm, we have a proven Case Resolution Process to ensure our team is communicating and preparing you for each stage and the best possible settlement.
READ MORE
Truck Accident Causes
As a truck accident victim, you may be entitled to compensation for your injuries and pain and suffering.
Our Las Vegas truck accident lawyers can help.
We're here to make sure the responsible parties are held accountable for their fault.
Truck accidents may be caused by the negligent actions of other drivers, including:
Aggressive driving
Driving between lanes
Driving under the influence of alcohol or drugs, including prescription medications
Drowsy driving
Failure to inspect and maintain tires, brake lights, or other key components
Failure to install blind spot mirrors
Ignoring road conditions (bridge weight limits, weather conditions, etc.)
Ignoring speed limits (reduced speed zones, construction zones, etc.)
Tailgating
Unsafe lane changing
Distracted Driving
You shouldn't have to suffer because of someone else's wrongdoing.
If you're injured in a truck accident that was caused by distracted driving, the Las Vegas truck accident lawyers at Richard Harris Personal Injury Law Firm can make sure you're treated fairly, and help you get the compensation you're owed.
Distracted driving may be anything that takes the driver's attention from the road and could cause a jackknife situation. Some common distractions include:
Adjusting heat/air conditioning controls
Changing music (CD, mp3, radio, etc.)
Eating or drinking
Grooming
Interacting with passengers
Reading (including maps)
Retrieving objects from other areas of the vehicle
Smoking
Talking on the phone
Texting
Improper Maintenance
Commercial trucks are subject to strict standards for inspection, maintenance, and repair. Failure to meet federal and state service standards is a serious offense that can have tragic, or even fatal, consequences.
When truck accidents are caused by improper maintenance, the Las Vegas truck accident lawyers at Richard Harris Personal Injury Law Firm can help establish who's to blame—trucking companies, maintenance contractors, drivers, or all parties.
Common Maintenance Problems and Related Accidents
Federal Motor Carrier Safety Administration (FMCSA) regulations and Nevada state laws require regular examination of truck components.
Drivers must also complete written inspection reports at the conclusion of each shift worked. Failure to do so may result in:
Brake failure
Disabled signal lights
Rollovers
Tire blowouts
Trailer detachments
Industry Demands
Commercial trucking industry demands are often to blame for semi truck accidents.
Our Las Vegas truck accident lawyers understand the effects of industry demands on truck drivers, and we know how to stand up for victims.
Driver Fatigue
The Federal Motor Carrier Safety Administration (FMCSA) has issued Hours of Service (HOS) rules that limit when and how long drivers can be behind the wheel.
However, industry demands, such as pressure to meet tight deadlines and need for overtime hours, lead many tractor trailer truck drivers to work long hours and take few breaks.
When truck drivers become fatigued they suffer:
Delayed reaction time
Less efficient information processing
Reduced awareness of surroundings
Types of Trucks on The Road
As we all know there are many types of trucks driving on the roads in Nevada.
It is always wise to drive with caution when you are close to larger vehicles.
If you were injured in a truck accident please contact us today for a Free consultation.
These are the most common trucks you'll see on the roads and highways –
Semi Trucks
You've just been involved in a truck accident. What should you do next?
Due to their weight and size, big trucks can cause serious injuries.
After an accident, your first priority should be getting medical treatment. Y
ou should go to the doctor if you're experiencing any pain following your accident, because some injuries take time to become apparent.
In addition to receiving medical attention, there are a few important steps that you can take after a truck accident that may help you build a strong case.
If possible, get the names, phone numbers, and addresses of the other drivers and any witnesses.
You also need to get the name and contact information of the trucking company.
Sometimes trucking companies violate industry regulations to save money.
If a violation caused your accident, the trucking company can be held responsible for your medical bills and vehicle repair costs.
If you can, take pictures of the accident and write down a detailed description of exactly what happened in your accident, including the lane you were traveling in, your speed, and driving conditions. This evidence will help your attorney prepare your case.
After a truck accident, you may have to deal with adjusters who work for the trucking company's insurance provider.
They may show up at the accident scene or call you at home and offer you a "lowball" settlement.
Don't negotiate with them, and most important, don't sign anything. Remember, their job is to pay you as little as they can.
Trucking companies have many resources to protect themselves after accidents.
That's why you need an experienced truck accident attorney to represent you and stand up for your rights.
Our truck accident lawyers know about trucking industry regulations, and we can find out if any were violated that may have led to your accident.
We have years of experience handling truck accidents, and we can investigate your case, gather evidence, and help you get the compensation you deserve for your injuries.
Call us today.
Truck Accident FAQs
What should I do if I'm involved in a truck accident?

At Richard Harris Personal Injury Law Firm, we recommend that you:

See a doctor: Even if you don't think you were injured in the accident, symptoms may take days or even weeks to develop. Your well-being is most important, and immediate medical evaluation can speed healing. Keep records of medical care, treatment, and recovery following the accident—these details may be important to your case.
Collect contact information: for anyone involved in the accident, as well as witnesses. The police report should also include this information if you're unable to record it at the scene.
Don't sign or agree to anything: offered by the trucking company or its insurer. The trucking company is focused on cutting its losses in any way possible and may compromise your rights to fair compensation.
Contact Richard Harris Personal Injury Law Firm: We can protect your rights and help make sure you are treated fairly.
Who can be held accountable for a truck accident?

When you've been involved in a trucking accident, you need to know who was responsible for causing it. Parties who may be held accountable for your accident include:

drivers of other passenger vehicles,
maintenance contractors,
shipping or distribution agencies,
truck drivers,
truck owners,
trucking companies, and
any other entities that contributed to the accident's cause.
How are truck accidents investigated?

The truck accident investigation process is often complex and may involve:

accident reconstruction,
analysis of road conditions, weather, or other environmental factors,
collection and examination of drivers' logs, inspection reports, and maintenance records,
compilation of witness testimony, and
evaluation of vehicles involved, including brakes, tires, steering components, etc.
What type of compensation am I entitled to?

Every case is different, and settlement amounts vary depending on a number of factors. Richard Harris Personal Injury Law Firm handles each case on an individual basis, and while there are no guarantees, we can promise you we'll do the best job we can on your case.
Why shouldn't I deal directly with trucking or insurance companies?

Representatives of trucking and insurance companies will go to great lengths to get the lowest possible settlement, regardless of an accident victim's needs or rights.

Trucking and insurance companies are powerful opponents to face following an accident.

They have experienced legal teams at their service, so you need a strong legal advocate from Richard Harris Personal Injury Law Firm who can support you and help get the compensation you need and deserve.
What should I do if the trucking or insurance companies contact me?

Never speak to representatives of the trucking or insurance companies involved in your accident without talking to your lawyer first.

When we represent you, the insurance company is notified and advised that all further communication must be made through our firm. If you're already working with our lawyers, report any attempted contact to us—we'll handle it.
How can an attorney help me?

Having Richard Harris Personal Injury Law Firm on your side ensures that your best interests are protected throughout every step of your case and provides you with valuable guidance for maneuvering the claims process.

We know how to investigate various potential crash factors in order to determine if someone else's negligent or careless actions caused your injuries.

Our legal professionals are familiar with extensive trucking industry regulations and standards of practice, and we are skilled at collecting and evaluating evidence, including:

Road and weather conditions at the time of the crash
Service and repair records
Signs of excessive wear (brakes, tires, etc.)
Trip inspection and maintenance logs
Truck design or manufacturing defects
Witness testimony
Truck Accident Facts
Each year, truck accidents claim the lives of more passenger vehicle occupants than truck drivers.
The Insurance Institute for Highway Safety (IIHS) reports that nearly 3,200 people died in truck accidents in 2009, and of those fatalities: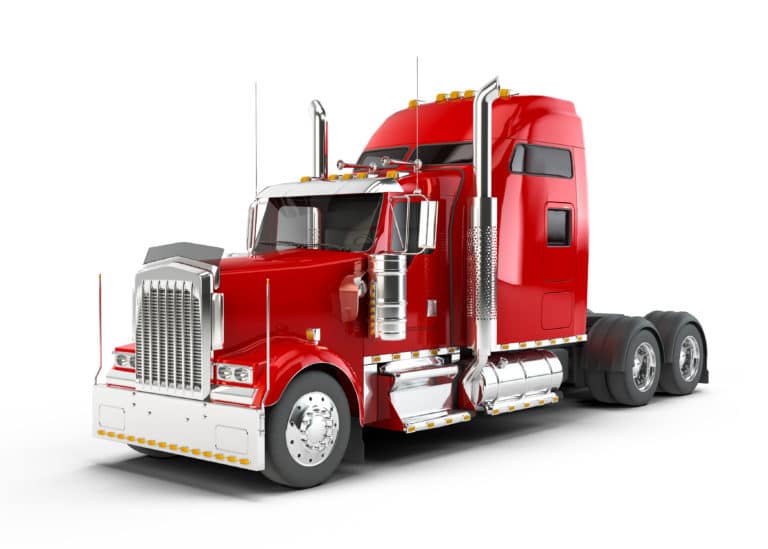 70 percent were passenger vehicle motorists
14 percent were pedestrians, bicyclists, or motorcyclists
14 percent were occupants of commercial trucks
Passenger vehicle safety features may keep you safer in the event of collision with another passenger, but can't provide as much protection against commercial trucks, which can weigh 20 to 30 times as much as a standard sedan.
Whether you were driving professionally in a semi-truck or otherwise, our truck accident lawyers know the complex personal injury and wrongful death laws that pertain to trucking accidents.
We have the skills and experience needed to fight for the compensation you deserve.
Call Richard Harris Personal Injury Law Firm today at 702-444-4444 or fill out a free initial consultation form.