Las Vegas Nursing Home Abuse Lawyer
Due to advances in medical technology and an improved standard of living, the United States life expectancy rate is now 78.9 years. With more Americans living to an advanced age, the need for services for the elderly has increased. Among the many needs senior citizens require, a safe place to live is at the top of the list. Some Las Vegas seniors will be able to stay in their homes for the majority of their lives, with family and friends helping out as needed. For others, an independent living community, or an assisted living facility will be the right fit. For seniors that require daily medical care and assistance, a skilled nursing facility, commonly called a nursing home, may be more appropriate.
The Center for Disease Control (CDC) estimates nearly two million people aged 65 and older are residents of a nursing home, with the need for nursing homes increasing as the population ages. Providing nursing home care for seniors has become a big for-profit business, attracting large corporations that answer to shareholders about the bottom line. Concerns about the profit margin can sometimes become more important than the needs of the nursing home residents, increasing the odds of nursing home abuse and neglect.
Richard Harris Law Firm is a nursing home abuse or neglect lawyer who fights for the rights of seniors in Las Vegas and throughout Nevada. For questions regarding a nursing home abuse lawsuit, contact the Richard Harris Law Firm at 702-444-4444. Victims of nursing home abuse or neglect deserve a personal injury lawyer with legal experience in Las Vegas nursing home abuse law. Contact Richard Harris Law Firm today.
Nursing Home Abuse Accident Injury Resources
OUR PROCESS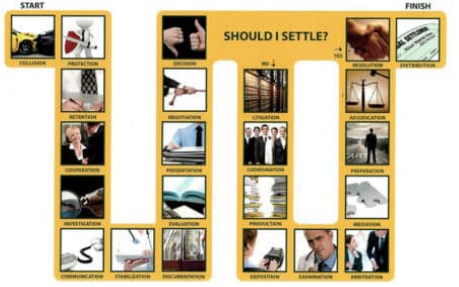 The timeline of a personal injury case can be complex and emotionally draining. At the Richard Harris Personal Injury Law Firm, we have a proven Case Resolution Process to ensure our team is communicating and preparing you for each stage and the best possible settlement.
Nursing Home Neglect or Abuse in the United States
The National Council On Aging reports that 1 in every 10 Americans age 60 and above have experienced elder abuse, that is as many as 5 million elderly seniors are abused each year. Many cases of elder abuse and neglect go unreported and signs of nursing home abuse are often undetected by family and friends. One study found that only 1 out of every 14 incidences of neglect or abuse are ever reported, that is only 20% of cases.
When an elderly loved one needs more care than can be provided at home, the hard decision is made to place them in a nursing home. Family members trust that their vulnerable loved one will be taken care of. Elder abuse in a nursing home is a direct violation of that trust and against the law. Lawyers that specialize in nursing home abuse cases can help families hold nursing homes accountable for their actions. The attorneys at Richard Harris Law Firm are experienced litigators of abuse neglect cases in Nevada and are available 24 hours a day 7 days a week to answer questions. Call Richard Harris Law Firm at 702-444-4444 for help today.
Cost Cutting Measures Endanger Nevada Nursing Home Residents
There are many reasons abuse occurs, one leading cause is lack of staff. Nursing homes in Nevada, and all over the U.S. often suffer from avoidable staff shortages. In an attempt to cut costs, nursing home staff may be limited to the bare minimum and residents suffer the consequences, enduring lack of care, abuse and neglect. Injuries such as falls, broken bones, and bruises increase when there isn't enough trained staff on hand to adequately care for nursing home residents. Nursing home abuse can even lead to cases of wrongful death.
Federal law requires a registered nurse (RN), to be available for at least eight consecutive hours during the day and licensed RN's, practical nurses or licensed vocational nurses 24 hours a day. The law also requires that there is "sufficient staff to meet resident's needs." With these measures in place, it would seem short staffing would not be an issue, however the Center For Medicare Advocacy reports that enforcement of these regulations is extremely rare.
If you believe a family member has suffered injury due to lack of adequate care in a nursing home, an experienced nursing home abuse lawyer can help you hold the facility accountable for their actions.
For questions regarding nursing home abuse contact a Las Vegas nursing home abuse attorney. Richard Harris Law Firm 702-444-4444.
Las Vegas NV Nursing Home Abuse Often Goes Unreported
Nursing home abuse neglect often goes unreported because residents of nursing homes are by definition, unable to care for themselves. Family members trust that their loved one will be cared for and not be subject to injury or abuse, but unfortunately that isn't always the case.
Residents in nursing homes often fail to report abuse because of Alzheimers or other medical conditions that keep them confused. In some instances a resident may not be aware that they are even being abused or neglected. Abuse can come from staff members or another resident of the nursing home.
Often a family member will notice signs of nursing home abuse or neglect before a loved one is willing or able to verbalize what is happening. Nursing home abuse lawyers can help families who suspect their loved one is being abused or neglected. Contact a Las Vegas nursing home abuse attorney at Richard Harris Law Firm for a free legal consultation. 702-444-4444.
Common Signs of Neglect In A Nevada Nursing Home
The terms nursing home neglect and abuse are often used interchangeably, but there is a fundamental difference between the two. Nursing home abuse is the intentional infliction of harm on another person. Nursing home neglect is the failure to provide necessary care for a resident that may result in personal injury.
Warning signs that a loved one may be experiencing nursing home neglect.
Weight loss with no reported change in diet or activity may indicate the resident is not being properly fed.
Unclean clothes or facility
Resident doesn't appear to have showered or bathed recently
Unsanitary living conditions
Medication under or overdose
If you suspect a family member or loved one has suffered neglect in a long term care facility, contact a nursing home abuse lawyer on behalf of your loved one. The attorneys at Richard Harris Law Firm can give solid, experienced legal advice in the practice areas of nursing home abuse law. Call or Text 702-444-4444 for a free, no obligation legal consultation.
Nursing Home Physical Abuse Warning Signs
An elderly family member, residing in a nursing home, may receive injuries that are unintentional and occur during the course of daily living, however, if a resident receives an injury due to the actions of a staff member or another resident, physical abuse may be the cause.
Physical nursing home abuse can include slapping, punching, kicking, pinching or use of excessive restraint. Injury may also be caused by withholding medications or administering prohibited medications.
Signs of physical abuse in nursing homes may include:
Bruises
Broken Bones
Open wounds
Burns
Welts
Other injuries
Nursing home abuse injuries often require medical attention but the real cause of injury may not be reported to family members. Victims may not report abuse because they don't want to cause trouble, or out of fear that the abuse will increase. Some victims are threatened to keep quiet, and others are too incapacitated to report what is happening. Family members are often the only ones who can stand up for their loved one and stop the abuse.
If you suspect a family member is a victim of nursing home physical abuse, the attorneys at Richard Harris Law Firm are here to help. Richard Harris lawyers are experienced professionals ready to fight for justice. Call Richard Harris Law Firm for a free consultation. Available 24 hours a day. 702-444-4444.
Emotional Abuse Harms Residents In Nevada Nursing Homes
Emotional abuse may be harder to see, but it is no less harmful, in fact a World Health Organization study found that 1 out of 3 nursing home staff members admitted to emotionally abusing the residents. Emotional abuse is a deliberate action that causes anxiety, anguish, fear, depression or any other undesirable mental state. Using words that cause a personal emotional pain is considered emotional abuse. Emotional abuse also includes ignoring or failing to respond to a resident's verbal requests. Emotional abuse is just as serious as physical abuse and should be reported to protective services.
Signs emotional elder abuse:
Lack of interest in activities
Fear
Anxiety
Depression
Confusion
Withdrawal from relationships
Declining physical health with no apparent cause
Sexual Abuse In Las Vegas, Nevada Nursing Homes
The thought of a perpetrator taking advantage of a vulnerable senior in a nursing home is abhorrent, but unfortunately it happens all too often. Long term care residents are vulnerable to all forms of sexual abuse. CNN reported that the government has cited more than 1,000 nursing homes for mishandling or failing to prevent alleged cases of rape, sexual abuse and assault. Nursing home staff should always believe a resident or family member who reports abuse of any kind, including sexual abuse, however, this does not always happen. Often, accusations go unheeded and the elderly are left with no way to protect themselves or stop the abuse.
According to the National Consumer Voice for Quality Long-Term Care, residents with dementia are more likely to become victims of sexual assault because of their impaired memory and limited ability to communicate. It often falls on family members to report signs of abuse and ensure the safety of their loved one.
Residents of nursing homes have the right to be free from abuse. Nursing homes have the legal obligation to prevent sexual abuse from occurring and are required to implement safety measures to protect residents. Nursing homes are liable to legal action and lawsuits if they fail in their duty to protect.
Signs of Nursing Home Sexual Abuse
Bruises around thighs, genital area, or breasts
Unexplained infections or STDs
Vaginal or anal bleeding
Torn, stained or bloodied underclothing
Extreme agitation
Suicide attempts
Sudden unexplained fears, anxiety, nightmares
If you suspect a loved one is being abused in a nursing home, do the following:
Ensure immediate safety

Report abuse to administration

Call 911 or the police department

Obtain medical attention

Call Nevada State Licensing and Certification Agency

Call Adult Protective Services

Contact a Long-Term Care Ombudsman

Contact an attorney
Nevada Law Firm Helps Abuse Victims
Fighting for justice after abuse can be overwhelming. Often victims and their families don't know where to turn for help. Richard Harris Law Firm is a personal injury attorney in Las Vegas, Nevada, dedicated to helping victims get justice. With a 98% success rate, the attorneys at Richard Harris have the skills and experience necessary to hold nursing homes accountable for any elderly abuse that occurs in a Nevada facility. You don't have to fight alone.
If you or a loved one have been abused in a Nevada nursing home, you may be entitled to compensation for:
Medical Expenses
Compensation for pain and suffering
Punitive Damages
Richard Harris is a full-service law firm with years of experience and dedication in personal injury law. Working hard for victims, Richard Harris has won over $1 Billion dollars for their clients. The staff and attorneys at Richard Harris Law Firm are available 24 hours a day. You can call or text 702-444-4444 or go to richardharrislaw.com and fill out a simple contact form.
Articles and more information on Nursing Home Abuse Accidents