Millions of people visit Nevada each year for its world-renowned entertainment. Yet Nevada's allure does not begin or end with its most popular attractions. Nevada is rich in Wild Western history and natural beauty; from the lush forests and alpine lakes in the north to the stark distinctive contrasts of the deserts in the south. To know Nevada is to love it. Like the Native Americans and explorers who discovered this area for all to experience, Nevadans are adventurous, resilient and fiercely independent.
Behind the spectacular skylines, the State of Nevada is built on community. Since the earliest days of our State's history, people have worked together to make Nevada great, welcoming citizens of all cultures and beliefs and advocating for the causes that bring us together. The Richard Harris Law Firm stands by its commitment to enrich the communities we serve, and we are proud to present Spirit of Nevada, featuring exceptional people, places, charities and other organizations making Nevada a better place.
Each week, Spirit of Nevada recognizes local heroes, activists and caretakers of our heritage who embody the essence of what it means to be "Battle Born." From non-profits helping feed the hungry to supporting the arts, healthcare initiatives and our military, there is no shortage of people, places and organizations enriching our lives.
Meet Our Host, Samantha Chian
We'll explore extraordinary people and places through Spirit of Nevada, with host, Samantha Chian. "What makes me most excited about Spirit of Nevada is that not only do we have the opportunity to share inspiring stories, but we're also giving the people and organizations a new platform to spread their message," Samantha said. "My hope is that our local heroes will reach a new audience and encourage the community to come together and support worthy causes."
Spirit of Nevada Recipients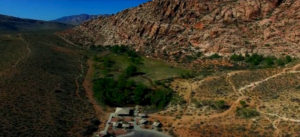 With flowing natural springs, sandstone cliffs and spectacular desert scenery, it's an exquisite sanctuary right outside Las Vegas. Our host, Sam, visits Calico Basin in the Red Rock Canyon National Conservation Area.
The mission of the Nevada Test Site Historical Foundation is to preserve and foster public accessibility to the history associated with the Nevada Test Site and the nation's nuclear weapons program. The NTS Historical Foundation promotes and supports cultural, educational, and scientific programming to encourage the development and public exchange of views regarding the Nevada Test Site and its impact on the nation. The major program of the Nevada Test Site Historical Foundation is the National Atomic Testing Museum.
Three Square's mission is to provide wholesome food to hungry people, while passionately pursuing a hunger-free community. The non-profit organization combines food banking (warehousing canned and boxed goods), food rescue (obtaining surplus or unused meats, bread, dairy and produce from hospitality and grocery outlets), and ready-to-eat meals to be the most complete food solution for Southern Nevada.
Toys 4 Smiles' mission is to provide a toy to children of all ages in need of a smile, while providing a sense of purpose, caring, and community to the volunteers of Toys 4 Smiles.
These toys are not simply playthings, but tools that help unlock a child's ability to think, to be creative, and to cope with the world around them.
By the St. Baldrick's Foundation working closely with leading pediatric oncologists, they determine the most promising research to fund and create funding priorities to make the greatest impact for children with cancer. Here are some creative ways they're doing just that:
Providing hospitals the funds to open high-impact clinical trials for rare disease types, placing more children on studies to increase the rate of progress, while also increasing the likelihood for a child to receive the best treatment plan in a hospital near home.
Funding researchers to work together, so that research currently underway by the best and brightest investigators is shared between institutions, and even across continents, giving all children with cancer the best chance for a cure.
Training the next generation of researchers—in 2005, a shortage of pediatric oncologists was predicted, and the St. Baldrick's Foundation stepped in to ensure that every child with cancer will have a doctor and tomorrow's research will not be interrupted.
Funding supportive care research to improve the quality of life for patients and survivors. Supportive care research addresses the side effects of treatment, long-term effects faced by survivors, psychosocial aspects of childhood cancer and more.
Nevada School of the Arts provides world-class music instruction and a life-changing experience to students of all ages and backgrounds for generations to come. Our mission is to ignite a lifelong passion for the arts by inspiring, enlightening and nurturing an appreciation of music.
For nearly 40 years, the Nevada School of the Arts has offered arts education to residents of the Las Vegas valley. A non-profit 501(c)(3) educational institution, we are the state's only member of the National Guild of Community Schools of the Arts and hold "Certified Member" status.
Their students are recognized locally, regionally and nationally for the excellence of their work. Their faculty includes many of southern Nevada's most gifted music and art educators. Community leaders, parents and faculty serve on their Board of Trustees.