Las Vegas Drunk Driving Accident Lawyer
For decades, drunk or impaired driving has been a serious concern. When a person decides to get behind the wheel after using drugs or alcohol, he or she puts everyone on the road at risk. There is little wonder why drunk driving is considered to be a crime.
The aftermath of a drunk driving accident can be devastating. After a crash, you are likely reeling from the physical and emotional effects and may feel helpless or lost as to your next steps. Be assured that a drunk driver who causes property damage, personal injury, or death should be held accountable for his or her negligent actions.
If you or a loved one has been the victim of a drunk driving accident in Las Vegas, NV, contact Richard Harris Law Firm for a free consultation at 702-745-8555 to learn how we can help you. We are available 24/7 by phone or text to give you the help and support you need to move forward after an accident.
Drunk Driving Accident Resources
OUR PROCESS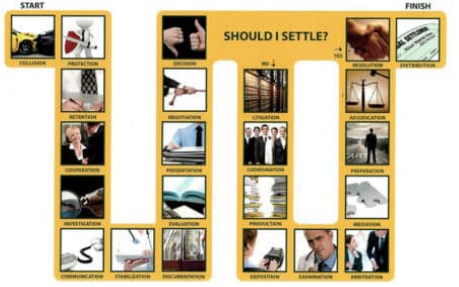 The timeline of a personal injury case can be complex and emotionally draining. At the Richard Harris Personal Injury Law Firm, we have a proven Case Resolution Process to ensure our team is communicating and preparing you for each stage and the best possible settlement.
What Constitutes Impaired Driving in Nevada?
In the State of Nevada, for a driver to be considered driving under the influence, he or she must meet certain requirements:
A blood alcohol content (BAC) of over 0.08
If driving a commercial vehicle, a BAC of over 0.04
If an underage driver, a BAC of over 0.02
While a BAC of 0.08 is generally the equivalent of 4 or 5 drinks, this is not the same for everyone. Each person reacts differently to alcohol, depending on physical size, medical conditions, and other personal details.
A driver who exceeds the blood alcohol limit is considered to be driving under the influence, whether there were visible signs of impairment or not. On the other hand, if someone is under the legal limit but shows visible signs of impairment, he or she can still be charged with a DUI.
It is each driver's responsibility to make sure he or she is not impaired when getting behind the wheel. Overconfidence can lead to disastrous results, and drunk driving accidents often turn deadly.
DUI Statistics in Nevada 
According to statistics by responsibility.org, alcohol-impaired fatalities are on the rise in our state. Here's what they found:
From 2009 to 2018, fatal drunk driving accidents increased by 11.6 percent in the general population and 36.9 percent in youth under the age of 21
Nearly 11,000 DUI arrests were made in 2018
Over 26 percent of all 2018 traffic fatalities involved alcohol impairment
Clearly, despite the many programs and organizations dedicated to raising awareness and reducing DUIs, drunk driving accidents continue to happen. The lawyers at Richard Harris Law Firm handle drunk driving accident cases in Las Vegas each year.
Legal Steps After a Drunk Driving Accident in Las Vegas
Since drunk driving is a crime, there may be a criminal case filed against the drunk driver after a DUI accident. He or she can face certain consequences, such as a fine, license suspension, or even jail time. The legal consequences depend on the nature of the accident as well as the driver's past history of driving under the influence.
The aim of a criminal case isn't the same as a civil suit or insurance claim, and a person does not need to be found criminally responsible for the accident to set a civil suit in motion. When you work with one of our Las Vegas attorneys at Richard Harris Law Firm, your personal injury lawyer will take the time to follow certain legal procedures and build a solid case.
Determining liability
While finding who was at fault for a drunk driving case may seem to be a simple task, it is often more complex than you might think. The driver is not the only person who can be held responsible for the crash, which may be a key factor in maximizing your compensation.
.Your lawyer can investigate after the DUI accident fully to determine all at-fault parties. This might include:
The vehicle or part manufacturer: There may have been a faulty car part or function, such as the brakes, tires, or lights that contributed to the crash.
The business that served the driver: In some cases, a business that knowingly served alcohol to someone under 21 can be held liable if that person caused an accident.
The local government: Insufficient road maintenance, missing safety features, or other negligence on the part of the municipality can also be partly at fault for the accident.
The owner of the vehicle: If the vehicle owner knowingly allowed someone who was under the influence to drive, the owner can be held partially responsible for the crash.
Identifying all at-fault parties is important to ensure you can receive the maximum compensation available. Each case is different and has a unique set of circumstances. There is no "one-size-fits-all" drunk driving claim; our team at Richard Harris Law Firm can provide the careful attention your case – and you – deserve.
Determining compensation
After being involved in a drunk driving accident in Las Vegas, NV, you or your family members may be suffering from deep emotional trauma, extensive personal injury, and crippling financial hardships related to medical care. Perhaps you're grieving the loss of a loved one. These devastating effects often last for years, while some may change your life forever.
Your lawyer can determine the economic and non-economic compensation you are eligible to receive, such as:
Lost wages and future income
Past and future medical expenses
Property loss and damage
Pain and suffering
Loss of limb or disfigurement
Punitive damages
One of our experienced Las Vegas drunk driving accident attorneys at Richard Harris Law Firm can look at your case to help you determine your next steps. We want to make sure the negligent parties are held responsible for the harm they caused.
If the insurance policies involved are not enough to compensate for your damages, a civil suit might be necessary. When you work with a drunk driving accident lawyer, he or she will not hesitate to do what it takes to get you the maximum compensation available for your case.
Call for a free consultation to learn more about how an accident attorney can help you after a DUI accident, so you can recover due compensation for your lost income, medical expenses, or pain and suffering caused by a drunk driver.
Insurance Regulations in Nevada
The State of Nevada sets out a minimum level of insurance required for non-commercial passenger vehicles:
$25,000 for bodily injury or death of 1 person
$50,000 for bodily injury or death of 2 or more people
$20,000 for property damage
Depending on the drunk driver's insurance limits, this amount of compensation may not be enough to cover the extensive damages and pain and suffering experienced by the accident victims.
With the average hospital stay in the US costing nearly $16,000, the minimum insurance limit can quickly be used up, without leaving much left for other damages resulting from the accident. Especially with serious injuries such as a spinal cord injury, traumatic brain injury, or permanent disability, the medical bills related to the accident can be sizable.
When the amount of insurance available is less than the total damages, the driver is considered to be underinsured. Uninsured/underinsured motorist coverage is not mandatory for Las Vegas drivers, but it offers extra protection and can provide additional compensation after you are in a no-fault accident. If you have this coverage, your insurance company may pay for your medical costs that weren't covered by the drunk driver.
A warning about insurance companies
You may feel that your insurance policy is enough to cover any damages you have suffered, especially when the other driver was at fault. However, even though insurance companies may seem to look out for your interests, it's important to remember that they are still companies primarily interested in their bottom line.
In an effort to cut costs and increase profits, insurance companies often try to deny claims or offer the lowest settlements possible to the victims of drunk drivers. Insurers may try to rush you into accepting compensation before your total damages are understood, or before you are made fully aware of your legal rights.
Make sure you don't talk to the insurance company until you have contacted one of the attorneys at Richard Harris Law Firm. In a free consultation session, we can discuss your case and provide the advice you need to protect your rights.
How Our Las Vegas, Nevada Car Accident Lawyers Fight For You
The emotional and physical wellbeing of your family is what is most important. But we know that it can be difficult to start down the path of recovery when dealing with financial stresses and mounting bills. When you work with one of our drunk driving accident attorneys at Richard Harris Law Firm, though, you don't have to handle the legal stresses of your case on your own.
While you focus on your recovery and your family, our team can investigate your case and file a strong claim on your behalf. This investigation can include examining police reports or other important documentation after an alcohol-related motor vehicle accident.
We can handle the communication with the insurance companies and protect your rights to ensure you receive fair compensation for the damages caused by the accident. If you are unsure about the specifics of your case or your legal rights, contact us today for a free consultation. We will be happy to put our 40 years' experience at work for you or your loved one.
Articles and more information on Slip and Falls Accidents