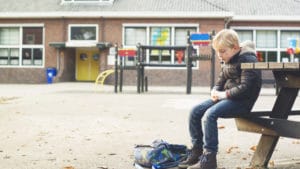 Off to school! An integral part of your daily life as a parent is sending your child to school. In fact, it is the law. For children ages 6 to 16, it is compulsory to be enrolled in school whether it is public, private, or homeschool. Schools are designed to be a place of safety and security for our children. Once they are on school property, the school has a responsibility to their students for a reasonable duty of care – school staff and administration are charged with students' well-being and with protecting them from foreseeable harm. There is even a specific term referring to the school's role as acting in loco parentis, or "in place of the parent." In the State of Nevada, children spend approximately 180 days per year in school. With that, it is inevitable that accidents will occur. Understandably so, when your child comes home with a scrape or bruise, we tend to dismiss it as the usual wear and tear from kids being kids. But what happens if your child is seriously injured on school property? Who is responsible and where do you turn? There are so many questions you may have.
Can you sue the school if your child is injured on school property?
Yes, you can. The injury must have occurred on school property during school hours. An attorney may be able to recover the financial cost of medical bills, the emotional cost of pain and suffering, and more depending on the nature of the accident and the extent of the child's injuries. The law varies based on whether a school is public or private when it comes to what steps you must take in order to hold the school accountable for the incident.
Child Injury in a Private School
When a child is injured in a private school, parents are able to sue the school itself.
Child Injury in a Public School
Public schools are government entities, therefore, if your child is injured in a Nevada public school, you must follow very specific procedures in order to file a claim. There must first be a report of the incident filed with the school district within a 60- to 90-day window. In order to proceed with filing a lawsuit, you must then wait until either the school denies your claim, or the school takes no action within a three- to six-month time period.
Nevada school districts are liable for incidents on school property due to negligence, including, but not limited to:
Premises liability violations resulting in bodily injury such as slip and falls.
Harassment by a teacher in the form of bullying or sexual harassment.
Bus accidents caused by the negligence of the bus driver violating the laws of the road.
Injuries sustained during school sports or activities.
Neglecting to provide medications.
Discrimination of a student based on (but not limited to) race, gender, or gender identity.
Inadequate security on the premises to keep students safe from outside harm.
What if my child was injured by a teacher?
Nevada's school districts can be held liable for teacher's actions in certain instances under its waiver of sovereign immunity law, which gives people the ability to sue the school for the negligence of a teacher or its staff member. When a teacher is doing their job as it is intended, and an accident occurs due to their carelessness or negligence, the school is responsible. One of the conditions under the sovereign immunity waiver protects Nevada schools from being sued for more than $100,000 for employee negligence. They are also protected from paying out punitive damages. On the other hand, in cases of intentional misconduct by a Nevada school employee, those conditions do not apply if the school is found negligent. It is the school's responsibility to perform their due diligence when hiring teachers and staff by conducting thorough background checks. Furthermore, if a teacher is found to be unfit for their position and no action is taken and they commit an intentional wrongful act, the school itself can be deemed negligent. Nevada schools are charged with proper supervision and disciplinary action for their employees. If the school fails to carry out this duty and a student is injured due to a teacher's intentional improper behavior, the school can then become the responsible party.
Unlike public schools, private schools do not have a cap on the amount that can be paid out for recovery of damages if an employee is found negligent. They can also be sued for punitive damages.
What if my child was injured by another child at school?
In most cases where a child is injured by another child at school, the parents are the liable party. If there is negligence on the part of school staff such as inadequate supervision, the school may be liable.
If my child was injured on school property after school hours, who is responsible?
Nevada schools are not liable for accidents that happen on school property after hours.
Is the school liable if my child becomes ill or gets food poisoning from school cafeteria food?
In many cases, school food is provided by an outside vendor. If that food then causes your child to become ill, the manufacturer would ultimately be liable for their product's safety. On the other hand, if the cafeteria is serving food provided directly by the school, the school is liable and its negligence may be grounds for a lawsuit.
Do I need a lawyer to represent me in a lawsuit if my child is injured on school property?
The procedures you must follow before ever filing a lawsuit with a Nevada school are very specific. An experienced attorney is necessary to navigate these strict guidelines and bring the school and/or its employee to justice for the negligence that caused your child's injury. The Richard Harris Law Firm has represented thousands of Nevada families in the last 40 years. Contact us immediately so we can help your family, too.