Las Vegas Brain Injury Lawyer
An injury to the brain or spinal cord can change a person's life in an instant. Survivors of a traumatic brain injury (TBI) in Las Vegas often face life-long challenges, such as loss of physical and mental abilities, as well as their independence. The family of the TBI survivor also faces the challenge of caring for their loved one and affording the daily care and medical treatment needed.
The financial repercussions of a brain injury can be difficult to manage. Even if you are receiving disability payments, these might not even be enough to fully cover your medical expenses. If you or someone you love has suffered a brain injury due to the negligent or reckless actions of someone else, it is well within your legal right to pursue financial compensation from the at-fault party.
The compassionate personal injury attorneys at Richard Harris Law Firm in Las Vegas, NV, are committed to helping victims of traumatic brain injuries and their families recover financial compensation for their losses. We are a full-service firm, and personal injury law is one of the practice areas that we cover. Call or text us 24/7 at (702) 444-4444 or complete the online evaluation form to schedule your free initial consultation with a traumatic brain injury attorney.
Las Vegas Brain Injury Resources
OUR PROCESS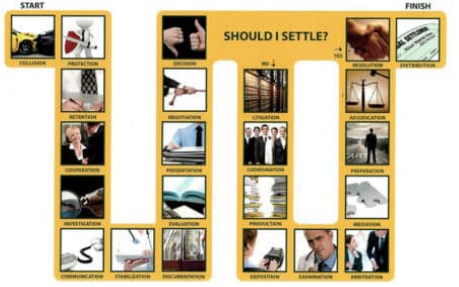 The timeline of a personal injury case can be complex and emotionally draining. At the Richard Harris Personal Injury Law Firm, we have a proven Case Resolution Process to ensure our team is communicating and preparing you for each stage and the best possible settlement.
What is a Traumatic Brain Injury?
A traumatic brain injury (often referred to as a TBI) usually results from a violent blow or jolt to the head or body. A TBI can also occur if an object pierces the brain tissue such as a bullet or a shattered piece of skull. The symptoms of a TBI range from moderate to severe. Some people recover over time, but others suffer brain damage and are left to cope with the symptoms for the rest of their lives.
The following are some common causes of traumatic brain injuries in Las Vegas, Nevada:
Sports injuries
Physical assault
Blast injuries from explosions
Child abuse
Being hit by a blunt object
What Are the Symptoms of a Traumatic Brain Injury?
The symptoms of a traumatic brain injury vary, depending on the type of injury and the extent of the brain damage that the victims have suffered. If you suspect that you or a loved one has suffered a brain injury, you should seek medical attention immediately.
Mild TBI symptoms may include:
Loss of consciousness
Headache
Dizziness
Confusion
Blurred vision
Fatigue
Irritability
Difficulty with memory and concentration
Moderate to severe TBI victims may have the same symptoms as a mild head injury. In addition, symptoms may include:
Severe headache or migraine
Nausea
Vomiting
Seizures
Slurred speech
Loss of bowel and bladder control
Short term memory loss
Loss of coordination
Weakness in arms and legs
Children's symptoms are important for parents to be alert to, especially since small children may not be able to communicate how they are feeling. If a child has suffered a serious brain injury, he or she may display one or more of the following symptoms:
Persistent crying or being inconsolable
Change in nursing or feeding habits
Irritability
Drowsiness
Change sleep routine
Depressed
Loss of interest in favorite toys or activities
Why Hire a Las Vegas Traumatic Brain Injury Lawyer
After suffering the effects of a traumatic brain injury, a victim and his or her family may be wondering if they should simply pursue a claim through the insurance company on their own or hire a brain injury attorney. While filing a claim on your own is certainly your right, it probably isn't in your best interest. Sadly, most people who have suffered traumatic brain injuries fail to get the full amount of compensation that they're entitled to unless they have hired a lawyer.
The following are some of the many benefits to having an experienced Las Vegas brain injury attorney on your side.
Gather evidence and build a solid case
Traumatic brain injury cases are complex and can be difficult to prove. You need to have solid evidence that your injury was caused by another person and that he or she is legally liable for your head injuries. It's important to have an experienced and strong litigator on your side who can build a strong defense for you.
The Las Vegas brain injury lawyers at Richard Harris Law Firm have decades of experience successfully handling serious brain injury cases, and the outcome of each client that we serve is important to us. If you have suffered a serious head injury due to a motor vehicle collision or some other accident, contact our law office to schedule a free consultation.
The following are some of the steps that our legal team may take to build a solid case for you:
Speak to witnesses of the accident and ask them to testify on your behalf
Request police or accident reports that detail the events of the incident
Have your medical reports reviewed by medical experts and ask them to testify if needed
Gather evidence showing how your work, family, and personal life have been affected by the accident
Calculate the true value of your Las Vegas brain injury accident claim
Present your case to the insurance company or court
Negotiate a fast and fair settlement
After you file a Las Vegas brain injury claim, the insurance company will contact you, perhaps telling you that your claim has been denied. Or they may try to negotiate a quick settlement with you. It's unwise to accept a quick settlement before the full extent of your injuries and losses are known. Keep in mind once you accept an offer that's usually it, you can't go back and ask for more money.
As medical bills pile up and you're unable to return to work, it may be tempting to accept the first amount that the insurance company offers. However, it's in your best interest to hold off on a settlement until first consulting with an attorney from our Las Vegas personal injury law firm.
Our experienced traumatic brain injury lawyers will offer you trusted legal advice and can fight to obtain top compensation for you. There may be various types of damages available to you that you're unaware of. The brain injury attorneys at Richard Harris Law Firm in Las Vegas, NV, are excellent negotiators. We will explore all forms of compensation available to you and fight to get you the maximum amount.
If your brain injury is permanent, we will work hard to ensure that you have the medical care and benefits that you need for the rest of your life. Contact us today to schedule a free consultation.
Look out for your best interests and provide peace of mind
Traumatic brain injury victims sometimes lose their motivation and confidence during the legal process. Filing claims, making endless phone calls, and negotiating with insurance companies can be overwhelming even when a person is at his or her best. After a traumatic accident, juggling legal concerns along with everything else might be more than you can handle.
If you feel emotionally drained, you may be tempted to just settle for the amount the insurance company is offering and be done with negotiations. But don't cut yourself short.
When you hire our Las Vegas brain injury lawyers, though, we can take care of all the complicated aspects of your case and give you the motivation and peace of mind to achieve the best possible outcome. Our law firm will protect your best interests and ensure that you get the best medical care available to you and the monetary compensation you need as you recover.
Compensation After Your Las Vegas, Nevada Traumatic Brain Injury
The caring Las Vegas brain injury attorneys at Richard Harris Law Firm understand that no amount of money can compensate for the losses that you have suffered due to a traumatic head injury. However, a monetary settlement can help ensure that you receive the medical care you need and take some of the financial burdens off of your shoulders.
During your free consultation with us, a traumatic brain injury lawyer will sit down with you and listen as you describe how the accident occurred and the extent of your resulting injuries. After taking on your case, we can then formulate a plan of action for pursuing financial compensation for your losses.
Depending on the circumstances surrounding your accident, our Las Vegas brain injury lawyers may pursue compensation for:
Medical expenses
Lost wages
Loss of future earning potential
Rehabilitation therapy
Disability
Pain and suffering
Mental anguish
Short or long term disability
Post-traumatic stress (PTSD)
Loss of consortium
Contact a Las Vegas, NV Traumatic Brain Injury Lawyer Today
At Richard Harris Law Firm in Las Vegas, our clients are the center of all we do. Our goal is to support you, make the legal process as effortless as possible for you, and help you recover the compensation you and your family need at this difficult time.
The lawyers at our personal injury law firm are passionate about helping the residents of Las Vegas, Nevada. We are dedicated to making sure that our clients are satisfied with the settlement and results that we achieve on their behalf.
Our legal team firmly believes that open and honest communication with our clients is important. We promise that we will listen to you and work hard to keep you updated as your case develops.
Call or text us 24/7 at (702) 444-4444 or complete the online evaluation form, to schedule a free consultation. Our Las Vegas brain injury attorneys work on a contingency fee basis, which means you'll pay absolutely nothing out of pocket. If you or your loved one is unable to visit our offices, we can schedule a virtual visit or come to you.