Las Vegas Bicycle Accident Lawyer
Las Vegas is a bustling place with a constant flow of traffic, with cars, trucks, pedestrians, and bicyclists moving in every direction. Collisions between motor vehicles and bikes are common, and driver and bicyclist distractions are often contributing factors. Some bicycle accidents are minor scrapes, while others sadly result in serious injuries and even fatalities.
Many drivers are unprepared to respond to a bicycle collision, and there are often misunderstandings centering around bike accidents. If you or a loved one was seriously injured in a bicycle accident, our experienced Las Vegas bicycle accident attorneys want to help. We can inform you of your legal rights and assist you in pursuing the financial compensation you deserve for medical treatment and other damages.
If you have been involved in a Las Vegas bicycle accident and are considering filing a claim, contact Richard Harris Law Firm as soon as possible. Our full-service law firm has been serving Las Vegas and the surrounding area for over 40 years. Contact us today to schedule your free consultation, you can call or text us 24/7 at (702) 444-4444 or fill out our online evaluation form.
Common Causes of Bicycle Accidents in Las Vegas, Nevada
Bicycle accidents can happen on public or private streets, or even in parking lots, for many different reasons, including:
A driver opens the vehicle door in the path of the bicyclist
A driver backs up or attempts to merge into traffic without seeing (or checking for) the bicyclist
Failure to stop at a red light or stop sign
Poorly maintained roads
Poor visibility
Reckless driving
Stopping suddenly or swerving to avoid a hazard
Driving under the influence of drugs or alcohol
Distracted driving, including texting
Improperly parked or maneuvered cars
Bicycle Accident Injury Resources
OUR PROCESS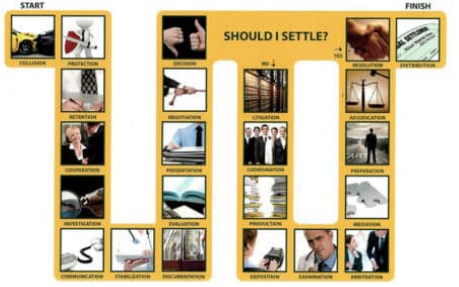 The timeline of a personal injury case can be complex and emotionally draining. At the Richard Harris Personal Injury Law Firm, we have a proven Case Resolution Process to ensure our team is communicating and preparing you for each stage and the best possible settlement.
What is a Bicycle Hit-and-Run?
A hit-and-run is defined as an accident where someone hits a vehicle, pedestrian, bicyclist, or fixed object and then leaves the scene without stopping to identify themselves or provide assistance to any victims. In the State of Nevada, it doesn't matter whether or not a person caused the accident; a hit-and-run offense is committed if a person leaves the scene of the bike accident without exchanging contact and insurance information – it's as simple as that.
If someone hits you, that person is legally required to stop, make sure you are okay, and inform the authorities. This goes the same for anyone riding a bicycle who has a collision with a pedestrian or parked car. Failure to do so is considered a hit-and-run under state law and could result in fines, driver's license suspension, points on your license, and even time in jail.
Steps to Take After a Las Vegas Bicycle Accident
The steps that you take immediately following a Las Vegas, NV, bicycle accident may determine the outcome of your bicycle accident claim and the amount of financial compensation that you receive.
The following steps can be beneficial to both your health and your finances:
Call for emergency assistance. This should be the first step that you take after being involved in any type of personal injury accident. Sometimes injuries aren't always apparent, so it's better to err on the side of caution and seek medical attention. Even if there aren't any injuries sustained, it's important to call the police so that there will be an official report filed documenting the accident.
Exchange information. Gather names, addresses, phone numbers, license plate numbers, and insurance information for all drivers, bicyclists, pedestrians, and others involved in the incident. If you hit a parked car while on your bicycle, try to locate the owner. If you're unable to do so, then record information about the vehicle and leave your information for that person to contact you.
Take photos of the scene. If possible, photograph the bike accident scene before moving your bicycle or leaving the scene. Take pictures of vehicle damage, broken glass, weather conditions, property damage, and anything else that seems like it might be relevant. Some insurance companies have mobile apps that allow you to upload photos when you file a bicycle accident claim.
Seek medical attention as soon as you can. Even if the bicycle collision is seemingly minor, you should see a doctor right away. Your injuries may be more extensive than they first appear. What's more, a timely medical report will go a long way towards backing up your claim.
Contact a Las Vegas bicycle accident lawyer. If you were seriously harmed, it's important to reach out to an experienced Las Vegas personal injury attorney. He or she can inform you of your legal rights under Nevada state law, negotiate with the insurance company, and ensure that you get the maximum amount of compensation that you deserve. Call or text the compassionate bicycle accident lawyers at Richard Harris Law Firm to schedule a free consultation. We can handle the insurance negotiations on your behalf.
When You Need a Las Vegas, NV Personal Injury Lawyer After Your Bicycle Accident
If you have been involved in a bicycle accident, you may be wondering whether you need to hire a personal injury lawyer or if you can just file an insurance claim on your own. To be sure of taking the right steps, contact Richard Harris Law Firm and schedule a free consultation with a member of our legal team.
We can review the details of the incident, discuss your case with you, and let you know whether you should hire an attorney experienced with bicycle accidents. Settling with the insurance company on your own just may not be a viable option.
The following could indicate that you need a trusted personal injury attorney on your side:
You were injured in the bicycle accident
There was property damage as a result of the collision
You lost wages due to being injured
Your insurance claim was delayed or denied
You're unable to file an insurance claim
The compassionate legal team at Richard Harris Law Firm stands ready to assist you following your bicycle accident.
Determining Fault After Bicycle Accidents
It is not always easily understood who has the right-of-way between a bicycle and a car, which further complicates matters. At Richard Harris Law Firm, though, we work in a wide range of practice areas, including bicycle accidents. We therefore have the experience, resources, and experts needed to thoroughly investigate bicycle accidents, determine fault, and identify all possible liable parties.
After a bike accident, it must be determined who was negligent or careless. Did you hit a parked car with your bicycle and leave a scratch? You are likely to be found to be liable for the resulting damages. On the other hand, if the car was parked illegally, this could sway the determination of fault. A Las Vegas bicycle accident attorney can help fight your case.
One or more of the following parties may also be found liable for any sort of collision, involving a bicycle or not:
Drivers: All drivers have a duty of care to follow safe driving practices and be alert to their surroundings to keep everyone safe around them. When their failure to do so results in a collision, they could be found negligent.
Passengers: Passengers typically aren't found liable for collisions, but there are some accident cases where they could be held responsible. For instance, if a passenger intentionally diverted a driver's attention and this resulted in a collision, he or she could be held accountable for those negligent actions.
Pedestrians: These days, people are often caught looking down at their phones while walking instead of paying attention to their surroundings. As a result, they may step directly into the path of a bicycle or another moving vehicle.
Parking lot facilities: Premises liability laws in Nevada require that property owners keep their land safe and well maintained. If parking lots have potholes or other hazards, they should be corrected in a reasonable amount of time. If the property owner knew of the hazard and failed to correct it, he or she could be held accountable for the accident.
Government: Similar to the idea of holding a facility responsible for a neglected parking lot, the same rule applies to the street or sidewalk where you were riding your bike when the accident happened. If the defect in the surface below you was the main contributing factor, you could very well hold the city, Clark County, or the state liable for the accident.
How Can a Las Vegas Bicycle Accident Attorney Help Me?
After being involved in a serious bicycle accident, victims left recovering from physical injuries may feel overwhelmed and unsure of what to do next. Our legal team can help to take some of that burden off of your shoulders. An attorney can help in many ways, including the following.
Investigating the bike accident
Bicycle accidents in Las Vegas can occur for various reasons, and the cause might not be immediately apparent. Our personal injury law firm has the skills, knowledge, and resources needed to investigate your bike accident and determine fault.
During an investigation, we may take the following steps:
Examine videos or photos of the collision
Speak to witnesses and gather statements
Obtain a copy of the police report
Compile medical reports
Hire an accident reconstructionist
Our legal team is passionate about pursuing justice on behalf of our clients. Our Las Vegas bicycle accident attorneys will use the evidence that we gather to build a strong case so you can recover the financial compensation you need.
Establishing fault
It is necessary to establish fault in order to pursue financial compensation for damages that you sustained in the bicycle accident. When establishing fault after a collision, the following elements need to be established before the statute of limitations runs out:
Duty of care: Your lawyer will need to provide proof that the at-fault party had a responsibility to take reasonable steps to ensure the safety of those in that location. For example, perhaps the City of Las Vegas had a duty to fill the potholes on that street within a reasonable amount of time.
Breach of duty: Next, your Las Vegas bicycle accident attorney will establish that the at-fault party failed to take reasonable steps to protect you and other street users due to their reckless or negligent actions. For instance, the driver failed to look in his or her side mirror before turning into the roadway as you attempted to ride past.
Causation: The next step is to establish proof showing how the at-fault party directly caused your injuries by failing to meet the duty of care. For example, we can use evidence to prove that your back injury is a direct result of the driver colliding with you.
Damages: Finally, your lawyer will need to present evidence of the damages caused by the collision. This may include medical bills, medical records indicating pain and suffering, police reports, and other documents.
Pursuing financial compensation
The experienced Las Vegas bicycle accident lawyers at Richard Harris Law Firm will be able to accurately calculate the value of your bicycle accident claim and help you recover the compensation that you are entitled to.
Depending on the extent of your injuries and the circumstances surrounding the bike accident, your Las Vegas bicycle accident lawyer may seek the following damages:
Medical bills
Property damage (including to your bike)
Lost wages
Pain and suffering
Rehabilitation therapy
Contact a Personal Injury Lawyer to Successfully Resolve Your Bicycle Accident

If you or someone you love has been injured in a parking lot accident, contact Richard Harris Law Firm today. Our skilled and compassionate legal team can help you recover damages for your serious injuries, minor injuries, and other losses.
If you're looking for a law firm with a passion for the law and a commitment to its clients, contact us today. Our full-service law firm has proudly been representing bicycle accident victims in Las Vegas and throughout the State of Nevada for the past four decades. We have helped our clients recover millions of dollars in damages, and we can help you and your family as well.
Our personal injury lawyers work on a contingency fee basis, which means that you pay absolutely nothing out of pocket. We get paid only if we win your case! Call us 24/7 at (702) 444-4444 or fill out the online evaluation form to schedule a free consultation with a bicycle accident attorney.