Las Vegas Distracted Driving Accident Lawyer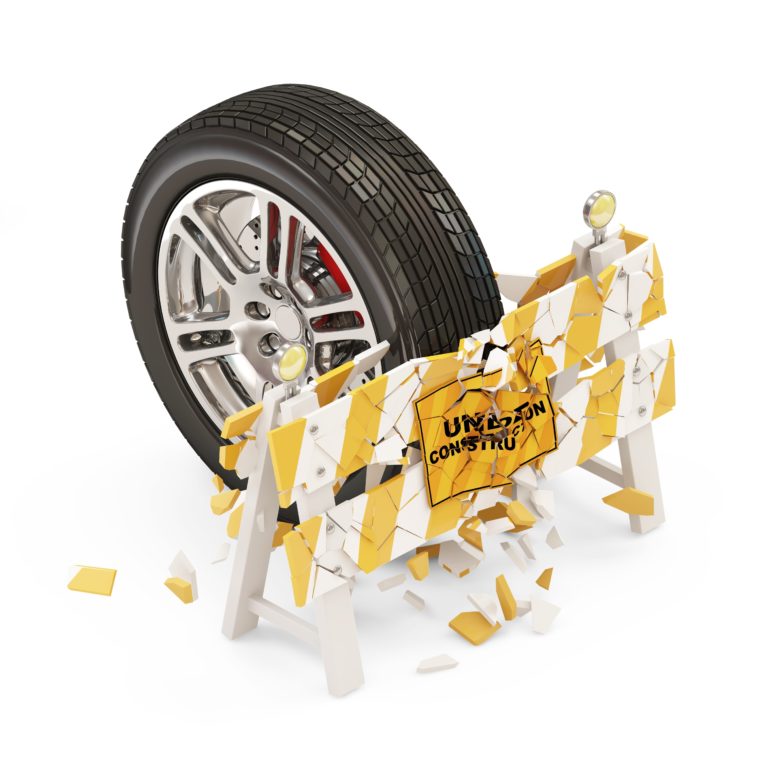 Increased awareness of the dangers of distracted driving in Las Vegas, Nevada and throughout the state, has unfortunately not eliminated the dangerous practice of distracted driving. Vegas distracted driving continues to be a major problem and a huge contributor to injury accidents. It is estimated that 9 people are killed every day by distracted driving, with an additional 1,060 seriously injured. It is disturbing to note that 1 out of every 3 drivers on the road admit to texting while driving. Distracted drivers are also 23 times more likely to be in driving crashes versus non-distracted drivers. Las Vegas distracted driving is a dangerous and deadly threat to all Nevada drivers.
If you have been involved in a distracted driving accident it may be in your best interest to contact a law firm specializing in the practice areas of personal injury and distracted driving accidents. An attorney with experience in Nevada distracted driving law can help you successfully negotiate with insurance companies and settle your accident claim.
Richard Harris Law Firm is a Las Vegas distracted driving accident lawyer dedicated to helping accident victims receive maximum compensation for their injuries. If you have been injured by another driver and need help filing your claim. The Nevada law firm of Richard Harris is here to help. For a free consultation about your legal case, contact the Richard Harris law Firm at (702) 444-4444.
Distracted Driving Resources
OUR PROCESS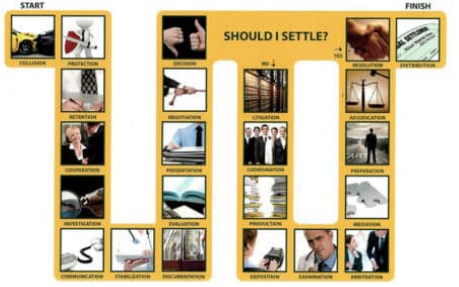 The timeline of a personal injury case can be complex and emotionally draining. At the Richard Harris Personal Injury Law Firm, we have a proven Case Resolution Process to ensure our team is communicating and preparing you for each stage and the best possible settlement.
Las Vegas NV Distracted Driving Laws
In an attempt to reduce distracted driving accidents, the state of Nevada passed a law on January 2, 2012, banning the use of all hand-held cell phones and devices while operating a motor vehicle. Nevada distracted driving laws are categorized as primary enforcement laws versus secondary enforcement laws. Primary enforcement laws allow police to pull over a motorist and issue a citation when they witness the use of a cell phone while driving, regardless of whether or not the driver is breaking other laws or driving erratically.
Using a cell phone while driving is against the law in Las Vegas and throughout Nevada regardless of the driver's age or driving ability. There are a limited number of exceptions in which cell phone use is allowed.
Cell phone use while operating a motor vehicle in Nevada is allowed for:
A person reporting a medical emergency, a crime, or safety hazard.
A driver using a voice-activated (hands-free) navigation system that is attached to the vehicle (GPS).
Firefighters, law enforcement officers, and other emergency personnel performing their duty.
Utility workers responding to emergencies, using equipment supplied by their companies.
Amateur radio operators who are helping with communications during a disaster or emergency.
Forms of Distracted Driving in Las Vegas
The Centers for Disease Control (CDC) has identified three types of distracted driving.
Visual: Anything that takes the driver's
eyes off the road
is a visual distraction. Visual distractions include texting while driving, operating a vehicle while searching for items in the car, and making adjustments to the radio.

Manual: Distractions that cause drivers to take their
hands off the wheel
are classified as manual distractions. Examples include eating, smoking, grooming (shaving, applying makeup etc.)

Cognitive: Cognitive distractions are things that take your
mind off the road
, such as, talking to someone in the car, talking on the phone, daydreaming etc.
If you have suffered a personal injury caused by a distracted driver auto accident, call Richard Harris Law Firm today to schedule a free consultation to discuss your case. Richard Harris Law Firm is available 24 hours a day, 7 days a week. (702) 444-4444. Richard Harris will negotiate with the insurance company on your behalf and pursue the legal action necessary to get maximum compensation for your injuries.
Personal Injury Help For Victims of Las Vegas Distracted Driving
Unfortunately, distracted driving car accidents happen every day in Las Vegas and throughout Nevada. Victims of these accidents are left with the physical pain and financial burdens heaped upon them due to no fault of their own. Insurance companies often push for a quick settlement that is in their best interest, not necessarily the best interest of the accident victim. An accident attorney, with experience in texting behind the wheel cases, and other forms of distracted driving, can help accident victims hold a distracted driver accountable for the injuries they cause.
A personal injury law firm represents the victim of a distracted driving auto accident and advocates for maximum compensation from insurance companies and the driver responsible for the accident. A Las Vegas distracted driving lawyer can help in the following ways:
Advise car accident victims on the merits of their case, saving time and resources. An experienced injury lawyer will often offer a free consultation to discuss the victim's injury claim.
Negotiate with the insurance company on their clients behalf, refusing low-ball offers and standing up to insurance company's bully tactics
.
File all paperwork and court documents in a timely manner, avoiding statute of limitation exclusions and time-consuming delays. Efficient legal services help clients get compensation for their injury as soon as possible.
Gather evidence of the distracted driving accident. This may include evidence of injuries, medical expenses, defendant phone records to show texting, recommended medical treatment by experts and documents substantiating the victims pain and suffering claim.
Represent victims of car accidents in court. Sometimes a fair settlement cannot be reached through negotiation and a claim will go to court. An experienced attorney will represent the clients interest in court and ensure that appropriate injury law rules are followed.
Richard Harris Law Firm is a team of attorneys with over 40 years' experience in distracted driving accident law and other practice areas. If you or a loved one have been involved in a car crash due to no fault of your own, you need an attorney with the legal expertise to hold the distracted driver who caused your injuries, accountable. A distracted driving case can have complicated legal ramifications, and it is crucial that victims have an attorney on their side. Voted Best of Las Vegas 2019, Call Richard Harris Law Firm for a free consultation. Available 24 hours a day, 7 days a week. (702) 444-4444.
Vegas Distracted Driving Accident Injury Claim
Being injured in a car accident caused by a distracted driver can be life-changing. Drivers that cause such a crash are often unaware of the damage that is caused by their carelessness. Victims are left to try and pick up the pieces of an accident that was not their fault. Injuries caused by a distracted driver car accident may include:
Brain Injury
Broken Bones
Whiplash
Disfiguring Scrapes and Lacerations
Back injuries
Paralysis
With the help of a distracted driver accident attorney, victims have legal recourse in recovering damages for their injuries. An attorney can advise on what damages to seek for the crash and other legal options to pursue to hold the distracted driver accountable.
If you have been injured by a distracted driver due to no fault of your own, you may be able to receive compensation for the following damages and other losses:
Medical Expenses: Ambulance costs, hospital stays, medication, doctor's fees, any prosthetic devices, surgery costs, rehabilitation and physical therapy, cognitive therapy, any in-home nursing care and any other medically required need that occurred because of the accident.
Lost Income: Wages lost during recovery, loss of future earnings, loss of earning capacity due to disability etc.
Pain and Suffering: Compensation is calculated for physical pain as well as emotional and psychological trauma caused by or directly related to the crash.
Loss of Consortium: Damages awarded if the victim is left unable to enjoy a normal relationship with his or her spouse.
Wrongful Death: Surviving family members have the legal right to compensation for funeral and burial expenses, pain and suffering incurred by the victim before death, medical expenses, loss of affection and society etc.
The damage and pain caused by a distracted driver is almost immeasurable. No amount of financial compensation can fully compensate for the loss, pain, and expense caused by a driver texting or talking on the phone. However, a successful settlement can help relieve the financial burden placed on victims and their families, allowing them the time necessary to recover.
Richard Harris Law Firm Serves Nevada Distracted Driving Victims
With over 40 years' experience and numerous awards and accolades, the Richard Harris Law Firm is relentless in its pursuit of justice for accident victims in Las Vegas and the surrounding area. Commitment to maximum compensation for victims, and a compassionate desire to understand their client's story, sets Richard Harris apart as a top-rated personal injury law firm.
Richard Harris knows that accidents are by their very nature, unexpected, throwing victims into a whirlwind of physical pain and financial worry, caused by no fault of their own. The attorney's at Richard Harris believe that they have a responsibility to relieve as much stress for victims as possible. Richard Harris Law Firm offers a free, no obligation, consultation, where potential clients can ask questions and receive knowledgeable expert advice with zero risk.
To access your free consultation. Call Richard Harris Law Firm at (702) 444-4444, 24 hours a day, 7 days a week, or visit www.richardharrislaw.com for additional contact information.
With a 98% success rate and over $1 billion dollars recovered for satisfied clients, Richard Harris Law Firm is the first choice for accident victims. Call (702) 444-4444 today and let Richard Harris help you on the road to recovery.