Las Vegas Pedestrian Accident Lawyer
Walking is a healthy, cost-effective way to get to where you need to go. Many residents of Las Vegas walk to work or to restaurants and stores, or as a way to exercise, relax, and get some fresh air. While walking is an enjoyable means of transportation, it does come with certain dangers.
A pedestrian doesn't have a vehicle for protection, so pedestrian accidents can result in serious injuries or even pedestrian deaths. Nevada has one of the highest rates of pedestrian fatalities in the country, and the majority of the pedestrian accidents occur right here in Clark County.
If you or a loved one was injured in a pedestrian accident, contact Richard Harris Law Firm today. We are a full-service firm and personal injury law is one of our main practice areas. Our law firm has been serving the Las Vegas area for over 40 years. Call or text us 24/7 at (702) 444-4444 or fill out the online evaluation form to schedule your free initial consultation with a pedestrian accident lawyer. 
Pedestrian Accident Resources
OUR PROCESS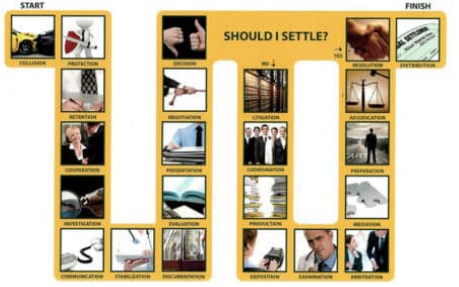 The timeline of a personal injury case can be complex and emotionally draining. At the Richard Harris Personal Injury Law Firm, we have a proven Case Resolution Process to ensure our team is communicating and preparing you for each stage and the best possible settlement.
Common Causes of Las Vegas, Nevada Pedestrian Accidents
Intersections and crosswalks should be safe places for pedestrians to cross the road. However, this isn't always the case, there are many pedestrian deaths and injuries in the Las Vegas area every year. Boulder Highway is an especially dangerous area where many have been hit while crossing the street.
The following are common causes of Las Vegas pedestrian accidents:
Pedestrian fails to obey traffic signals, use crosswalks, or yield to traffic that has the right-of-way
Driver speeding through an intersection before the light changes
Distracted drivers that are texting, eating, or talking instead of paying attention to the road
Pedestrians failing to watch where they walk, perhaps looking down at their phones
Drivers and pedestrians failing to pay attention in parking lots
Driver making unsafe or illegal turns at intersections
Drivers "rolling through" stop signs and traffic lights
Motorists have a legal obligation to look out for pedestrians and ensure their safety on Las Vegas roadways. The Las Vegas, Nevada, personal injury lawyers at our law firm have helped many of our clients recover maximum financial compensation after being involved in a pedestrian accident. We have the skills, experience, and resources needed to determine who is at fault for the accident and hold them liable for any damages you received as a result.
How Can a Personal Injury Lawyer Help Me After a Pedestrian Accident?
After being hit by a vehicle, the last thing that you should have to worry about is filing a claim or a lawsuit. Your focus should be on what matters most – your health and recovery. When you hire a pedestrian accident attorney from Richard Harris Law Firm to represent you, you don't have to worry about paperwork and negotiating with the insurance company on your own. With us on your side, you put yourself in the best position to secure maximum compensation.
Insurance companies want to pay out as little as possible when a claim is filed, and they will do anything they can to delay or deny claims. Our lawyers are familiar with the tactics used by greedy insurance companies, and we know how to accurately calculate the true value of your claim.
The personal injury attorneys at our law firm are skilled negotiators and won't back down until a just settlement is reached for our clients. Typically, a settlement agreement is made out of court, but if an amount can't be agreed upon, we are ready to take your case to trial if necessary.
Who May Be Liable For Las Vegas, NV Pedestrian Accidents?
Your experienced pedestrian accident lawyer can offer you legal advice and help you pursue compensation from anyone whose negligence, carelessness, or wrongful actions caused you to get injured. Let's examine some of the parties that could possibly be held liable in the event of a pedestrian-vehicle accident.
The negligent driver
Driver negligence is one of the most common causes of pedestrian accidents. Negligent driving behaviors can include:
Speeding
Failing to yield
Distracted driving
Driving under the influence of drugs or alcohol
Aggressive driving
Drifting into the pedestrian lane
Drowsy driving
In some situations, the driver who hit the vehicle may not be the one who is actually responsible for the accident. For example, consider if a motorist is stopped at a traffic light while a pedestrian is passing in a crosswalk when the stopped car gets rear-ended and thereby hits the pedestrian. In this situation, then the other driver would likely be liable even though he wasn't the one to directly hit the pedestrian.
The motor vehicle or parts manufacturer
If the accident was due to the design or components of a vehicle, then the manufacturer may be held liable for damages. As an example, a motorist could be driving across a parking lot and try to stop to avoid hitting a pedestrian, but their brakes failed. In this case, a lawsuit could potentially be filed against the vehicle manufacturer.
It can be difficult to prove that a design defect was the cause of a pedestrian being hit by a car. Some Las Vegas law firms don't have the skills needed to handle these types of cases. However, the aggressive pedestrian accident lawyers at Richard Harris Law Firm have the knowledge and resources needed to investigate these types of cases and recover damages for our clients.
The driver's employer
If you were hit by someone who was operating an employee motor vehicle, then the employer may be held liable for the accident. Employers are typically legally responsible for the actions of their employees when they're on duty.
Our legal team at Richard Harris Law Firm understands that the thought of negotiating with a large company can be overwhelming. However, you don't need to be intimidated by large businesses or corporations when you have a skilled and compassionate Las Vegas pedestrian accident lawyer from our law office on your side. We will aggressively represent you and ensure that you receive the justice and compensation you deserve.
A government agency
In some situations, pedestrian accidents may be caused by a road design defect or traffic signals that are not properly timed. Government agencies could also be held liable for missing signs, visual obstructions, inadequate space for pedestrians to safely cross, and other issues.
The Las Vegas pedestrian accident attorneys at our law firm are knowledgeable in both federal traffic laws and Nevada state law. If a government agency or a contractor is responsible for the accident, we can gather the evidence needed to hold that party liable.
Pedestrians
In some situations, Las Vegas pedestrians can be liable – or at least partially liable – for the collision. For example, pedestrians that ignore a "do not cross" signal and carelessly walk in front of oncoming traffic may be found to be at fault in the event of a collision. A personal injury attorney will be able to examine the details of your case and determine liability.
Pedestrians Are Vulnerable to Catastrophic Injuries
Passengers of motor vehicles are protected by steel frames, seat belts, airbags, and other safety features. Since pedestrians don't have safety equipment to minimize potential harm, they often suffer from life-threatening medical injuries when involved in a Las Vegas traffic accident.
Our experienced Las Vegas pedestrian accident attorneys have helped victims who have suffered many different types of injuries, including:
Fractures and broken bones
Soft tissue damage
Hip dislocation
Lacerations and cuts
Back and neck injuries
Degloving
Traumatic brain injury (TBI)
Lost limbs
Spinal cord damage
Paralysis
Compensation After Your Las Vegas Pedestrian Accident
The high cost of medical care and other expenses after pedestrian accidents can be overwhelming. If you are suffering from injuries due to another person's actions, you shouldn't have to pay the financial price for his or her negligence.
Depending on the extent of the injuries that you have suffered, your Las Vegas pedestrian accident attorney can help you recover compensation for:
Medical bills
Lost wages
Loss of future earning potential
Emotional distress
Pain and suffering
Disfigurement
Wrongful death
Schedule a Free Consultation With a Pedestrian Accident Attorney Today
If you have been injured in a pedestrian accident in Las Vegas, NV, contact the legal team at Richard Harris Law Firm today. Our compassionate and skilled lawyers will fight to hold all negligent parties liable for your injuries. We will advocate for your legal rights and work hard to get you every dollar that you deserve.
Don't trust just any law firm with your pedestrian accident case. Choose the law firm that puts their clients' best interests first and has won million-dollar settlements. Our law firm has been recognized by the Elite Lawyers of America, Super Lawyers, Best Attorneys of America, and the Bar Register of Preeminent Lawyers.
We have proudly been representing clients in the State of Nevada for the past 40 years. Don't delay to schedule your free case consultation with a member of our legal team. Call or text us 24/7 at (702) 444-4444, or fill out the online evaluation form to schedule an appointment. 
Slip And Falls FAQ
If I slip and fall on another person's property, can I get compensation for my injuries?

Yes. You may be entitled to compensation for your injuries if you were injured on another person's property. To get compensation, you must prove that:

the accident was caused on another person's property as a result of his/her negligence and the owner was aware of the unsafe conditions and could have prevented the situation.
What types of accidents are considered premises liability claims?

Accidents that occur on another person's property as a result of his/her failure to maintain the conditions of the property can be considered a premises liability. These conditions can include:

Broken furniture
Damaged stairs or handrails
Falling objects
Lack of security
Poorly lit areas
Slippery or waxed floors
Uneven or unclear walkways
Unlabeled construction areas
Why should I hire a local law firm?

You should hire Richard Harris Personal Injury Law Firm to handle your premises liability case because the attorneys at our firm know the laws in Nevada. We also know the businesses in the area and may be able to investigate the details of your accident quicker than an out-of-state lawyer.
What should I do if I was injured on someone else's property?

If you were hurt on someone else's property, here are some tips to remember:

Get medical treatment. Even if you don't think you were injured or your injuries seem minor at the time, you should seek professional care and document your treatment.
Take pictures where the accident occurred. If you have access to a camera, you should photograph the area where you were injured and what caused your accident before anyone has the opportunity to improve the condition of the property.
Don't sign anything or give a statement to the owner. The owner may try to use your words against you later, so it is important not to discuss anything with anyone except your lawyer.
Will I have to come back to Las Vegas if I file a lawsuit, but I live in another state?

There is no guarantee whether or not you will have to come back to Las Vegas to settle your premises liability claim. Your attorney may be able to reach a fair settlement without you returning; however, if a settlement can't be reached, you should be prepared to come back to be a part of the legal process.
Has the Richard Harris Law Firm represented other out-of-state clients?

Yes. Our law firm has more than 30 years of experience representing people who have been injured, and we've worked with people all across the nation—and the world.
Articles and more information on Slip and Falls Accidents