Las Vegas Parking Lot Accident Lawyer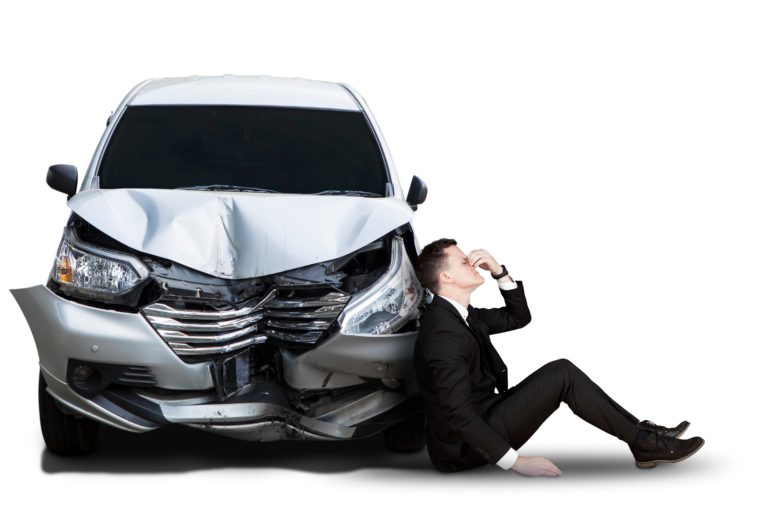 It has been reported that 20 percent of car accidents take place in parking lots. It's easy to assume that parking lots are safer than the road due to the lower speed at which vehicles usually travel in a parking lot. However, you or your loved one could have been injured by someone else as a pedestrian or a motor vehicle driver in a Las Vegas parking lot accident. If so, you may deserve compensation for your injuries.Las Vegas parking lots and parking garages can be chaotic places, especially when next to busy casinos. People may be distracted by a win or a loss when they make their way to the parking lot or garage – or they may have been drinking. As they back up their vehicles or speed towards the exit, they may not see you walking by or backing out of your own parking space to head home.
While parking lot accidents do vary from road accidents in a few important ways, they are more similar than you may think. This is especially true when it comes to filing a personal injury claim against the responsible parties for your medical bills or property damage. You don't have to face this situation alone! Call or text a parking lot accident attorney with Richard Harris Law Firm 24/7 at (702) 444-4444 for a free consultation on your Las Vegas, Nevada, parking lot accident case.
Parking Lot Accident Injury Resources
OUR PROCESS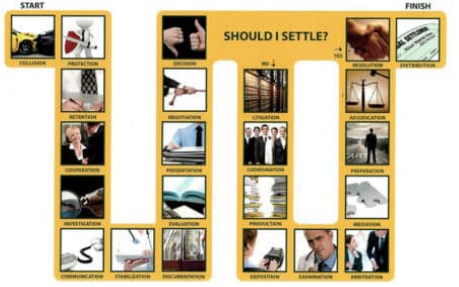 The timeline of a personal injury case can be complex and emotionally draining. At the Richard Harris Personal Injury Law Firm, we have a proven Case Resolution Process to ensure our team is communicating and preparing you for each stage and the best possible settlement.
Common Causes of Parking Lot Accidents
Since parking lots or structures typically don't have the same road markings as streets, a parking lot can seem to have no rules. The haphazard mix of pedestrians and moving vehicles can make for a risky situation even at the best of times.
There are some common situations in which parking lot accidents occur:
Two vehicles backing out at the same time
One vehicle backing out of a parking space and hitting a vehicle moving behind them
Accidentally driving forward instead of backward out of a parking space
A sudden stop, causing the vehicle behind to crash into the back of you
Misjudging the space in which the driver wants to park and hitting a parked car
Failing to stop for pedestrian foot traffic
Whether your Las Vegas parking lot accident occurred due to one of the above reasons or not, you may have recourse. The way to know is to talk with a Las Vegas personal injury attorney at Richard Harris Law Firm. You risk nothing by at least getting a free consultation, so don't delay – call or text us about your case today.
[case_achievements_item title="What To Do After an Accident In a Parking Lot" icon="7890″]
Accidents in parking lots should be treated just like a car accident on the street. Even if the vehicle was moving slowly and caused little damage, it's always better to be safe than sorry.
Make sure to follow the following guidelines to ensure the best chances for recovery in your parking lot accident case:
Call the police – while officers may not always come, depending on the severity of the collision, it's good to have a record of the accident
Seek medical treatment – even if you don't feel that you have substantial injuries, as they may get worse with time
Collect the contact information of the other parties involved as well as witnesses
Take photos of the scene and the damage
Write down what happened in your own words, including details
Discuss your case with an attorney who is knowledgeable in these types of accidents who may be able to collect surveillance video of the parking lot where your accident occurred
By following these guidelines as soon as possible, you can give yourself the best chance of getting the compensation you deserve after being injured in a parking lot accident.
Hit-and-Runs in Parking Lots
After colliding with another vehicle in a parking lot or on the street, it is obligatory to stop, and report the accident to the other driver, and call the police. Nevada law requires this. Whether or not the other vehicle sustained severe damage is irrelevant.
If the person who collided with your vehicle in a parking lot failed to do these things, they are guilty of a hit-and-run. He or she could face jail time, driver's license suspension, and more. Additionally, you may have a personal injury claim against that party.
Having experienced pain and suffering due to a hit-and-run parking lot accident, you deserve justice. The compassionate Nevada car accident attorneys at Richard Harris Law Firm are committed to defending our Las Vegas clients' rights.
With over 100,000 satisfied clients, trust your case to a law firm that cares – Richard Harris Law Firm. Call or text us to schedule your free initial consultation, 24 hours a day, 7 days a week, at (702) 444-4444.
Determining Negligence and Dealing With Insurance Companies
With Las Vegas, NV, parking lot accidents, determining who is at fault can be more challenging due to the lack of traffic signs and police enforcement. However, these accidents are no less likely to cause severe injury and financial damage. The other drivers, if guilty of negligence, should be held accountable for their actions that caused you injury.
Just as on the road, if a driver should have shown more caution or care while driving in order to prevent the accident, he or she may be considered negligent. Therefore, you may be able to deem the other driver responsible for your injuries. Since Nevada is an at-fault state when it comes to car accidents, the driver's insurance company is responsible to pay your damages, such as medical bills.
Nevertheless, many insurers don't give in without a fight. If you are struggling with insurance claims, a Las Vegas, NV, car accident attorney with Richard Harris Law Firm can help. We regularly deal with at-fault insurance claims on behalf of our clients, so we know their tricks. We have recovered more than $1 billion in damages for our clients.
Contact a personal injury lawyer with our firm today to get the support you need in dealing with troublesome insurance firms.
Why You Should Hire Richard Harris Law Firm
For more than 40 years, our lawyers have helped Las Vegas citizens like you seek justice for their personal injury cases. We know what you're going through, and we're here to help. Whether you're dealing with a hit-and-run parking lot accident or injuries as a pedestrian, we can help you to move forward with your claim while keeping your stress to a minimum.
Start with a free consultation for your case. There's no risk to you, as we work on a contingency fee basis – we don't get paid until you do! Richard Harris Law Firm is passionate about our legacy of helping our Las Vegas neighbors to get the compensation they deserve after a personal injury.
If you, your loved one, or your property was harmed in a parking lot collision, you have options. Recovering compensation starts with calling Richard Harris Law Firm's attorneys for a free consultation – (702) 444-4444.