Amazon Truck Accident Lawyer 
As Amazon has become the world's biggest online retailer or reseller its delivery service has gotten bigger and bigger.
Amazon's shipping is based on speed of service like Prime one day shipping.
This forces Amazon drivers to deliver a large amount of packages in a short period of time.
Amazon is known for putting profit over the safety of its employees in its warehouses.
Having employees work long hours with shift quotas.
Over the years as Amazon has grown its employee safety record has gotten significantly worse and this includes the drivers for Amazon.
However most people don't know that Amazon delivery drivers don't directly work for Amazon.
Drivers for Amazon are considered independent contractors or gig workers ( we all remember that term from the pandemic).
Essentially gig workers or independent contractors are drivers that use their own vehicles to deliver packages for Amazon, they are paid after finishing a route of deliveries and not per hour.
Also Amazon has Delivery Service Partners( DSP) that employ its own drivers and in this instance drivers are paid via the DSP and not Amazon.
Hiring Drivers
By hiring outside companies or employing independent contractors Amazon avoids paying benefits and unemployment insurance to the drivers.
Amazon also creates a barrier between the company and the delivery services to avoid being held responsible for accidents or other problems associated with most delivery services.
That's why when you are involved in an accident with an Amazon truck it may be difficult to determine who is at fault and who is responsible for your medical bills or who to file a personal injury case against.
Going up against a Goliath such as Amazon can be a daunting and scary task.
Call The Richard Harris Law Firm today for a free consultation if you were injured in an accident involving an Amazon driver.
Common FAQ's – 
What happens if I crash an Amazon truck?
Can you sue Amazon for injuries in car crash?
How to file a claim with Amazon Flex?
Does Amazon cover car accidents?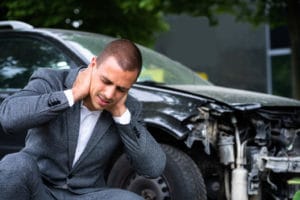 What to Do After an Accident Involving an Amazon Driver
Like most other accidents there are several steps you should take immediately after an accident involving an Amazon driver.
Report the accident- immediately call the police a report the accident 

Seek Medical Attention- Even if you don't think you need medical attention you should always get checked out. You may have injuries that are not visible and it's always a good idea since this can help you with any future claims with either insurance companies or any parties held responsible for the accident

Gather evidence- This includes witness statements, video or photos, police reports, insurance information for anyone involved in the accident and finally a police report. Medical records are also considered evidence in an accident.

Report the accident to your insurance company- Even if you think you are not responsible for the accident you must report it to your auto insurance carrier.

Contact a personal injury attorney- This after getting medical care could be the most important thing you do. If you think the driver for Amazon is at fault hire an attorney before you speak with anyone working for Amazon. They have a huge pool of legal representation on their side so should you. If you have been injured in an Accident with an Amazon driver in Nevada call The Richard Harris law firm today.
Who is at Fault in an Accident with an Amazon Driver
Determining who is at fault in any accident is difficult but when you're involved in a crash with an Amazon driver  it gets very confusing as to who is actually at fault and who needs to be held responsible.
Since some Amazon drivers are independent contractors and use their own vehicles can Amazon be held responsible?
Like Lyft or Uber these independent contractors are only employed by Amazon while on the clock and delivering for Amazon and this can be difficult to prove.
In a lot of cases the independent contract drivers for Amazon use their own vehicles and therefore use their own insurance.
Amazon requires the contractors to carry liability insurance that is equal to that required by municipal governments for delivery drivers.
So they are required to have extra liability insurance but like other independent contractors that work for ecommerce like Uber or Lyft enforcing the extra insurance can be difficult or not at all.
So if  you are involved in an accident with an Amazon driver who is an independent contractor then the personnel insurance of the driver is the insurance that will cover the accident.
Amazon does have extra insurance but only when the drivers are on the clock and delivering for the company.
The other drivers who work for Amazon are Delivery Service Partners ( DSP) who are separate delivery services that provide drivers and work out of the Amazon warehouse.
You may have seen a fleet of Amazon drivers leaving a warehouse together at one time in what looks like Amazon delivery vehicles and they are Amazon delivery trucks but operated by delivery service partner drivers.
The Delivery Service Partners pay these drivers and not Amazon.
If you are involved in an accident with these drivers then The Delivery Service partner company is the responsible party and you should contact them.
As you can see, since Amazon essentially shields himself from responsibility by hiring independent contract drivers or hiring Delivery Service Partners it can be difficult to prove that Amazon has any responsibility in an accident involving an Amazon driver.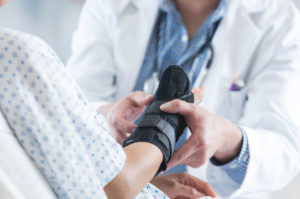 Compensation for Injuries After an Accident
Can you be compensated after an accident involving an Amazon driver?
The simple answer is yes.
Nevada is an at fault state allowing accident victims to pursue financial remedies based on who is at fault.
You can recover for medical expenses, lost property, future medical expenses, rehabilitative services, and my other bills that are associated with the accident. 
Victims can Recover Lost Wages
Lost wages is very important because lost wages doesn't just cover lost wages for the time you missed from work immediately after the accident, it also covers lost future earrings if you are unable to work in the future due to your injuries.
This also covers time off from work to attend medical treatments that are associated with the accident.
Lost wages that would have been earned by the sole provider of the family if the provider dies in the accident.
Pain and suffering and punitive damages are other compensation that a victim can recover for in Nevada.
This includes physical or emotional pain like PTSD.
Punitive damages are assigned to punish the defendant for negligence.
Punitive damages are always at the discretion of the court and sometimes can be very high based on how the court feels the defendant was reckless.
The Richard Harris Law Firm will get the highest settlement allowable by law if you were injured in an accident involving an Amazon delivery driver call today.