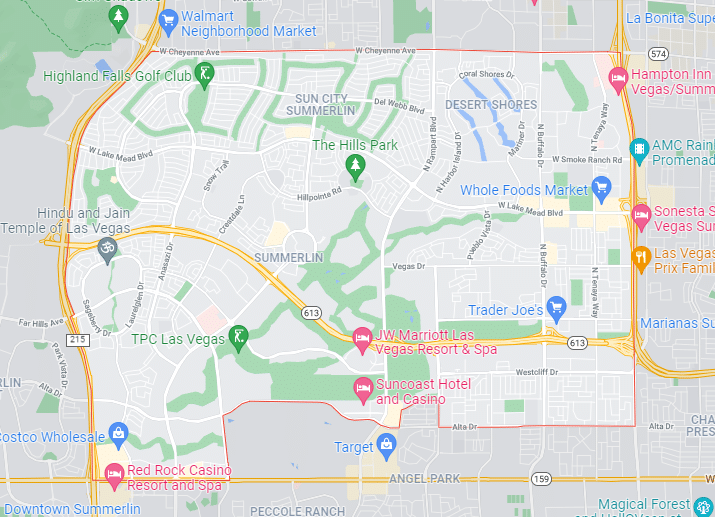 Summerlin Nevada Personal Injury Attorney
If you have been injured in an accident in Summerlin because of the fault of someone else, then now is the time to contact the Law Offices of Richard Harris.
This top-rated personal injury law firm will fight for you and get you the compensation you deserve.
Richard Harris and his team of expert attorneys have over 40 years of personal injury experience and clients have received over $1 billion in damages throughout the years.
You have every right to file a personal injury claim and recover compensation for your losses.
This can include lost wages, medical expenses or any other type of costs that are a direct result of the negligence of another.
Richard Harris Law Firm offers an initial free consultation to all potential clients, which means there is no risk in discussing your case and assessing your options.
Our personal injury attorneys accept cases on a contingent fee basis, which means you will pay nothing out of pocket.
Car Accidents
Car accidents happen every day on the Summerlin freeways like the 215 and 95 as well as the city streets of Sahara Ave, Charleston Blvd. and Town Center Drive.
Summerlin is a growing city with increasing traffic where car, truck, motorcycle and pedestrian accidents will unfortunately occur.
Serious injuries can occur in all accidents, especially when an automobile and a pedestrian or motorcycle collide.
The results can be tragic and life changing.
Some common causes of car accidents include:
Distracted Driving – Texting, talking, drinking, eating etc. can all lead to a car accident.
DUI – Driving Under the Influence is a major and leading cause of all accidents.
Bad Weather – Rain can create visibility issues and slippery streets.
Speeding – Driving at excessive speeds is not only reckless but can be fatal.
Road Conditions – Road construction and poorly maintained roads are hazardous.
Car Maintenance – Faulty brakes, tires and lights not working cause a lot of wrecks.
After an accident can be a confusing time and insurance companies will often try and take advantage of those who are either unrepresented or underrepresented.
Don't let them trick you into taking a lower settlement then you deserve.
This is why you need a Summerlin car accident attorney like Richard Harris to guide you through the process.
Truck Accidents
Large trucks, 18-wheelers and tractor trailers are a common sight on highways like the 215 and Summerlin Parkway.
The chance of a driver sharing the road on the city streets of Summerlin with these types of trucks is quite normal.
These large trucks make deliveries through out the city and because of their sheer size and weight can create a real danger to the much smaller passenger vehicles.
A semi-truck can weigh 80,000 pounds or more when fully loaded with cargo where a regular sized vehicle weighs between 2,000 and 5,000 pounds.
This can make an enormous difference if an accident were to occur.
The (NSC) National Safety Council, the leading nonprofit safety organization has reported that in 2019 over 5,000 large trucks were involved in crashes that resulted in a fatality.
This is approximately 10 percent of all accidents that involve motor vehicles.
The following are some of the common causes of trucking accidents:
Distracted Driving – A truck driver can have distractions both inside the cab or outside.
Driver Fatigue – Overworked, sleep deprived drivers can lose concentration and wreck.
Maintenance Issues – A faulty unnoticed braking or steering system can cause havoc.
Wide Turns – Large trucks need more of the road to make turns both left and right.
Speeding – A truck driving at excessive speeds is harder to stop and reckless.
 Slip and Falls Accidents
Slip and fall accidents can happen just about anywhere in Summerlin, NV and injuries can be wide ranging. In the US there are more than 1 million reported cases each year where medical emergency treatment is required.
Slip and falls can occur at home or on the job where businesses can be held liable if proper safety measures were not put in place.
List of most common slip and fall accidents in Summerlin, NV:
Resorts and Casinos
Retail Stores
Grocery Stores
Parking Lots
Commercial Properties
Private Residences
Government Buildings
If you are ever injured in a slip and fall accident it is important you take the proper steps immediately after the accident.
This will help in your case if you decide to pursue compensation for your injuries.
One of the most important steps is to call a Summerlin personal injury slip and fall attorney like Richard Harris to help guide you through the process.
Workers Compensation
In the State of Nevada workers compensation is a no-fault insurance program which provides benefits to employees who get injured on the job.
This plan also protects the employers who have provided coverage at the time of the injury.
Workers Compensation is intended to provide income and medical costs if you are ever injured on the job and can't work.
It sounds like a simple procedure and it very well should be except that sometimes employers and their insurance companies will delay or even deny workers compensation claims putting the employee in a problematic situation.
The personal injury attorneys at the Richard Harris Law Firm are extremely knowledgeable in Nevada's labor laws and have helped many clients recover their just compensation after their workplace accidents.
Medical Malpractice
Medical malpractice is a legal cause of action that occurs when medical or health care professionals don't meet the certain standards of their profession. This can happen through negligence or oversight and errors in treatments, diagnosis or aftercare can result in devastating consequences to the patient.
The following are common causes of medical negligence claims:
Improper Diagnosis
Surgical Errors
Medication Errors
Childbirth Injuries
Hospital Infections
If you are suffering from a health condition that was caused by a negligent doctor or hospital, our personal injury lawyers want to help. Contact our law firm today to schedule a free consultation of your case.
Wrongful Death
A legal term used to describe the loss of life due to someone's negligent, willful, or wrongful act, omission or fault of another.
If someone you loved died due to the negligence of someone else, you have the right to file a claim and pursue compensation for your losses.
The following are some of the types of wrongful death lawsuits our legal team handles:
Auto Accidents
Truck Accidents
Medical Malpractice
Workplace Accidents
Defective Products
How Long Do You Have to File a Personal Injury Claim in Summerlin?
As a rule of thumb, in the State of Nevada, a victim of a personal injury has up to 2 years from when the injury occurred to file a lawsuit.
Medical malpractice cases will allow up to 3 years from the date you were injured, or 1 year from the date the injury was discovered (whichever is sooner).
Remember that the statute of limitations for a personal injury claim can vary by the type of claim filed.
It is important to consult with a personal injury attorney to find out the legalities of your case.
How Much is A Personal Injury Case Worth?
There are many variables that will determine the amount of money a personal injury case is worth.
Typically, insurance companies value an injury settlement by using formulas which take into account your extent of injuries, the amount of medical treatment you will need, and what they have previously settled similar cases for in the past.
It's important to remember that every case is different, but certain factors and laws are likely to impact the dollar amount of any injury claim for compensation.
The following are some factors that can affect the value of your Summerlin personal injury claim:
The type of accident
The type of injury
The extent of the injury or injuries
Where the injury took place
Who is responsible or liable?
Is work affected by the injury
The emotional impact of the injury
What Types of Damages Are You Eligible to Recover?
'Damages' is a legal term that refers to the money that is paid to an injured victim or victims to compensate for losses sustained due to the negligence of another party.
There are two types of compensatory damages that you may be eligible for in your personal injury case: economic and non-economic.
Your Summerlin personal injury attorney may help you recover the following economic damages:
Lost Wages
Medical Expenses
Loss of Future Earnings
Property Damage
You also could recover the non-economic damages in certain cases, such as:
Pain and Suffering
Loss of Enjoyment
Emotional Distress
Why Choose Richard Harris Law Firm
At the Richard Harris Law Firm, we know that you have many different lawyers in Summerlin to select from as your legal representation after your accident.
Our personal injury attorneys have the knowledge, experience, and resources needed to help you obtain maximum compensation for your claim.
We provide personal attention and excellent service to each of our valued clients, and we will promptly respond to all phone calls or emails.