North Las Vegas Truck Accident Attorney
A big rig traveling in North Las Vegas at high speeds down a freeway like the I-15 can cause a lot of damage if an accident with another motor vehicle takes place.
This type of crash can prove to have serious injuries and fatalities.
Semi-trucks can carry loads of cargo making them incredibly heavy.
The faster the speeds they are traveling the harder it is for them to come to a stop if necessary.
The I-15 is a gateway from Utah, Arizona through North Las Vegas and eventually crossing the Nevada border into California.
Some of the most dangerous exits off a North Las Vegas freeway include:
Cheyenne Avenue
Craig Road
Lamb Boulevard
Speedway Boulevard
Some of the exits in North Las Vegas have hotel accommodations like the Hampton Inn and are popular among truckers needing a little rest as well as tourists traveling the highways.
When cars share the highways and streets with 18-wheelers it is best to drive cautiously.
The result of an accident will be a lot worse than your typical fender bender between two cars that is for sure.
Las Vegas Motor Speedway is a major attraction with 80,000-seat capacity 15 miles northeast of the Vegas Strip.
This complex brings in thousands of cars and trucks whenever an event takes place.
The main freeways and exits in North Las Vegas are not the only places that semi-trucks and automobiles coexist with each other.
City streets throughout the area have many large trucks and an accident can happen on these surface roads as well.
Even a low-speed accident with a large truck can be deadly and damaging.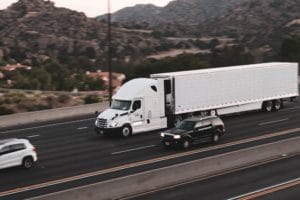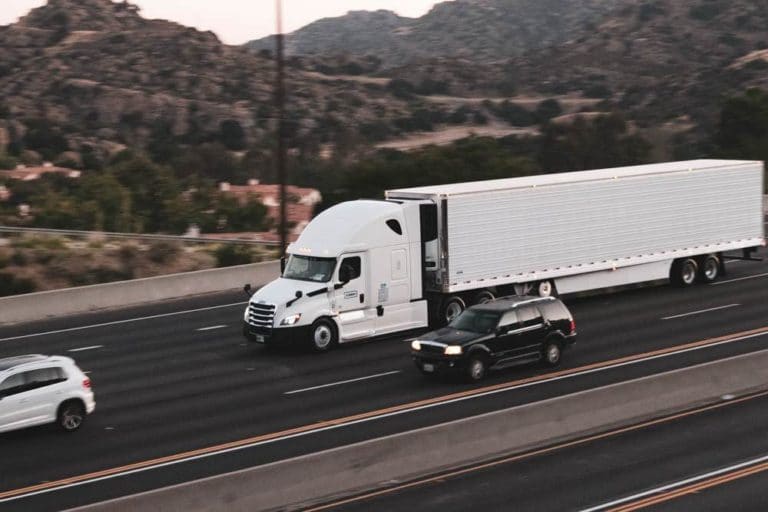 Call The Richard Harris Law Firm After a Truck Accident
The largest personal injury law firm in Nevada
Oldest personal injury law firm in Nevada
Expert lawyers that know truck accidents
Knows how to handle the insurance companies
Will help get you the maximum compensation you deserve
Top-rated with the Better Business Bureau
Over $1 Billion recovered for our clients
Over 100,000 clients helped
Insurance companies can be challenging to deal with.
They will often try and get you to settle for much lower than you deserve.
Richard Harris will help you recover the maximum payout.
Types  Of Truck Accidents
Driver error is the most common reason for an 18-wheeler accident.
NHTSA in 2019 estimated over 5000 fatalities and approximately159,000 injured in 18-wheeler accidents in the US.
These numbers seem to be on the increase.
Trucks tend to crash in the daytime hours most often, but a large truck at night can be just as dangerous.
Anyone that finds themself in this nightmarish situation with a large truck is more likely to be injured and their vehicle most damaged.
There are many types of large truck crashes in North Las Vegas
Jackknife – The trailer of an 18-wheeler gets pushed to the side of the cab. This usually happens when a truck has to stop too fast in an emergency situation. Very common in big rig accidents.
Brake Failure – If a big rig hits the brakes and they malfunction the results can be horrible and have a major impact on everyone sharing the road.
Tire Blowout – A blown tire will affect the steering of the truck and cause shaking, The side where the blowout occurs will make the truck pull to that side. A flying part off the tire can hit other cars on the road. Motorists can run over the blown-out tire as well.
Underride Crash – When a vehicle gets under the truck devastating consequences may result. These type of big rig crashes are most dangerous and deadly.
Unsecured Cargo – When there is improper loading freight can move and create a major wreck. An accident of this nature happens more than you would think. An unsuspecting driver can be caught completely off guard.
Roll Over – This kind of wreck can happen if a truck driver over corrects too quickly. Wind gusts can increase the chances of a roll over. Trucks have blind spots like any other vehicle and when a trucker jerks the steering wheel at a high speed a roll over may occur.
These are some of the most dangerous types of large truck accidents.
A truck accident in North Las Vegas can be complicated to sort out.
There could be multiple people liable for these accidents and best to get an attorney you can count on to look into all the different aspects concerning the crash.
Having a top North Las Vegas truck accident lawyer like Richard Harris working for you can make all the difference.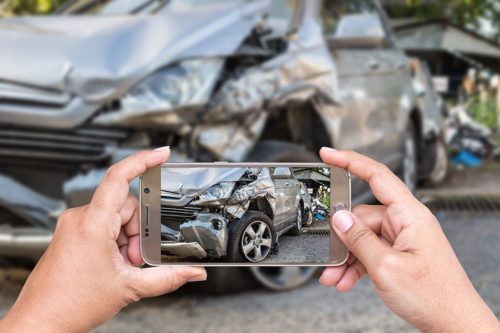 Important Information in a Police Report
If you are ever in a truck accident it is always vital to get a police report at the scene.
This is always helpful information which is important when filing an insurance claim.
To protect yourself in a court of law a police report is the one thing that can make or break your case.
Pictures – The old saying 'a picture says a thousand words' is true. Investigating officers will usually make sure to get pictures of the scene. If the victim is not injured it is suggested they get their phones out and take some video and pictures themselves.
Get a Statement – All drivers involved should describe the events that have occurred to their best recollection.
Information documented – The statement must have insurance information as well as registration and driver's license info.
Eyewitness Information – If there are witnesses available, they should be interviewed. This can include passengers in the vehicle, someone in another vehicle or anyone else around whom may have witnessed the crash.
The police report should contain other information like who was at fault in the accident.
What the weather conditions were at the time and if they had an impact on the accident.
An investigation by the police officer can continue beyond the road being cleared and filed later in the report.
Different Types of Large Trucks in North Las Vegas
Big Rig – This refers to tractor-trailer trucks, semis and 18-wheelers. These are large and extremely heavy. If fully loaded can weigh over 75,000 pounds. Emergency alert if you are in a passenger vehicle and get in a tussle with this type.
Garbage Truck – These are bulky and heavy. Usually these will be found on city streets at slower speeds but this can make serious damage. A full garbage truck in North Las Vegas can weigh over 50,000 pounds.
Box Truck – This can be used for many things. Many independent contractors have these for their business. The size and weight of the loads can vary. Moving services like U-Haul rent these all day long. It is common to see these trucks on the highway and city streets alike. Parcel delivery, furniture hauling and food deliveries are common with box trucks.
Cement Truck – First thing that comes to mind is the weight of the loaded cement truck. These trucks are seen going in and out of construction areas which can be dangerous.
Delivery Truck – Think about UPS, Fed Ex, Amazon, etc.
It is best for a driver of an automobile sharing the road with these heavy trucks to give them a lot of room.
Don't assume they can easily see you.
A smaller car is harder to see when a truck driver is sitting up high off the road.
If you have been injured in a truck crash in North Las Vegas then hire an experienced truck accident law firm. 
How to Avoid a Semi-Truck Accident
With an average of 500,000 trucking accidents a year it important to raise your alertness as a motorist in order to avoid these accidents.
It is always advised to drive defensively when around these massive trucks.
It is crucial to be aware of blind spots and avoid them when traveling alongside a truck on a North Las Vegas freeway.
When passing a truck, do with extra caution.
Always use your turn signals when maneuvering around a big rig letting the driver know what you intend to do.
If you are coming towards a truck on a 2-lane road, make sure you lower your high beams.
The last thing you want to do is blind the trucker and cause a head on collision.
Accidents with large trucks can happen in bad weather when the road is slick.
If a truck goes by a vehicle at high speed and the vehicle does not slow down it is very easy for the air pressure from such an event to lift the car off the road leaving it to hydro plane.
This can send another vehicle off the road into a telephone pole or another car.
In rural areas flatbeds carrying heavy loads can really get moving.
Not only are the highways dangerous but the country type roads and even city streets can be deadly.
Getting injured with a heavy truck can be dramatic and have everlasting consequences.
If you or a loved one have been injured in a truck accident it is important to contact The Law Offices of Richard Harris.
Medical bills and loss of work can really take its toll financially and injuries from a semi-truck type accident can often be serious and take time to recover from.
Call Richard Harris Today.
Available 24 hours a day, 7 days a week.