Lake Tahoe Truck Accident Lawyer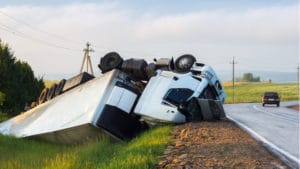 A Lake Tahoe truck accident can happen at any time of the day or night.
If it does there will most likely be injury.
Large semi-trucks, box trucks and 18-wheelers heading down the road can leave a lot of damage behind.
If you have been injured by the fault of another in a Lake Tahoe truck accident then it is time to call a Lake Tahoe truck accident attorney to guide you through all that goes along with it.
Having a personal injury law firm on your side gives you the best chance in getting the compensation you deserve.
Call Law Offices of Richard Harris
With over 40 years of experience in the state of Nevada our lawyers are experts in personal injury litigation.
We specialize in all types of cases including Lake Tahoe truck injury accidents.
Over 100,000 Satisfied Clients
Top Rated with Better Business Bureau
99% Success Rate
Over $1 Billion Won for Clients
Lake Tahoe is a beautiful resort town with shops, restaurants, hotels and casinos that bring in crowds all year around.
Whether it is ski season or lake season the town is known for its tourism.
With this tourism comes traffic.
With traffic comes accidents.
Lake Tahoe roads can be dangerous where accidents are bound to happen.
When there are large trucks sharing the roads with smaller and lighter vehicles everyone must drive carefully.
Some of these roads are scenic and drivers may be looking at the beautiful views and find themselves in an accident.
Dangerous Roads and Highways in Tahoe
Highway 50
NSR 28
Glenbrook Road
Lake Front Drive
Yellow Jacket Road
There are many different types of large trucks that travel through the streets of Lake Tahoe.
These trucks are seen delivering, servicing and moving a wide variety of items.
Some of these include; livestock, food supplies, equipment, cars, gas, cement, boats and endless products that you may see in a big box store like Walmart.
These trucks are incredibly heavy and some of the strongest vehicles on the road.
They are also going to be the most dangerous that can cause havoc to others if they get in an accident with them.
Large Truck on Roads in Lake Tahoe
In Tahoe like all cities in Nevada, you'll see semi-trucks, UPS trucks, Amazon trucks, garbage trucks, etc.
Always drive extra cautious around large trucks on the roads.
Tanker Truck – These trucks travel in the area at times bringing in fuel or other liquid material. These can be incredibly heavy and dangerous if an accident were to occur. The fact that chemicals or gas can be spilled can create a serious situation. These trucks have been said to be difficult to drive. Always keep a safe distance from all types of trucks.
Trailer Truck – This has a large freight truck and can be 35 to 40 feet long. Stay out the blind spots of this one. When fully loaded it can be extremely heavy. These trucks move all types of items and products across the US. Raw materials, furniture and other supplies are shipped in these trailers.
Box Truck – This truck has a box shaped frame. In most of these trucks the driving area cabin is separated from the cargo section. It usually loads from the back. The size varies between about 10 feet to 26 feet. The amount of weight it can carry is estimated at 30,000 pounds when full. That's a lot of weight compared to a regular car. These trucks are used a lot for moving furniture and other household items.
Refrigerator Truck – These trucks have a cooling system installed in them in order to transport food and supplies that need to stay cool. The weight of these trucks can be really heavy when loaded and they are large.
Dump Truck – These trucks are usually carrying sand and gravel. They are common in every city around construction sites. It is used to haul away items from demolition sites. It has a bed that moves upward so it can unload what is in it. Keep you distance.
Injuries can be serious from a semi-truck accident in Lake Tahoe.
The chance of a fatality is also higher in an accident with a big rig or large truck.
Sometimes there will be multiple vehicles involved in a truck accident.
Getting in an accident with a truck can be overwhelming.
If you are injured it may be a while before you get back on your feet.
Richard Harris can help fight the insurance companies and make sure the person responsible for the accident is held liable.
The Sate Farm types will usually try and make it difficult for you to get the compensation you deserve.
An expert truck accident injury attorney can make sure you are represented and not taken advantage of.
Important Information in a Police Report
If there is an accident report there are important details that you should look for.
Hopefully you are not injured too badly and after the accident you can do a few things that can help your case.
Pictures of the accident
Drivers' statements
Statements from witnesses
Get license and insurance information on all involved
Police report of DUI or crime committed at accident
Road and weather conditions at the time of accident
The Law Offices of Richard Harris handle all types personal injury accident cases in Lake Tahoe.
This includes; car, motorcycle, pedestrian, bicycle and truck accidents.
There are many ways that a motorist can share the roads safely with 18-wheelers and other big trucks.
These safety tips are important and may help a driver to avoid an accident and may even save a life.
Tips When Driving Near 18-Wheelers and Large Trucks
– Give Plenty of Space – Always give large trucks plenty of room to work with. The difference is clear when an accident occurs. A car hitting the back of a big rig will cause some damage but if a big rig slams into you the results can easily cause injury and fatalities. Because of the size and weight difference an 18-wheeler may be able to just run right over a vehicle. Make sure you keep clear of these big guys especially if there are weather conditions and wet roads.
Blind Spot Awareness – A truck driver sits up high and even though they may have state of the art mirrors and systems in place to help them see everything they still may some blind spots. Don't ever just hang out on the side of a truck. If you are going to pass them, get by them quickly and at a consistent speed where the truck driver is aware of your intentions. If you are going to cruise along and share the road with them it is best to lay back and give them plenty of space. If anything out of the ordinary occurs then you will hopefully have plenty of time to react to the situation.
Intersection Etiquette – Trucks because of their sheer size and weight will need more time and room when turning at an intersection. Don't pull up next to them when they are turning in either direction. Give them room and extra time to safely take the turn and continue. There are accidents where the vehicle can get smashed into by the trailer of the truck leaving incredible damage behind to the person and the vehicle.
Some recent statistics have shown that over 10% of all motor vehicle fatalities occurred when a large truck is involved in an accident.
Truck accident deaths are on the rise.
With the increasing number of big rigs roaring up and down highways it is not hard to understand.
These same large trucks are not only on the freeways but on city streets and in neighborhoods as well.
Stay safe and be careful out there.
Bottom line, always be on the defensive when sharing the road with big rigs.
The injury and damage to a driver and car will most likely far exceed the trucker and truck.
They may hit you and not even feel it in some cases.
If you are hit by an 18-wheeler or box truck you will most definitely know it.
Contact Richard Harris
If you are considering a personal injury attorney and you're not sure how expensive it is going to be we understand your concerns.
Richard Harris works on a contingency basis.
This means that unless we win your case and you receive compensation you will not be charged.
We will only be compensated if we are successful at getting you paid for your injuries and damages.
This could be through our expert negotiators or by winning your case in a court of law.
It is possible that the Richard Harris Law Firm can get you compensated for all you've suffered and losses that may have accumulated.
Remember that time is ticking on your case.
In Nevada there is a statute of limitations on personal injury claims that you must file a lawsuit within a 2-year period in most cases.
Call Richard Harris Today!