Downtown Vegas Motorcycle Accident Lawyer
Riding a motorcycle is becoming more and more popular in Downtown Las Vegas.
We all know the gas factor, where higher prices have created a new demand for motorcycle riding.
The DTLV scene can be crowded, congested and parking lots have become a real issue for those that live and commute in the city.
It is basic math that with more motorcycles on the streets the more motorcycle accidents are bound to happen.
A motorcycle accident in Downtown Las Vegas can come with injury and you'll need the best Downtown Vegas motorcycle lawyer to fight for you.
If a rider goes down on the pavement or is hit buy a car, truck, or SUV the results can be devastating.
Even if you are hit by a Lyft, UPS Truck, a limo, or a garbage truck, we are here to fight for you.
Who is at Fault
It is not usual for a motorcycle accident to be caused by another motorist.
The chance of injury is much higher for a rider since there is not a lot of protection available.
A motorcycle accident can leave an injured person unable to work and can impact their day to day living.
A motorcyclist may need surgery and long-term care.
They may also need rehabilitation and doctors' visits that can be costly.
If you are a motorcyclist in DTLV and have been injured in an accident due to the negligence of another motorist it is important to have legal representation.
The Richard Harris Law Firm is a highly rated and knowledgeable motorcycle accident law firm here in Downtown Las Vegas.
Our office in Downtown Las Vegas is at.
801 S 4th St, Las Vegas, NV 89101.
Give us a call or just stop by!

Reasons to Ride a Motorcycle
Easier to Commute – Traffic is only getting worse. Getting around the downtown area is much easier on a motorcycle than in a car. Having more maneuverability to get in and out of traffic is a major benefit on your commute.
Parking – DTLV has become a nightmare when it comes to finding a parking space. It is a constant stress with a car. Motorcyclists will have a much easier time finding a spot for their bike. The parking options are more available for a motorcycle and the space they need is much smaller than that of other motor vehicles.
Environmentally Friendlier – Your global imprint is much less than an SUV. You take up less room on the road than a car. Better for the environment and highly efficient for downtown living and commuting. Less fuel means more cash in your pocket.
Sense of Freedom – We may feel like we are losing more of our freedoms every day. A motorcycle can truly give you a great sense of being independent and free. You are in control of the throttle and can gain access to places that a motor vehicle will not be able to get to. There is a sense of adventure and vibe that you can only get on a bike.
Fun – The fun factor is real. The people you meet along the way and camaraderie of motorcyclists is like no other. The exhilaration a rider gets when travelling the highways and city streets is incredible. There is a sense of cool that comes with riding a bike.
There are so many positives that come with riding a motorcycle in Downtown Las Vegas.
I would say that they far outweigh the negatives.
One downer for a rider is that when they are involved in a motorcycle accident there is a high probability that they will be injured and sometimes very seriously.
The Law Offices of Richard Harris
We are the best in personal injury motorcycle accident cases in Downtown Las Vegas.
We have worked on many of these kinds over our 40 + years in Nevada.
We have won over $1 Billion for our clients.
Our attorneys are expert negotiators.
If the case needs to go to court our trial lawyers are top rated.
We are here to protect your rights and make sure that you are not taken advantage of.
Our goal is to get you the highest amount of compensation possible.
If you are in a motorcycle accident and someone else is to blame you should not be paying for the damages.
Contact our DTLV office today!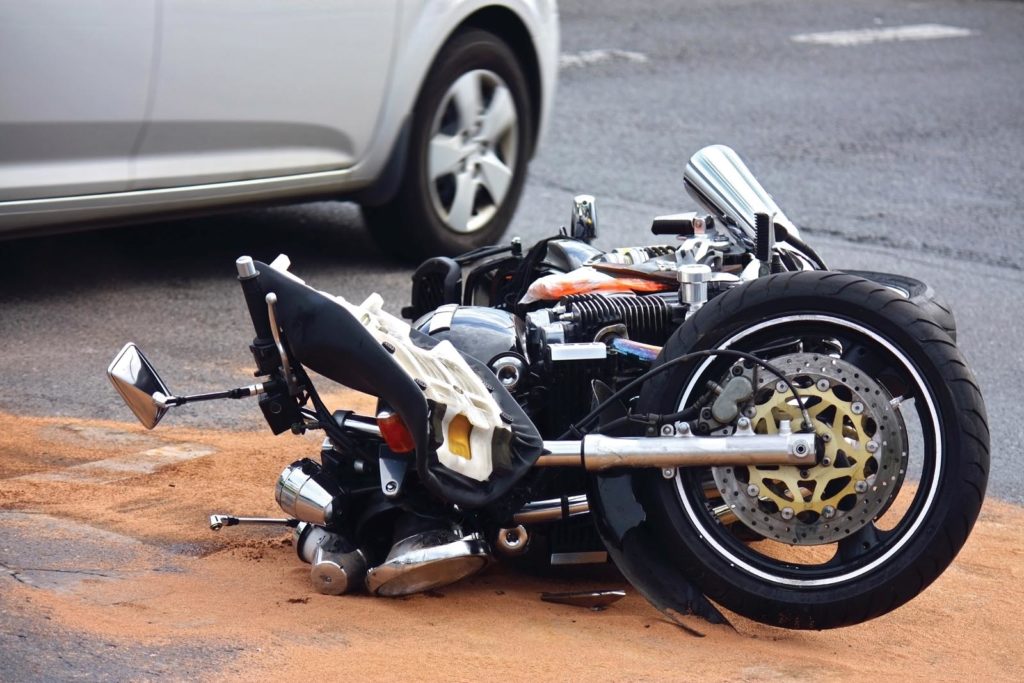 Reasons For a Motorcycle Crash
Lane Splitting – This is when a motorcyclist drives between 2 lanes of vehicles. Impatient riders put their lives on the line when they do this. A rider gets way too close to the other cars and trucks with this maneuver. Any slight movement can take a rider out and cause some serious damage. Motorcyclists tend to do this when traffic is heavy. This is a high risk move and is illegal in many states including Nevada.
Speeding – Both cars and motorcycle riders put themselves at a much higher risk when excessive speeds are involved. High speeds account for a large percentage of fatalities and serious injuries. The faster everyone is going the harder it is to avoid an accident. Reacting to a situation at high speeds if there is something that occurs on the streets is much more difficult. Impact with another motorist is harder and even more life-threatening at high speeds.
Mechanical Failure – A lot of these accidents can be avoided if there is proper maintenance on the bike. Can you imagine going down the highway at 70 mph and you go to hit the brakes and they do not work? Tires are another issue that a rider can keep an eye on and make sure there is adequate tread and air in them. There are certain things that are beyond a rider's control and may be caused by a faulty system due to a bad part. In cases where there is a defective part that leads to an accident there could be a lawsuit filed. Richard Harris handles manufacturing defect cases if you have been injured due to a faulty product.
Distracted Drivers – Motorists in SUV's, trucks, and cars all have a difficult time seeing a motorcyclist. Blind spots can be a big problem. A motorcycle is smaller than a regular vehicle and harder to see. The other issues include your typical distractions like the talking and texting on the phone, listening to the radio, eating, drinking, or daydreaming. A rider needs to be on the lookout for distracted drivers and get away from them in order to help avoid an accident. DTLV has so many things to look at while driving. It is easy for a driver to be distracted by flashing signs, bright lights, or people.
Rider Inexperience – A motorcycle rider has a much higher chance of injury or death if an accident happens. It is important for a rider to have the necessary training before they travel on the busy streets of Las Vegas. A motorcyclist needs to put in hours on roads that are not so busy before they start cruising the busiest streets and highways in town.
Hopefully by knowing some of these potential dangers it can help a rider stay safer while riding in Downtown Las Vegas.
Motorcycle Rider Safety Tips
Of course there a million things a motorcyclist can do to be safe, but we listed some of the big ones below.
Antilock Brakes – These are common on the newer bikes and are highly effective. ABS brakes are known to be very dependable and gives the rider a much better chance steering the bike out of danger. Brakes are incredibly important for the safety of a rider and avoiding an accident will prevent serious injury and death.
Protective Clothing – Leather is popular and can protect a rider if in an accident. It can lessen the damage to the skin and give the body some protective padding. Riding boots, gloves can also help the rider if an accident happens.
Obey the Rules – The rules of the road are there for everyone's safety. It is an important aspect of keeping the rider from an accident. Go the speed limit and do not run lights or stop signs. Getting an appropriate license and completing required classes are all meant to keep the roads safer.
Helmet – The most important safety requirement is wearing a quality motorcycle helmet. The helmet should have a shield on it or if it does not the rider needs to wear goggles that will protect the eyes. The odds for a serious head injury will go way up if a rider does not have a helmet on at the time of injury. If there are passengers on the motorcycle, they must also wear a helmet and it is highly recommended that they wear the protective clothing as well.
Call Downtown Las Vegas Motorcycle Accident Lawyers
An accident on a motor cycle can leave a rider injured and out of commission for a while.
It is important to get the help of a respected personal injury attorney to have your back.
The Richard Harris Law Firm will help you win your case by holding the responsible party liable that caused the injury.
We are the top motorycle accident law firm in Downtown Las Vegas, and our reputation backs up that claim.
Call us today and let us get started!