Las Vegas Common Car Accident Injuries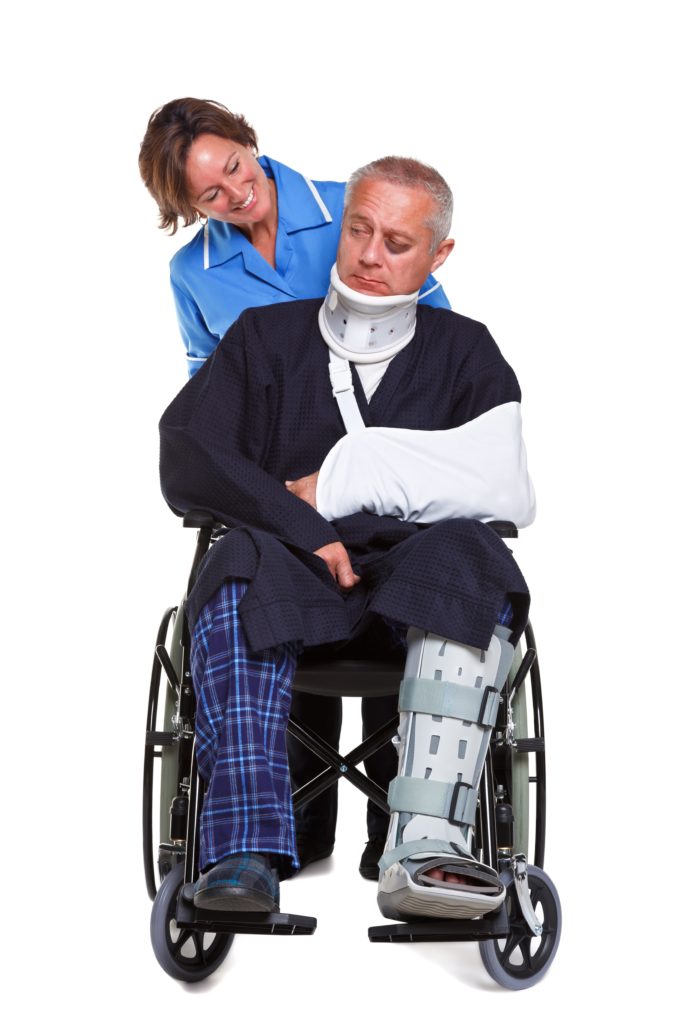 Las Vegas is a bustling, dynamic city both day and night. We welcome thousands of visitors to our many attractions every year. Between tourists and locals, the roads in Las Vegas can be dangerous to traverse, and far too many car accidents happen here annually.
If you or your loved one suffered injuries such as whiplash, traumatic brain injuries, or spinal trauma, meniscus tears, broken ribs, lacerations, or even bruising, you may deserve compensation for the pain and suffering you have experienced.
What's more, if your car crash was caused by another driver's negligence or irresponsible actions, that individual may be held liable for the damages you suffered.
At Richard Harris Law Firm, our Las Vegas auto accident lawyers understand that your case is unique and deserves individual attention. We offer free consultations to all personal injury clients, and we work on a contingency fee basis which means that you aren't at risk of facing any more bills out of pocket.
Call us today at (702) 374-0436 to get started on your case!
Common Car Accident Injuries Resources
OUR PROCESS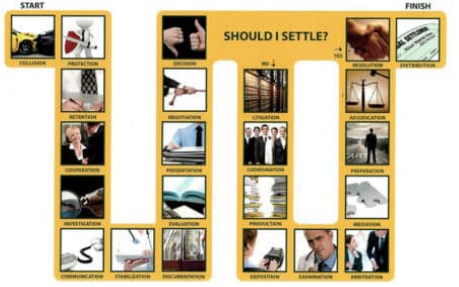 The timeline of a personal injury case can be complex and emotionally draining. At the Richard Harris Personal Injury Law Firm, we have a proven Case Resolution Process to ensure our team is communicating and preparing you for each stage and the best possible settlement.
READ MORE
4 Common Types of Las Vegas Car Accident Injuries
In Las Vegas car accidents, there are a few common injuries seen again and again. These injuries range from minor to severe, and yet even seemingly harmless injuries can have major health consequences. Check the following list to learn whether the injuries you suffered in a Las Vegas car accident are among those we commonly see.
Bruising
Also called contusions, bruises are one of the most common things a person suffers in a motor vehicle collision. While not generally a serious medical risk, bruises can denote further problems, such as internal bleeding. If you develop severe bruises as a direct result of a car accident caused by another party, you should definitely seek medical attention.
Spinal injuries
Especially when a car accident occurs at a high speed, spinal injuries are common. Many of these injuries stem from the neck area following whiplash from an impact with another vehicle. Spinal injuries may not present themselves immediately but can be very serious and should be checked out as soon as possible by qualified medical personnel.
Head injuries
When two vehicles collide, passengers or drivers may hit their heads on the dashboard or steering wheel. This may result in a concussion or – worst-case scenario – a traumatic brain injury. These can be extremely serious and you should seek medical treatment immediately if your head was impacted in any way. Facial and dental injuries are all too common after being in a car accident.
Broken bones
In more severe car accidents, you might suffer a bone fracture. Depending on the location of the damaged bone, there may be additional health risks and extended recovery like with a foot or ankle injury.
Regardless, broken bones can be costly to repair and time-consuming to heal. If another driver's reckless or negligent behavior caused your accident, you may be able to receive financial compensation to help cover your medical costs or lost wages.
Any car accident can result in severe injuries (like an amputation), but even those considered less severe can still be painful and pile up the medical bills.
If you suffered one of the above injuries in a car accident caused by a negligent driver, you may be eligible to receive compensation for your medical costs, lost property, pain and suffering, and more.
Even if you are concerned about another condition not listed here, we can still assist you. Take action now!
To get justice for the negligent actions of a driver in Las Vegas, you should speak with a lawyer as soon as possible.
Common Causes of Car Accidents in Las Vegas
Whether Las Vegas visitors drive into the city in their own vehicle or a rental, they often do not know the city streets very well and may be paying close attention to GPS directions. These and many other factors can contribute to a car accident involving locals and tourists alike.
For example, some common causes of accidents in Las Vegas include the following:
Regardless of the exact cause of your accident, you may still be able to recover financial compensation from the responsible party. However, it's essential to speak to a personal injury lawyer as soon as possible.
The Las Vegas car accident attorneys at Richard Harris Law Firm have experience in handling a variety of cases involving motor vehicle collisions. Call today to have a free conversation about your case.
Why Choose Richard Harris Law Firm
After a serious collision, you are likely feeling shaken, in pain, and overwhelmed by what comes next. At Richard Harris Law Firm, we feel passionately that each client should be treated like our only client. So we want to help you each and every step of the way in pursuing your claim.
Whether you live in Las Vegas or were only here on vacation when you got injured, we can help you no matter where you live. We are committed to providing high-quality legal representation to each and every one of our clients. Above all, when we take on your case, we will fight for your rights to compensation for your injuries.
The team at the full-service law office of Richard Harris Law Firm wants to help you on the path to recovery, and we will begin with a thorough investigation into your accident. When we take on your case, we help you through the entire process until you receive maximum compensation.
We only get paid if and when you get paid, so there's no risk to you. Call our knowledgeable personal injury attorneys today at (702) 374-0436.