Common Causes of Car Accidents
Anyone who has lived or visited Las Vegas knows just how much traffic is on the city streets and freeways. Meanwhile, there are growing numbers of cars, buses, rideshare vehicles, and pedestrians. With such a heavy amount of traffic, there are many serious accidents that occur in Las Vegas every year.
Unfortunately, even if you are a safe and careful driver, you must share the road with some drivers who aren't. The sad reality is that there are many dangerous drivers on Las Vegas roadways and you can't control what they do. However, if you or someone you love was injured by a negligent driver, you can take charge of what you do next.
One of the most important steps you can take after an accident is to consult with a personal injury attorney to learn about your legal rights and options. Richard Harris Law Firm has helped thousands of car accident victims in the Las Vegas area recover maximum compensation for their injuries. Contact us 24/7 at (702) 374-0436 or fill out our online evaluation form to schedule a free case consultation.
Common Causes of Car Accidents Injury Resources
OUR PROCESS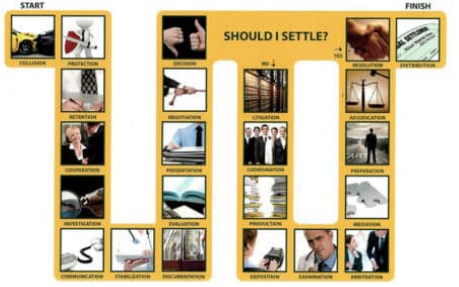 The timeline of a personal injury case can be complex and emotionally draining. At the Richard Harris Personal Injury Law Firm, we have a proven Case Resolution Process to ensure our team is communicating and preparing you for each stage and the best possible settlement.
6 Common Causes of Car Accidents in Las Vegas
There are endless variables that factor into why accidents occur. It is typically the job of the police and insurance adjusters to identify the cause of an accident. The determination of the cause of the accident is important because this shows who was at fault and thus financially liable for the motor vehicle accident.
The following are six key causes of road accidents in Las Vegas and throughout the United States.
1) Distracted driving
When you first learn to drive, you are told to keep your eyes focused on the road and to watch out for other drivers. However, as time passes and we get more comfortable behind the wheel, we may not pay as close attention to the task of driving as we should. We might believe that we can briefly check a text or make a call and that nothing bad will happen.
This is erroneous thinking, as distracted driving is the leading cause of car accidents. Anything that we do while behind the wheel that takes our attention away from the road is considered to be distracted driving.
It may include:
Talking on the phone or to a passenger
Eating or drinking
Applying make-up
Being distracted by outside surroundings
Adjusting the stereo
Programming a GPS
Smoking
Reaching for something inside of the car
Studies show that it takes 3 full seconds for us to shift our attention back to our primary task after a distraction. This may seem like a brief amount of time, but when driving – especially when traveling at high speeds – a severe accident can happen in those few seconds.
2) Driving under the influence
Despite the public awareness of the dangers of drunk driving in Las Vegas, people continue to get behind the wheel after consuming alcohol. In Nevada, the legal limit for DUI is a blood alcohol concentration (BAC) of .08.
Drunk driving laws in Las Vegas are strictly enforced. However, every year, there still are many serious car accident injuries and fatalities due to drunk driving.
The effects that alcohol has on a person's ability to drive begins much before a person's BAC reaches .08. Even just after one drink, alcohol may begin to impair a driver's:
Coordination: Alcohol impairs a person's cognitive abilities and can affect hand, eye, and foot coordination
Reaction time: Alcohol slows reflexes, which can reduce a driver's ability to react to constantly changing situations
Vision: Alcohol can reduce eye muscle function, resulting in altered eye movement, blurred vision, and poor night vision
Comprehension: Alcohol can hinder a person's ability to make rational decisions that are necessary for safe driving
If you have suffered car accident injuries due to a drunk driver, you should contact a personal injury attorney as soon as possible. The car accident lawyers at our law firm can help you pursue the justice and compensation that you are legally entitled to.
3) Speeding
Driving over the posted speed limit might seem like a harmless way to make up for lost time when you are running late. Nevertheless, speeding is dangerous and is the cause of many traffic accidents and fatalities every year. Tragically, there are 25 people killed every day, on average, in speeding-related accidents across the nation.
Speeding is dangerous because, the faster your vehicle is moving, the less control you have when you confront an unexpected condition in the road. Excessive speed can lead to high-impact collisions resulting in severe injury and death. Avoid speeding – not just because you don't want to get a Las Vegas traffic ticket, but because you want to protect the safety of yourself, your passengers, and those you share the roadway with.
4) Reckless driving
A reckless driver intentionally disregards traffic laws and endangers the safety of those around him or her. Examples of reckless driving behaviors include:
Tailgating
Weaving in and out of traffic
Speeding
Running traffic lights and signs
Sudden braking
Street racing
Refusing to yield
Overtaking vehicles
Reckless driving is the cause of many avoidable motor vehicle accidents. If you see someone driving in a reckless manner, your safest course of action may be to avoid that vehicle and let it pass.
If you or a loved one has suffered serious injuries due to the negligent actions of a reckless driver, contact a personal injury lawyer today. The experienced car accident lawyers at Richard Harris Law Firm can help you recover the financial compensation that you deserve.
5) Weather conditions
The residents of Las Vegas typically enjoy hot and dry weather conditions. However, when it does rain, drivers must proceed with caution. Rainwater can drastically change road conditions, making roads slick and causing vehicles to skid or hydroplane. Rain can result in reduced traction and visibility, and heavy rainfall can hide obstacles in the road such as large potholes.
If possible, pull over and wait for the rain to subside. If that is not possible, you should turn on your headlights, use your windshield wipers, reduce speed, and proceed with extra caution. Your stop time may be reduced in heavy traffic, so it's a good idea to keep a greater distance between the cars in front of you.
6) Drowsy driving
According to the National Sleep Foundation, about 20 percent of drivers admitted to falling asleep behind the wheel at some point over the past year. Drowsy driving usually is a result of a person needing sleep, but it can also be caused by medications, untreated sleeping conditions, or alcohol.
Signs that you're too tired to drive include:
Difficulty keeping your eyes open
Frequent yawning
Trouble maintaining a set speed
Nodding off or not keeping your head up
Missing traffic signs and directions
Difficulty staying in your lane of traffic
Driving while drowsy impairs a driver's abilities in many of the same ways that alcohol does. It reduces a driver's reaction times, awareness of hazards, and ability to sustain attention. Studies show that a driver is 3 times more likely to be in a vehicle crash when fatigued.
Contact a Las Vegas Car Accident Attorney Today
The experienced personal injury attorneys at Richard Harris Law Firm are committed to fighting for the rights of car accident victims in Las Vegas and throughout the State of Nevada. Our lawyers have the skills and resources needed to take on large insurance companies, allowing you to focus on what matters most – your recovery.
Richard Harris Law Firm has been serving clients in the Las Vegas area for over 40 years. Over the years, our personal injury lawyers have helped over 100,000 satisfied clients and recovered over $1 billion in compensation for them. We can do the same for you and your family.
We know that dealing with the aftermath of a car accident can be an overwhelming and stressful experience. Our compassionate attorneys stand ready to help. We offer each client invaluable legal insight and a superior level of personal service.
Contact us today to schedule your free, no-obligation consultation. You can call or text us 24/7 at (702) 374-0436 or fill out our online evaluation form.