Las Vegas Single Vehicle Car Accident Lawyer
Car accidents can happen suddenly and without warning. In a split second, your car is damaged, you and your loved ones are injured, and you are left wondering what will happen next.A single-vehicle accident causes damage to one automobile. Yet, that doesn't mean that no one else played a role in the accident. Mechanical failure, road or weather conditions, and tire blowouts are examples of the numerous other factors that could contribute to a car crash.
When you have a single-vehicle accident in Las Vegas, knowing Nevada law can make the difference between recovering compensation or being overwhelmed with out-of-pocket expenses. Richard Harris Law Firm has a 40-year history of defending and protecting the rights of Las Vegas residents.
Would you like legal advice without cost or obligation? Call or text our Las Vegas legal team at (702) 745-8555 for a free consultation today.
Single Vehicle Car Accident Injury Resources
OUR PROCESS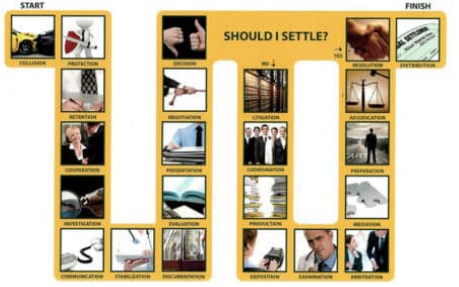 The timeline of a personal injury case can be complex and emotionally draining. At the Richard Harris Personal Injury Law Firm, we have a proven Case Resolution Process to ensure our team is communicating and preparing you for each stage and the best possible settlement.
Rely On Richard Harris Law Firm to Overcome Serious Potential Outcomes of Single-Car Vehicle Accidents
After a car accident, your focus should be on recovery. You need to take time to heal, both physically and emotionally. Legal troubles and financial burdens will only further build the pressure. Car accident victims face far too many challenges, including the following.
Traffic fines
In 2019, the Nevada legislature passed new laws on everything from moped helmets to changing lanes at the sight of non-flashing rear blue lights. Though many people have trouble keeping track of all the changes, they are still expected to follow them.
Under Nevada law, courts can impose fines, driver's license suspensions, and even arrest warrants. Criminal charges, such as drunk or reckless driving, carry serious consequences. Our experienced car accident lawyers in Las Vegas can help you with every aspect of your case, including criminal defense and personal injury law. Take the first step toward safeguarding your rights and your freedom by contacting us today.
Medical debt
Unfortunately, the high costs of medical treatment could deter some people from getting the care they need. In one survey, 23 percent of Nevada residents revealed that they had overdue medical bills.
Without legal representation, you might struggle to get your insurance company to reimburse you for doctor bills, therapy, and rehabilitation. And even if your claim is successfully filed and approved, it can take a long time to see any funds come your way.
How can you speed up the process? What can you do if your insurance company rejects your claim? The resourceful attorneys of Richard Harris Law Firm are ready to help you maximize your compensation so you can focus on making a full recovery from your accident.
Property damage
Collision or comprehensive, full or partial liability – no matter what type of policy you have, its purpose is to help cover collision damages. Yet, all too often, car accident victims discover that insurers are more concerned with making a profit than serving their clients' needs.
Contact Richard Harris Law Firm Without Delay
Since our consultations are free without any obligation, you have no reason to hesitate. At the very least, an experienced car accident lawyer at Richard Harris Law Firm can examine your case and advise you on what to do next. Our local law office's legal team can also explain complex insurance papers and ensure that the insurers involved live up to their word when we take on your case.
At best, a conversation with our legal professionals can lead to you winning life-changing compensation. Tell us your story by contacting us at info@richardharrislaw.com or by calling (702) 374-0436 any time of day or night.