Pahrump Nevada Bike Accident Lawyer
Another beautiful day in Pahrump and time to go on a bike ride.
This unincorporated town in Nye County, Nevada is about 62 miles west of Las Vegas.
It has grown quite a bit over the years with a population of over 37,000 residents.
Pahrump has become known as a good place to retire.
For residents that want to get out of the big city living but still live close to the action Pahrump is a perfect fit.
Bike riding is popular among enthusiasts who want an adventure from Las Vegas to Pahrump.
Round trip is about 124 miles (200km) and can be exhilarating.
This trip has been given the name "Over the Hump to Pahrump".
This is one example where a road bike will be on the highway in this case NV-160.
Cars and bikes will be next to each other the entire distance.
There are also residents in Pahrump that enjoy the great weather the desert has to offer and love to take their bikes out for a ride.
When a cyclist is on a road bike the speeds can really get up there.
The faster a biker or motor vehicle are going when they collide the more serious the injuries can be from it.
Some cyclists like to ride to work or school.
This is a great way to save money on gas and be apart of the green energy movement.
There are many reasons to ride a bicycle in Pahrump.
The major down side of riding is the risk of a bicycle accident.
How Can The Richard Harris Law Firm Help
The Richard Harris Law Firm has over 40 years of experience in bike related accidents in the state of Nevada including Pahrump.
We have won over $1 Billion for our clients
We have helped over 100,000 clients
We have a 99% client satisfaction rating
Our team of professional personal injury attorneys will help get you the just compensation you deserve if you have been injured by the fault of another.
These cases can be negotiated but sometimes the victim will have to go to court to plead their case.
Either way Richard Harris and his team will help you make the right decision and defend you.
It is important if you have been injured in a bicycle accident to be represented when dealing with the courts and insurance companies.
Let Us Help.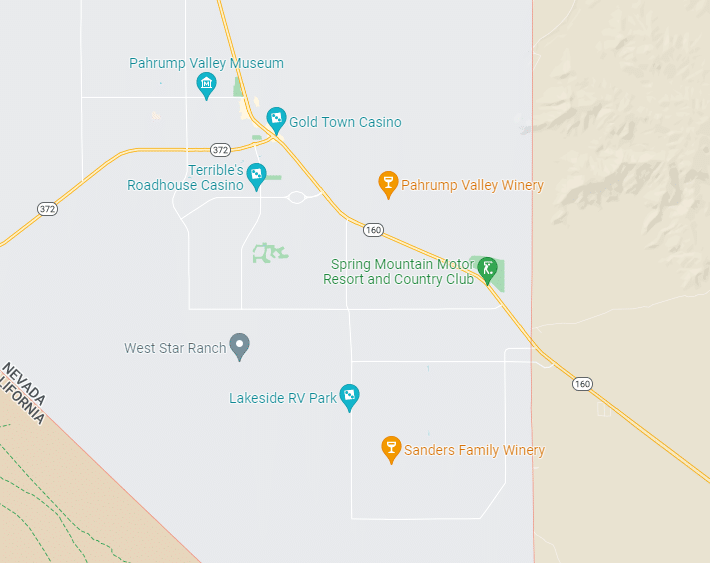 Dangerous Streets For Bicyclists in Pahrump
There are many off road adventures in Pahrump where bicycle riders will take to the desert terrain as well.
Others may just strictly ride road bikes.
They may cross intersections and busy streets like the ones listed below to get where they need to be.
Dandelion Street
Honeysuckle Street
Wilson Road
These are some of the streets in the community more dangerous to bike riders.
The reality is that bicycle riding can be hazardous.
Cars and trucks may have a hard time seeing a cyclist on the roads of Pahrump.
With all the extra steel and protection, a car definitely has the advantage in an accident.
There are millions of bicycle riders sharing the roads with cars and other motor vehicles in the US every day.
It is important to take precautions and know the rules of the road when both riding a bike or driving a car.
Things a bike rider can do to make for a safer ride
Protect the Head – Always wear a helmet. This is the number one thing any rider must do. Whether you are off road or on a city street it is critical for a rider's safety to always protect the head. The quality of the helmet is important. Don't go cheap on this. The helmet must fit properly to ensure the best protection in a bicycle crash.
Wear Bright Clothes – It is important to remember that motorists have a hard time seeing bicycle riders, pedestrians and motorcyclists. Wearing bright clothes and those with reflective material can really make a big difference on a city street or highway. Think of how hard it would be to see a bike rider in dark clothes especially at night. Most fatalities on a bike occur in darkness.
Have Proper Lights and Reflectors – A bicycle must have proper lights if on the road at night. Reflectors and lights will help a motorist see a cyclist. In Nevada bikes must have a white light that can be seen at least 500 feet away. The rear tail reflector must be visible by a vehicle behind a cyclist by 300 feet with their low beams on.
Bicycle Maintenance Check – Always make a bike check when getting out on the road. This can be the difference between a fun ride or a tragic accident. Brakes and lights are crucial to always check. Make sure the handlebars are tightened and tires are properly inflated and in good shape.
Ride in the Flow of Traffic – One of the important rules of the road. A bicyclist should always go with the flow of traffic. Never ride head on into traffic. This can be incredibly dangerous for a rider. It is important to ride in the proper lane and travel in the correct direction of traffic on the roads of Pahrump.
It is important that a motor vehicle observe the rules of the road when traveling alongside a bicycle rider.
It is vital not to speed around a cyclist.
It is also recommended that a motorist drive defensively around a cyclist being extra careful to avoid an accident with a rider.
A bike accident can have very serious consequences.
The cyclist is the most vulnerable on the road due to their lack of defense.
If you or a loved one are ever injured in a Pahrump bicycle accident the Richard Harris Law Firm can help.
Available 24/7.
Pahrump Bicycle Settlement and Compensation
A Pahrump bike accident can cause injuries and damage that can be incredibly stressful on a person.
Injuries can take time to recover and work schedules interrupted depending on the extent.
If a car and a bike collide most likely the cyclist will be injured and in some cases a fatality can occur.
It is best to get a personal injury lawyer like Richard Harris.
The insurance companies are usually looking out for their own interests and will make it difficult to get a fair payout.
Richard Harris has been successful at negotiating Pahrump bike accident cases and will fight for your best interests.
The attorneys at Richard Harris will look into all the details of the case which includes; the severity of the injuries, pain and suffering and lost wages.
The wages can include current as well as future losses.
Having a lawyer is the best chance in holding the responsible party accountable.
Pahrump Bicycle Accident Injuries
There are many different types of injuries a person in a Pahrump bike accident can get.
Some of these are more serious than others but should all seek medical attention.
Cuts and Bruises – This would most likely be the best-case scenario in a bike accident. Although road rash and the extent of this injury can definitely be serious. This could lead to infection if not properly treated and leave permanent scarring on the cyclist. Protective clothing and padding are recommended to riders to help minimize the severity. The road can cut a cyclist up pretty bad with rocks, glass and other types of debris.
Head – The head needs to be protected at all times. The head hitting the ground or a motor vehicle can leave Traumatic Brain Injury (TBI), skull fractures etc. These types of injury can take a long time to recover from and may cause permanent damage to a rider. The helmet definitely helps and can be incredibly valuable in a bicycle accident head injury. The majority of fatalities in bike accidents are caused by head injuries.
Broken bones – Bone breaks are very common in a Pahrump bicycle accident. The clavicle bone or more commonly referred to as the collarbone is one of the most fractured bones in a bike accident. This injury comes with some major pain and swelling. This can take a good amount of time to heal. Other bones like the legs, arms, ankles and hands are also common in bicycle accidents.
Back and Neck – It is always serious any time the spine is involved in an injury. It is important to stay still if you ever damage this part of the body. Moving around can often make the injury worse. Permanent injury to the spinal cord can result from this. When the neck or back are injured, a victim may feel tingling, numbness or a loss of feeling altogether.