Pahrump NV Motorcycle Accident Attorney
We all know the excitement and exhilaration that comes with riding a bicycle.
A motorcycle ride takes that same feeling to the extreme.
Motorcyclists love the freedom and sense of adventure that comes with riding.
They also enjoy the fact that it saves money on gas.
Parking and maneuverability are also in the positive column.
When it comes to safety however this is where the pendulum swings to the other side of the spectrum.
Motorcyclists are far more likely to be injured than those in an enclosed motor vehicle.
A motorcycle accident in Pahrump can happen at any time of the day.
It can happen on the main highway or in the residential part of town.
It can happen in parking lots and parking garages.
The amount of damage and injury to a motorcyclist and their bike can be wide ranging.
The speed that the rider and motorist are travelling can make the difference between life and death.
In a most recent report on motorcycle accidents and fatalities there are some statistics that all of us should be aware of.
Being mindful of the dangers of riding a motorcycle is important.
If you get injured in a motorcycle crash in Pahrump you'll need a good injury lawyer to determine how much your injuries are worth.
In addition there is a statute of limitations in Nevada for auto accidents so please be aware of that.
Some motorcycle accident and death statistics include:
Almost half of motorcycle deaths were on the weekend.
Women are passengers in almost 60% of women fatalities on a motorcycle.
More motorcycle accidents happen in urban areas rather than rural places.
An estimated 90% of those killed on a motorcycle are men.
DUI accounted for over half of the motorcycle deaths.
Approximately 75% of motorcycle accidents involved another vehicle.
These are just some of the commonalities that you will see in a motorcycle accident.
The bottom line is that riding a motorcycle can be a lot of fun and really dangerous.
Why call a Pahrump Motorcycle injury attorney
If you find yourself in a motorcycle wreck most likely injury will bes involved.
Richard Harris is a well-respected law firm with a team of professionally trained attorneys that specialize in motorcycle accidents.
Injuries from a motorcycle crash may take time to heal.
If you need to take time off from work it can result in lost wages.
Money that you have in savings can easily be exhausted.
Medical bills can be overwhelming.
Insurance companies will fight to give you less than you may deserve.
It is definitely in your best interest to get the best legal support available.
Richard Harris has recovered over $1 Billion for their clients.
Let them look over the facts of your case and fight for the compensation you deserve.
The first consultation is free and we'll help with everything from gathering evidence to getting the police report, etc.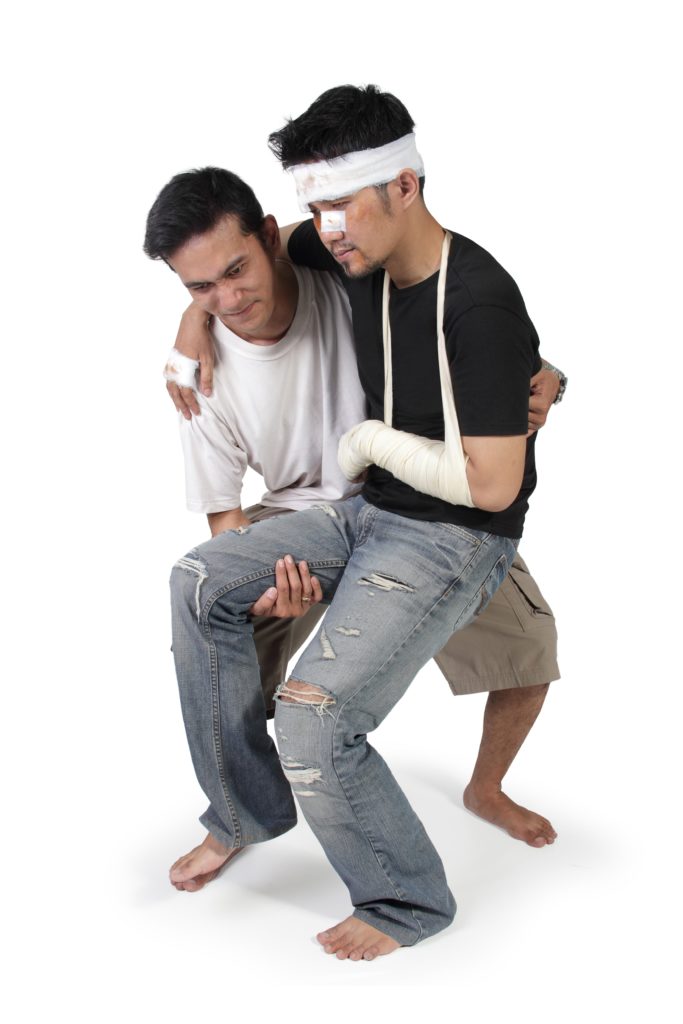 Injuries In a Pahrump Motorcycle Accident
Broken Arm – This is quite common when a biker goes off their motorcycle and tries to protect themselves when going down. Putting the arm out to brace themselves when hitting the pavement can lead to bone breaks or fractures. Time to heal and an arm cast will be required in most cases. If there are compound fractures surgery and pins may be needed to put the arm back together. When an arm breaks tendon and muscle damage occur as well.
Lower Extremities – Hips, legs and feet are all at risk in a motorcycle accident. The leg is vulnerable to being directly impacted if another vehicle hits a motorcyclist. Feet are at high risk as well. Hopefully there are only cuts and bruises but more than likely injuries will be more serious. Broken bones and torn ligaments are common in motorcycle accidents.
Head and Face – Anytime the head is involved in a motorcycle accident the results can be fatal. Traumatic Brain Injury is always a possibility in these types of injuries. Hopefully the helmet helps decrease the severity of the injury. Facial injuries are also dangerous and results can range from lacerations and scrapes to broken bones in the facial area.
Road Rash – If a motorcyclist goes down on the road there will definitely be some kind of road rash. The severity can be minor or major. Bleeding is a common result from the skin scraping across the ground. This type of injury should never be taken lightly. The pain and suffering from raw and inflamed skin can be extreme. There can be swelling of the skin. If there is infection and it spreads through the body it can be life threatening.
Seek medical attention right away if you have been injured in a Pahrump motorcycle accident.
Then call the Richard Harris Law Firm.
They have over 40 years of motorcycle accident injury experience in the state of Nevada.
Reasons for a Motorcycle Accident
Driver Inexperience – A motorcycle is dangerous enough for a rider with years of road hours let alone those with minimal experience. It is best to take proper instructions and classes on motorcycle safety before heading out on the highway. An accident on a motorcycle is far worse than a fender bender with a beginning driver in a car. Any time a motorcyclist goes down it can be fatal.
Road Conditions – Imagine cruising down the highway at 65 mph and you hit a pothole out of the blue or get your wheel caught in the groove of the road. These types of situations occur on a bike all the time and can be incredibly dangerous for a rider. Oil slicks and a little rain can make for a nightmare situation. Road signs may be lacking making for confusion. Pahrump like other parts of the desert is known for some breezy days where wind gusts can blow garbage or other loose debris on the road unexpectedly.
Unsafe Lane Changes – Any time a motorist changes lanes without putting a signal on can be extremely dangerous to a motorcyclist. A car or truck can have a blind spot and it may be difficult for them to see a rider. Semi-trucks and Recreational Vehicles where the drivers sit up high may find it difficult to see a motorcycle. A motorcyclist must be aware of this. A quick lane change can take a rider out.
Speeding – Some of the most serious of the injuries and fatalities happen when a car or motorcycle are speeding. A motorcycle crash is devastating at high speeds when a car and biker collide. Always drive the speed limit and keep a safe distance. If a driver is speeding there is more potential for a vehicle to lose control. It makes it much more difficult to avoid hazardous situations on the road. The person speeding not only puts themselves in great danger but also everyone else on the road.
You always need to be prepared and understanding the attorney client privlege is very important.
Wearing a Helmet and Motorcycle Safety in Nevada
The fact is that wearing a helmet is one of the best ways to protect yourself in a motorcycle accident.
Nevada state law requires that anyone on a motorcycle must wear a helmet.
This goes for drivers as well as their passengers.
The helmet must also be approved by the U.S. Department of Safety.
If the motorcycle does not come equipped with a transparent wind screen, then the riders must also wear face shields, goggles or glasses while riding.
There are still some states that do not require a helmet but in Nevada it is mandatory.
This is for the motorcyclists and passengers' own safety.
There is a high chance of brain injury that could occur if the head were to hit the pavement.
Study after study has shown that this one piece of safety gear has saved countless lives.
Here are some other motorcycle safety tips.
Wear Proper Clothing – Obviously wearing shorts and flip flops are probably not the best idea when heading out for a motorcycle ride. For better protection from the dangers of the road a driver should wear proper thick leather or padded pants, reinforced jackets and Harley type motorcycle boots. All this will definitely protect you more than a pair of jeans and a t-shirt.
Motorcycle Maintenance – It is a must that a rider is fully aware of every aspect of the bikes maintenance before riding the streets of Pahrump. Always make sure brakes, tires, mirrors, blinkers and lights are all in working condition. All other parts of the bike should be thoroughly checked as well before going on a ride.
Watch the Weather – There are apps now that can get you up to the minute weather anywhere at any time. Take advantage of the technology that can make for a safer trip. If there is rain, high winds or any other type of stormy weather it is always best to be safe and avoid. Crazy weather can put you in a lot of danger if not careful. Being hit with rain at 55 mph is horrible on a bike.
Rules of the Road – Always drive the speed limit. Following the rules of the road are enormously important for a motorcyclist to get to the destination safely. So often motorcycle fatalities occur due to riding at excessive speeds and disobeying the rules of the road.
————————————