Injuries Happen on Fremont Street Las Vegas
When visiting big cities people always tell you to be aware of your surroundings right?
Well the same goes for Las Vegas.
Las Vegas has two main areas where tourists flock to, one is The Las Vegas Strip or Las Vegas Blvd.
This is the area where all the big major casinos are like Caesars Palace or The Cosmopolitan.
The second area is a little less glamorous but so much fun and that is Fremont Street or downtown Vegas.
Fremont Street is the old strip in Vegas and some of the older hotels with a lot of history are downtown like The Golden Nugget, or Binion's Gambling Hall and Hotel, or the Plaza.
Downtown Vegas or Fremont Street also has an under the dome zipline that goes from one of the streets to the other.
Fremont is always lively with street performers, artists and acrobats, but unfortunately people get hurt everyday on Fremont Street in Vegas.
There are many other businesses downtown including Telemundo the Spanish television station and Zappos, the online shoe retailer have headquarters downtown.
Stay Safe and Aware
Along Fremont there are plethora of bars and restaurants to choose from.
Fremont is a lot of fun and most of the time much less expensive than the Strip on Las Vegas Blvd.
Even though Fremont Street is a busy Las Vegas attraction with large groups of people bustling around all the time, it is important to remember your surroundings and be aware.
There are so many ways to be injured and you certainly don't want to ruin your vacation or trip over an accident or injury that may be avoidable.
If you were injured due to someone else's negligence on Fremont Street it sure would be a good idea for you to speak with an attorney to understand what options are out there for you.
Being robbed or assaulted on Fremont Street?
Is Fremont Street safe?
Is Downtown Las Vegas safe?
These are some of the questions tourists ask all the time when they come to Downtown Las Vegas.
No matter where in the city you are, Fremont Street or some other part of Las Vegas you should always be aware of your surroundings.
Being the largest city in Nevada comes with a particular set of challenges, and even though Las Vegas is a fairly safe city compared to other large cities it does have its share of crime.
The less traveled by areas like some areas downtown the risk is greater of being robbed, assaulted, or pickpocketed since the police presence in these areas is less than on The Strip.
We emphasize that Las Vegas is a relatively safe city.
There are some things you can do to make the chances of being robbed, pickpocketed or assaulted much less.

For one, walking alone at night in dark areas is not recommended.
If you can walk with another friend.
The businesses in a higher crime area can help reduce the risk of guests being assaulted or robbed by providing proper lighting in store front areas.
In addition adding security cameras, on site security personnel are also some things businesses can do to help reduce Fremont Street crime like robbery and pickpocketing.
If someone is injured or assaulted in front of a business or in a business on Fremont Street the business or business owners might be held liable because of a premises liability claim.
Slip and Fall Accidents on Fremont Street
Since Fremont street is always busy with pedestrian traffic slip and fall accidents or injuries are more common than you think.
Slip and fall accidents can cause personal injuries or you could be injured by a motor vehicle at one of the many traffic light areas that cross Fremont Street to motor vehicle traffic.
Businesses on Fremont street have a duty to keep patrons safe by having proper lighting in the walkway areas, cleaning up liquid spills of drinks or anything else a person could slip and fall on.
Also making sure walking areas like carpeted areas don't have any carpet either coming up or ripped that could lead to fall.
They also have a duty to keep the sidewalk area in front of her business free of debris and also the concrete needs to be level and not cracked or uneven.
You can also be injured in the construction areas of the road widening project around Fremont Street.
The construction has been ongoing for sometime and yes they have placed cones around the area but the street is all ripped up and the road is narrowed for cars causing them to merge quickly into one or two lanes.

This has become a recipe for disaster in the area.
You could be hit by a car, or fall off the sidewalk that has been ripped up by the city to make their roads in the area wider.
If you have been injured in the construction area the city of Las Vegas may be liable for your injuries.
If you have been injured in a slip and fall and sustained injuries like a broken bone, sprain, laceration or traumatic brain injury (TBI), the business owner or city may be liable for your injuries due to negligence.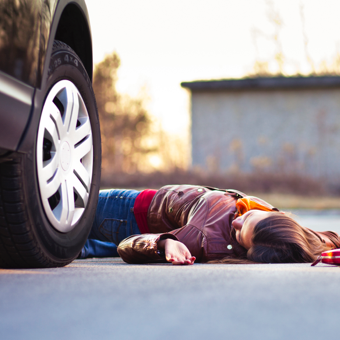 Pedestrian Accidents on Fremont Street?
There are so many ways for someone to be injured in and around Fremont Street.
Slip and Falls are among the most reported injuries but other pedestrian accidents occur all the time.
Pedestrians are hit by cars all the time trying to walk from the strip to Fremont street.
People seem to think that it's a short walk but it is a lot further than you think.

Walking from The Strip to Fremont is not only far but there are some very dark areas where you don't want to be walking at night.
Using Rideshare
Always take a taxi, rideshare like Uber, Lyft or the Bus, even drive if you haven't been drinking or don't plan too.
Pedestrians who choose to walk from The Strip to Fremont Street put themselves at risk of being robbed, assaulted, or pickpocketed.
They also run the risk of being the victims of being hit by a car or slip and fall in a construction area.
All this can be avoided by not walking from The Strip to Fremont street, but if you do wear light colored clothing so you can be seen by drivers and other pedestrians.
Statute of Limitations in Nevada
If you have been injured on Fremont Street you have only two years from the date of the accident or injury to file a claim.
After that time it is not possible to recover any remedy because of the statute of limitations.
If someone dies because of  the injuries associated with an accident then the family of the deceased has two years from the date of the victim's death to file a claim.
For example if the victim was injured on 12/1 but survived in the hospital until 2/1 then the family has two years from the date of death 2/1 to file a claim against the neglectful party.
So speaking with an attorney as soon as possible is recommended to get your case started as soon as possible since we know that the courts are slow moving.
This process is never fast but it can get you as whole as possible under the circumstances but time is of the essence.
Injured in a Hotel Casino on Fremont Street
Being injured on Fremont Street is only one situation where injuries occur.
You can also be injured in a Casino that is located on Fremont Street.
This changes the situation altogether.
If you are injured inside a Casino like The Golden Nugget, The Plaza, The D, or Binion's Gambling Hall and Hotel then it may be the responsibility of the casino hotel or the owners of the property.
You must have been injured while inside the casino hotel for it to be the issue of the hotel.
If you are outside the hotel on Fremont Street that can be another situation entirely.
Any injury in a casino like a slip and fall, an assault, robbery or incident in the parking lot is the sole responsibility of the casino and its employees.
Call The Richard Harris Law firm today for a free consultation where we can advise you on who is responsible for your accident.
Call Richard Harris
We have been Las Vegas's premier personal injury law firm for over 40 years.
We are tied to and know the downtown Vegas area very well because that's where our offices are located, within walking distance of Fremont Street.
We have recovered over a $ Billion dollars for our clients over the last 4 decades.
Our main goal when representing a client is to get them the support they deserve after being injured due to negligence by a business or casino located downtown and that even includes the city of Las Vegas.

We will help our clients get the maximum reward available and only get paid when we are in your case.
You are not responsible for any financial payment until the case is settled since we work exclusively on a contingency basis.
Call for a free consultation today.