BAIR HUGGER WARMING BLANKETS LINKED TO INFECTIONS
Have you or a loved one suffered harm?
Call us now to get help (702) 444-4444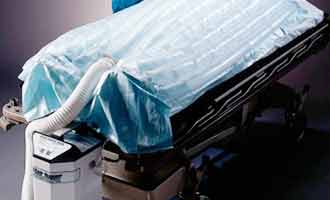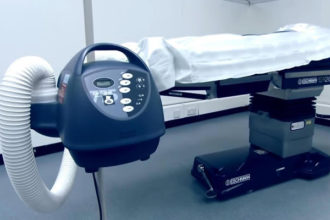 Device: Bair Hugger Warming Blanket
Use
The 3M Bair Hugger is a forced air warming blanket used during surgery to maintain body temperature, shorten recovery time and reduce bleeding.
Related Injuries
The blanket provides a source of bacteria that causes severe joint infections occurring during hip, knee and spine procedures that may lead to revision surgeries and even amputation.
Why is the Bair Hugger Warming Unit Dangerous?
The Bair Hugger Warming Unit is designed to warm patients in the surgical setting. The device filters and then heats air which is then forced through disposable blankets thereby keeping the patients warm, preventing hypothermia and reducing the risk of bleeding during surgery. However, the resulting air flow has increased the incidence of post-surgery infections especially after knee and hip implants. Patients have been forced to have additional surgeries, and in some severe cases, amputations.
How it Works
The Bair Hugger system consists of a portable heater/blower unit, connected by a flexible hose to a disposable blanket positioned over or under the patient. Air is filtered upon entering the blower unit, and then blown through the flexible hose into the disposable blanket, which is fabric woven around flexible baffles which run throughout the blanket. Warmed air is then exhausted out of the blower unit.
GET HELP NOW
FREE
BAIR HUGGER CASE EVALUATION
Statute of Limitations is Running Out
Statute of Limitations bar claims not brought within a specific period of time. A hurt party must bring their claim within the Statute of Limitations in order to be eligible to receive compensation. Statutes may vary based on specific circumstances, contact the Richard Harris Law Firm to see about your legal rights.
Bair Hugger Warming Unit History
The Bair Hugger system was introduced in 1988. Today, there are more than 50,000 Bair Hugger units in hospitals nationwide, and 180 million patients have used the device.
The inventor of the device, Dr. Scott Augustine, has been leading a critic of using the device during surgeries to replace joints and heart valves, and recommends the use of conductive systems, i.e., an electric blanket with conductive coils inside to create heat, in those circumstances.
Dr. Augustine started the company that manufactures and distributes the Bair Hugger system, and then left the company in 2002, over a dispute with the Board of Directors of the company, and has campaigned against the product in this surgical setting since then. The company, Arizant Healthcare, was purchased by 3M in 2010 for $810 million.
Have you or a loved one been hurt or experienced complications resulting from the Bair Hugger blanket? You may be entitled to compensation. Get help now.
Nevada Bair Hugger Lawsuits
If you underwent a surgery hip, knee or heart valve implant or replacement and developed serious infection or amputation after the procedure, please call us today to discuss the details of your case with us, at (702) 444-4444. We are here to help!