Las Vegas Rollover Accident Lawyer
While rollover accidents make up a small percentage of the number of car accidents that are reported every year, they account for about 35 percent of all motor vehicle fatalities annually. Survivors of Las Vegas rollover accidents often have to cope with severe physical and emotional trauma. Catastrophic injuries may result in long-term impairment and ongoing expenses.
If you or one of your family members was injured or killed in a rollover accident, you need a trustworthy personal injury lawyer on your side as soon as possible. The compassionate and experienced attorneys at Richard Harris Law Firm have been helping victims of car accidents in the Las Vegas area for over 40 years. Call or text us 24/7 at (702) 374-0436 to schedule a free case consultation. We can help you recover the compensation you deserve after your rollover crash.
Rollover Accident Injury Resources
OUR PROCESS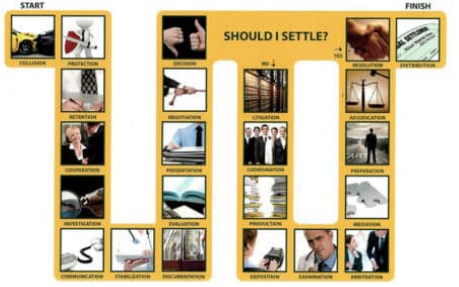 The timeline of a personal injury case can be complex and emotionally draining. At the Richard Harris Personal Injury Law Firm, we have a proven Case Resolution Process to ensure our team is communicating and preparing you for each stage and the best possible settlement.
Common Causes of Las Vegas Rollover Accidents
After taking on your rollover case, a car accident attorney will need to investigate the cause of the rollover. It's essential to know who or what caused the rollover incident in order to determine fault and establish who is liable for financial damages. The following are some common causes of rollover accidents.
Vehicle design
Sport utility vehicles or SUVs are a popular choice among drivers in Las Vegas, Nevada. Their large size and weight give the appearance of safety and stability, and they offer plenty of room to transport multiple passengers and cargo. Unfortunately, due to their high center of gravity and other design features, SUVs are more susceptible to rollover accidents than other types of cars.
Many vans and trucks are also top-heavy with a narrow base width which makes them more likely to roll over. Thus, many rollover motor vehicle collisions involving trucks and SUVs are single-vehicle accidents caused by momentum and weight distribution alone.
In fact, many SUV manufacturers are required to put a sticker on the vehicles they manufacture to warn the driver to exercise caution when making turns since the SUV handles so differently than other vehicles.
Excessive speed
High speeds, especially when a driver is making a sharp turn, can greatly increase a vehicle's chance of rolling over. Statistics show that most rollover accidents occur when a vehicle is traveling over 55 MPH. Vehicles that collide with each other at high speeds may tip over to the side or completely roll over, trapping the occupants inside or ejecting them which can mean catastrophic injury.
Sudden swerving
A Las Vegas driver may swerve suddenly to avoid hitting the car ahead, a pedestrian, an animal, or debris in the road. This sudden movement can cause the driver to overcorrect and lose control of the vehicle, resulting in a rollover. The risk is further increased if the driver is traveling at high speeds or is in an SUV, truck, or another vehicle with a higher center of gravity.
Distracted driving
Distracted driving is extremely dangerous and a common cause of all types of car accidents, including rollovers. Common distracted driving practices include:
Talking on the phone
Programming a GPS
Distraction from a person, collision, scenery, or something else outside the vehicle
Adjusting the stereo
Applying make-up
Eating or drinking
Attempting to reach for something inside the motor vehicle
Driving under the influence
Many rollover accident fatalities involve the use of alcohol or drugs. The blood alcohol content (BAC) limit for a driver in the State of Nevada is .08 (but .04 for commercial drivers). However, even a small amount of alcohol can impair your judgment, coordination, reasoning, vision, and other functions that are imperative to safe driving.
Tire defect
Rollover accidents can also be caused by a tire blowout which could be the result of improperly inflated or defective tires. Worn-down or improperly inflated tires can reduce a driver's ability to control the vehicle and significantly contribute to rollover accidents. In addition, bald tires lack proper traction with the road, making it easier for a car to slide on a wet road and finally roll over.
Types of Injuries Suffered From Las Vegas Rollover Accidents
Tragically, car accidents involving rollovers often result in fatalities or catastrophic injuries. If you or a loved one has been the victim of a rollover accident, you deserve the best medical care that's available. The car accident lawyers at Richard Harris Law Firm can help you recover financial compensation for all medical treatments that you need as a result of the rollover.
The following are some common types of car accident injuries that we have helped our clients in Las Vegas recover compensation for:
Fractured and broken bones
Bruising
Internal bleeding
Nerve damage
Traumatic brain injuries (TBIs)
Neck and back injuries
Spinal cord injuries
Amputations
Burns
Paralysis
When You Need an Attorney After a Rollover Accident
After being injured in a Las Vegas rollover collision, you may be deciding whether to hire a car accident attorney or to handle filing the insurance claim on your own. Ideally, you would be able to report the accident to the insurance company and they would reimburse you for your medical expenses and other damages. Unfortunately, it is often not that simple – there are many obstacles along the way that can affect the payout of car accident claims.
The other driver's insurance company or even your own insurance broker may delay or outright deny your claim. Another tactic that greedy insurance companies use is to offer victims of motor vehicle accidents fast but low settlements that are far less than their claims are actually worth.
The Las Vegas car accident attorneys at Richard Harris Law Firm have decades of experience in negotiating fast but fair settlements for our clients. Our lawyers can help you have the peace of mind that comes from knowing you're receiving the financial compensation you deserve. Call our office today to request your free consultation.
What are the Benefits of Hiring a Car Accident Attorney?
If you or someone you love has been seriously injured in a rollover crash, there are many benefits to having a compassionate and experienced Las Vegas, NV, car accident lawyer on your side.
The following are just a few of the many ways a skilled lawyer can help you after a serious auto accident:
Calculating the value of your claim: Our car accident lawyers can explain the full extent of damages that you are entitled to and accurately calculate the true value of your claim. In addition to reimbursement for medical expenses, you could recover compensation for lost wages, disability, and other damages.
Determining fault: After taking on your case, our car accident attorneys will immediately begin investigating the cause of your rollover. We may hire accident reconstructionists or other experts to help us identify the true source of your rollover accident. In some situations, a car part manufacturer or another third party may be liable.
Negotiating with the insurance companies: The goal of all insurers involved is to get you to settle for the lowest amount possible. The personal injury lawyers at Richard Harris Law Firm are skill negotiators. We won't back down until we help you get the financial compensation you need and deserve.
Representing you in court: The majority of car accident cases that we handle are settled out of court. However, if a just and fair settlement agreement cannot be reached with the insurers involved, your case will then need to be presented in court before a judge or jury. The lawyers at our firm are prepared to take your case to trial if needed.
Compensation You May Be Entitled to After My Rollover Accident?
If you have sustained serious injuries in a Las Vegas rollover due to the negligence of someone else, you should not have to cover the costs of the auto accident on your own. After taking on your case, the personal injury attorneys at our local law office will discuss with you the extent of your injuries, the expenses you have accrued, and the various ways the rollover accident has impacted your life.
We can then determine what type and amount of damages that we are going to pursue on your behalf. Contact our Las Vegas-based firm to schedule a free consultation.
Depending on the extent of your injuries and the circumstances of your accident, a lawyer may pursue compensation for:
Medical bills: This includes all medical costs that you have accrued as a result of the Las Vegas, NV, auto accident, as well as any estimated future costs of medical treatment and care. In order to determine the estimated amount of medical expenses that the victim is likely to incur in the future, our personal injury attorneys may engage the services of a medical expert.
Lost wages: When a rollover victim is left unable to work either temporarily or permanently, he or she may recover damages for the loss of income. The personal injury lawyers at our law office are skilled at calculating complex future wage and earnings losses that your compensation should cover.
Pain and suffering: These types of damages are awarded to compensate victims for the pain and suffering that they experienced as a result of the accident and their injuries. Our personal injury attorneys have helped clients obtain substantial settlements for pain and suffering.
Property damages: If you were involved in a rollover crash, your vehicle is likely totaled. Your rollover accident lawyer may help you recover damages to repair or replace your vehicle and reimburse you for phones, computers, sunglasses, or other items that were damaged in the rollover.
Disfigurement: A rollover may be so severe that it leaves victims scarred or permanently disfigured. These types of injuries can cause severe physical pain and emotional trauma. The personal injury attorneys at our law firm fight for maximum compensation for our clients who suffer from these types of injuries.
Punitive damages: These types of damages are sometimes awarded by the court as a means of punishing poor behavior and to deter the defendant from acting that way in the future. For instance, punitive damages may be awarded to you if a drunk driver caused your accident.
Wrongful death: Our Las Vegas car accident attorneys know that no amount of money can compensate for the loss of a loved one in death. While these types of damages cannot do away with the emotional pain that your family may be dealing with, this compensation can help alleviate some of the financial concerns connected to the death of your loved one.
Contact a Las Vegas Rollover Accident Attorney Today
If you or someone you love has been seriously injured or killed in a rollover crash, don't hesitate to take action to obtain the compensation you need. Rollover accidents are one of the practice areas that our firm specializes in. Our attorneys have successfully represented thousands of victims of car accidents in Las Vegas and throughout the State of Nevada – and each year we continue to build on our track record of success.
At Richard Harris Law Firm, each one of our clients is important to us. We will take time to truly listen to your accident story. Our attorneys understand that each individual and situation is unique, and we want to know what you want and need from your car accident claim. We value open and honest communication and will keep you updated every step of the way
Schedule a free initial consultation with an experienced car accident attorney at Richard Harris Law Firm today. Our attorneys work on a contingent fee basis, which means you pay absolutely nothing out of pocket. We get paid only if we win your case. Call or text us 24/7 at (702) 374-0436 to request your free consultation.