Las Vegas Hit and Run Car Accident Lawyer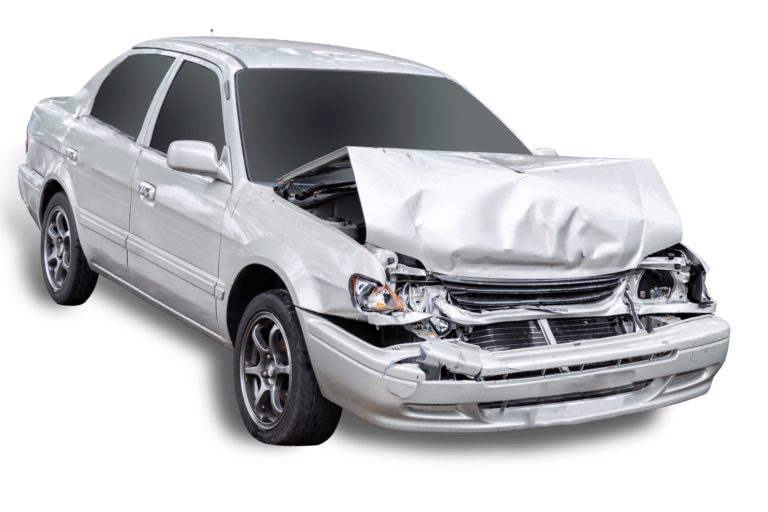 In the United States, a hit and run accident takes place every 43 seconds. Approximately 2,000 of these accidents result in fatalities. Whether fatal or not, though, hit and run accidents can cause much pain and suffering to the injured party and his or her family. This may be compounded by financial burdens related to medical expenses and lost wages due to time away from work as a result of your injuries.If the guilty driver quickly left the scene of your accident, you may be at a loss as to what to do next. This isn't a time for hesitation – it's a time for action. You need to team up with a hit and run accident lawyer who cares about justice and what's best for you.
The Richard Harris Law Firm has been doing exactly that for 40 years – helping families and accident victims throughout Nevada get the justice and compensation that they deserve. Our personal injury lawyers have helped our clients win over $1 billion. We're eager to help you and your family do the same.
If you have been involved in a hit and run accident in Nevada, reach out to us today. Don't let the driver who fled the scene get away with it. Call our Las Vegas hit and run lawyers today at (702) 374-0436 or fill out a free consultation form.
Hit and Run Car Accident Injury Resources
OUR PROCESS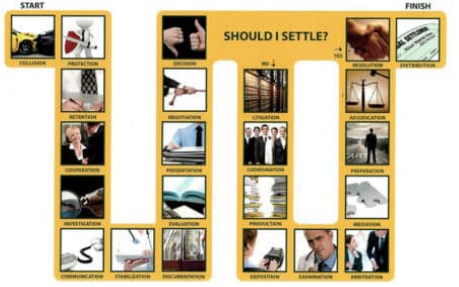 The timeline of a personal injury case can be complex and emotionally draining. At the Richard Harris Personal Injury Law Firm, we have a proven Case Resolution Process to ensure our team is communicating and preparing you for each stage and the best possible settlement.
Getting Compensated For Your Las Vegas Hit and Run Accident
Hit and run accidents can be costly – physically, financially, and emotionally. Are you feeling the pain? The silver lining is that hit and run victims may be entitled to significant compensation.
What kind of compensation might you be able to receive from your Las Vegas, NV, accident? While every accident is unique, here are a few examples of damages that you may be entitled to:
Medical expenses resulting from your injuries – Including past, present, and future medical bills
Lost wages – Due to recovery time away from work
Loss of future earnings
Property damage – Including vehicle repair costs
Pain and suffering
If you've been injured in a motor vehicle accident, maximizing compensation and getting what you deserve is the name of the game. But this can be challenging, especially if miserly insurance companies try to have their way. That's where we come in.
The personal injury attorneys at Richard Harris Law Firm work hard to find out what our clients deserve. From there, we fight until our clients are satisfied with the results.
Your choice of legal representation will likely have the most meaningful impact on the outcome of your claim. Don't take any chances. Work with an experienced personal injury lawyer who cares about you – work with Richard Harris Law Firm's compassionate team, starting with a free consultation.
Hit and Run Accidents in the State of Nevada
It's important to understand that Nevada is not a no-fault state. What does this mean? If one wants to get compensated for personal injuries or property damage, victims of an accident are required to sue the hit and run driver or reach a settlement with the at-fault driver's insurance company.
This all boils down to one thing: it's on you to collect as much evidence as possible at the scene of the accident. If the at-fault driver of the vehicle has just fled the scene of an accident, here's what you need to do next.
Call the police
A Las Vegas police report in hand is vital when it comes to establishing what happened and which party was at fault. The police can collect the necessary information surrounding the circumstances of the accident that may lead to criminal charges for the at-fault driver.
Call the police to report the accident as soon as possible. If you have been involved in an accident and are unable to make the call, ask a bystander to do so.
Be a good historian
A detailed history of events can help prove guilt when drivers leave the scene. Take pictures of your surroundings – property damage, vehicle damage, skid marks, broken glass, personal body injury, and the scene of the crash as a whole. If you are in no condition to do this, ask someone else to render aid by helping you document the details.
Ask for the names of any witnesses who saw the hit and run accident. Make a note of their contact information so that they can be reached as needed. Eyewitness reports can be incredibly convincing testimonies.
Capture as much of the at-fault driver's information as possible
While the nature of a hit and run accident makes it impossible to exchange information with the driver of the at-fault vehicle, you may be able to make meaningful records of their details.
Note:
What color was the driver's car?
Which direction was the driver headed when fleeing the scene of the crash?
Was the driver male or female?
What was the driver's license plate number?
Record anything that you remember about the driver or his or her vehicle at the scene, whether you think it will be useful or not. This isn't the time to skimp on details. The more information you're able to capture, the more likely that police will be able to locate the driver.
Contact the Las Vegas hit and run lawyers at Richard Harris Law Firm
While any number of Las Vegas personal injury law firms may be offering their legal counsel, it's imperative that you work with a firm that not only has the requisite experience in practice areas related to hit and run accidents, but one that genuinely cares about what's best for you.
Enter Richard Harris Law Firm. We pride ourselves on prioritizing clients above all else. We will work with you until you are satisfied with the outcome and can get your life back on track.
Call or text us today at (702) 374-0436 to get in touch with one of our Nevada hit and run accident attorneys.
Dealing With Insurance Companies
Insurance companies have a well-deserved reputation for being difficult to deal with. And can we blame them? Their business model only works when they take in more money from premiums than what they give out in settlements. Taking these companies on by yourself is a tall order and may well leave you short.
The right hit and run attorney for you will have experience dealing with insurance companies. Each team member at Richard Harris Law Firm knows how to maximize your compensation, when you should hold out for more, and when you might be best to accept a settlement.
Even if the at-fault driver is an uninsured motorist, your hit and run accident attorney may well be able to take advantage of your uninsured motorist coverage to get you the compensation you need.
Your Las Vegas hit and run attorney with Richard Harris Law Firm can give you the full scope of legal options to work with. When we take on your case, your lawyer will help you navigate complex personal injury laws and resist insurance companies in order to get you your justly deserved compensation.
A free initial consultation may be all that's needed to convince you that the Richard Harris team is the one you need. Call or text (702) 374-0436 to contact us.
Why Work With the Richard Harris Law Firm
Car accidents of any type are traumatic events. A hit and run car accident perhaps even more so. What can you do to alleviate your anxieties surrounding a hit and run car accident?
There is strength in numbers. When you work with a law firm that knows how to deal with personal injury law and has a history of successfully litigating these types of claims, you ensure your success.
Our Las Vegas, NV, team of attorneys have been defending the rights of our Nevada neighbors for decades. We would love to help you and your family too.
A lawyer will be assigned to perform a free case evaluation. From there, we can walk you through the process and start taking some variables out of what might well be a series of unknowns for you. We can give you valuable insights into our strategies as to how we can maximize damages for your injuries and make the guilty party pay.
Now is the time for action. Call our Las Vegas hit and run lawyers today at (702) 374-0436 or fill our free consultation form.