Once you have retained our firm to represent you in your Auto Accident case, the need for ongoing communications between you, your lawyer, and our staff becomes critical.  It is important that our lawyers and staff obtain all needed documentation that wasn't submitted during the Initial Consultation.  Much of the additional information will be obtained from the information given in the Initial Consultation.
In the first few days after your case opens, many activities take place establishing our firm as your representative for future communication related to the case.   Your Case Manager will send notifications to relevant insurance companies establishing that our firm is now representing you in this claim and all future communications with them in regard to this claim, should be forwarded to our firm.  They may refer you to medical providers if needed and follow up with medical providers on your current medical condition and treatments to date.
Communications is critical to your case
It's important that you forward needed documents as noted during the first meeting as soon as possible, so that your Case Manager can update our files for use in the case.  Your case manager may call you during these initial days after retention to follow up on medical treatments and any other business related to the case.
Certainly, phone calls and possibly emails between you and your case manager or lawyer are considered normal during this time.  Our firm notes all contacts with you and any documents exchanged, on an automated case management computer program.  Documents are scanned into electronic format and are available for retrieval for lawyers and staff of the firm.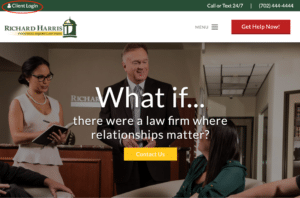 Our firm has developed an additional channel of communications with our clients, which allows you to follow up on activity as it occurs.  If you have internet access, you can check your case file at any time 24/7 to see the most recent updates to your case.  On the firm internet site  at the top left corner above our logo, is a link called "Client Login."  In your Initial Consultation, you should have been given your login credentials to access your case.  Once you click on the Client Login link, you will be presented with the login to the Client Site.  Enter your credentials and you will arrive at the dashboard.
Client Site functions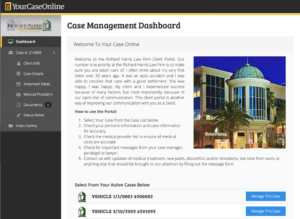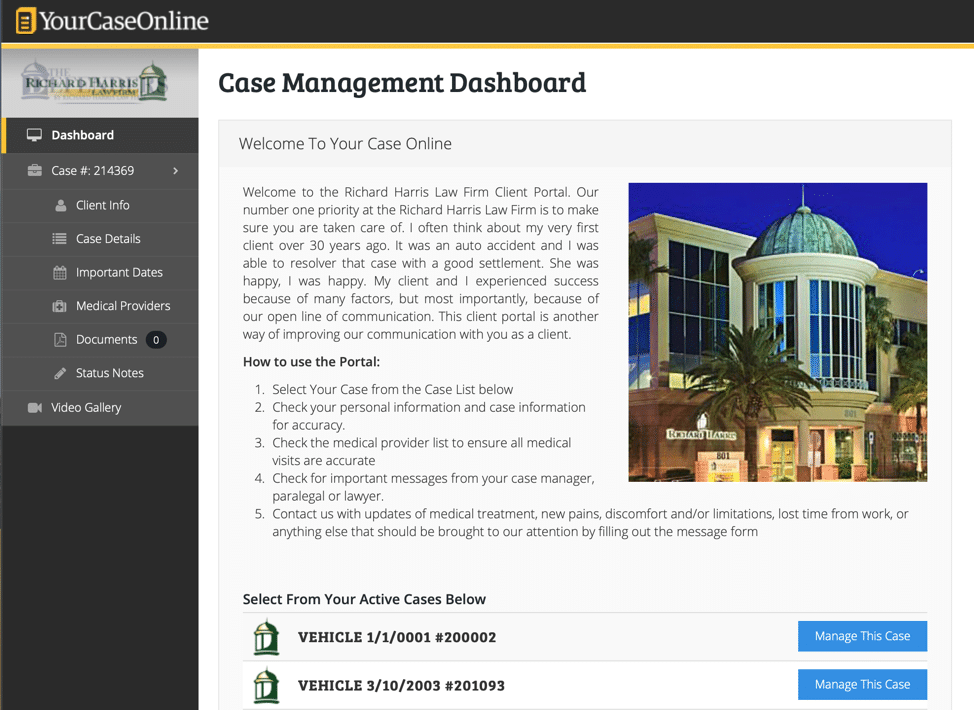 From the dashboard, you will some instructions, and below the instructions you will see a list of cases.  If this is your first case with our firm, you will only see your new case listed with a blue button called "Manage This Case" at the right.  If you have had previous personal injury cases with Richard Harris Law Firm or made use of our other divisions, Ticket Busters, or The Defenders, you may see links for those past cases as well.  Select the relevant case, and click the blue Manage button.
Once you have accessed your auto accident case, you will see Client Info, which has your legal name addresses and contact information.  You can contact your Case Manager at any time by clicking the green "Contact Us" button.  You should confirm that all information is correct and contact us with corrections if needed.
At the top of the page you will see a row of tabs labelled Client Info, Case Details, Dates, Providers, Documents, and Notes.  Clicking on these links will show a different aspect of your case.  Again, during the initial stages of your case, check the information as displayed and make corrections by clicking the Contact Us button.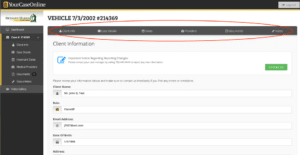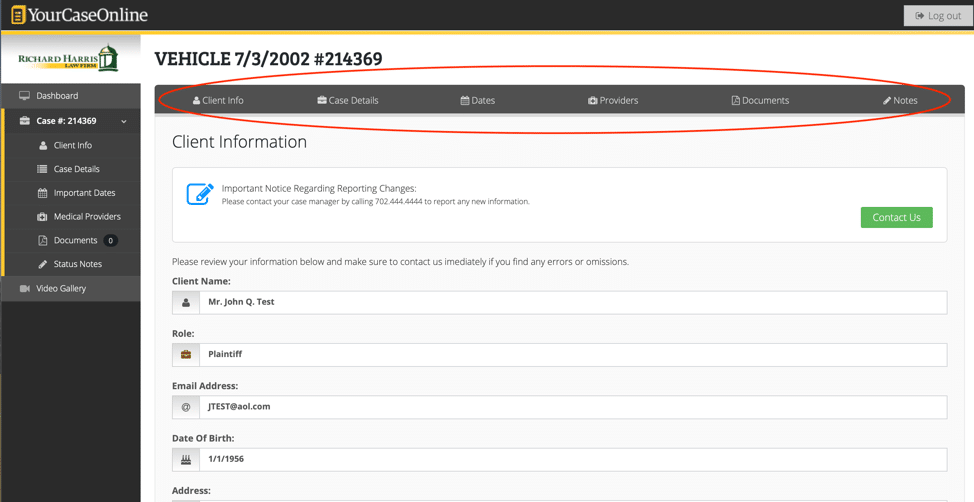 The NOTES tab, in particular will show actions taken by your Case Manager or Lawyer concerning your case.  These notes will display the day after they take place: A nightly process gathers all updates to your case file and posts them for display the next day.
If you have questions about how to access this client site, or have not received your credentials, or have lost them, contact your Case Manager for direction.
The Richard Harris Law Firm provides information to our clients
We believe in using all technologies available to make your experience with our firm as transparent as possible and to keep you informed as your case progresses.  In addition to these technologies, we believe the most important part of your experience is the person to person relationships you have with our lawyers and staff.  If you've been injured through no fault or your own in a Car Accident, call us today at (702) 444-4444.
Learn More: