The Las Vegas construction boom continues.  While Project Neon, the largest public works project in Nevada history is complete, the I-15/Tropicana interchange project is just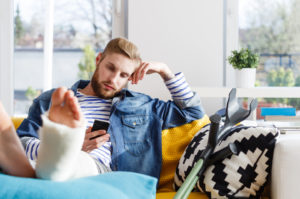 beginning, the Resorts World project continues, The Las Vegas Convention Center is undergoing expansion, Allegiant Stadium continues towards its July 2020 predicted completion date, and the housing boom continues unabated as Las Vegas continues to grow its population.  There's still a lot of work continuing, not to mention expansion of existing companies and new companies moving into the valley at a record pace.
This unprecedented growth in Las Vegas increases the chances of Worker's Compensation claims.   Do you know what Worker's Compensation is, and how to file a claim if injured on the job, and when you may need to talk to an attorney if your claims are denied.  This article will attempt to answer those questions.  The Richard Harris Law Firm represents those who have not received their promised benefits under Nevada's Worker's Compensation laws.
What is Workers Compensation?
The most basic principle of Worker Compensation (WC) is that injuries are a given part of employment, and if you are injured on the job, your employer will pay for your medical expenses for your injuries, your time off from work during recovery at a rate of 2/3's normal pay usually, your rehabilitation from the injury and your permanent or partial disability if you are permanently injured and death benefits if life is lost due to a work related injury.  Vocational Rehabilitation is also covered if your injury keeps you from returning to your job after the injury.  While it was originally intended to cover industrial accidents, it has evolved to cover work related illnesses and conditions as well.
All employers in Nevada are required to provide WC coverage for their employees.  The employer must carry WC insurance or be self-insured.  As Workers Compensation has developed in the U.S. a compromise has developed: if you are injured on the job, Workers Compensation will be provided and in exchange, workers will be precluded from suing their employers.
WC is administered at the State government level and each state sets their laws regarding WC slightly differently, with many common concepts.  In Nevada WC is administered by the Department of Industrial Relations (DIR).  Employers are required to provide posters regarding WC coverages in prominent common areas of the workplace.
How do I file a Workers Compensation claim?
If you are injured on the job, in almost all cases, the injury must be reported within 7 days of the occurrence of the injury.  This is done by filing a C-1 Incident Report with your employer.  Your employer will then refer you to a medical provider where are C-4 form Report of Initial Treatment will be completed.  Copies of these forms are available from your employer but can also be found online at the Nevada Department of Industrial Relations (DIR) site.
The medical provider will assess the injury, provide treatment and instructions for further treatment and when you can return to work.  These medical benefits will be paid by the company's worker's compensation insurance provider.
Most worker's compensation claims can be handled between you and your employer in this fashion.  A description of worker's rights and benefits is also available on the Nevada DIR site, which gives a comprehensive outline of benefits available to you.
In cases where the injuries are serious and may require long term recovery and care, and a long period where you can't work, or if your employer does not provide the benefits as described, you may wish to consult with a Worker's Compensation attorney to assist with your claim.
The Richard Harris Law Firm represents those who do not receive Worker's Compensation benefits as promised
If you have been injured at work, and you will be disabled for an extended period we can help with your claim.  Our Workers Compensation lawyers are trained in all aspects of Workers Compensation policies and will see to it that your rights are preserved and that you receive all the benefits to which you are entitled under the law.  Call us today to discuss your potential case at (702) 444-4444.
Learn More:
https://www.ncbi.nlm.nih.gov/pmc/articles/PMC1888620/
http://dir.nv.gov/uploadedFiles/dirnvgov/content/WCS/InsurersDocs/TimeFrame.pdf