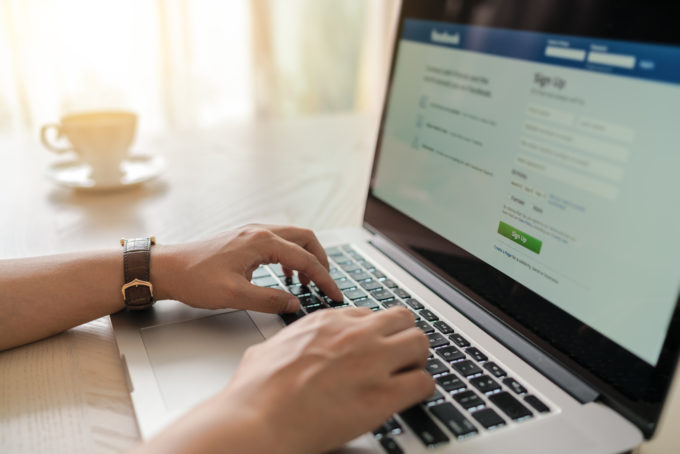 Social media makes life so much easier these days. As events occur in our lives and the lives of our loved ones, a quick trip to Facebook, Instagram, or Twitter will bring us up to date with the latest. More people are using social media today than ever before. According to the Pew Research Center, as of 2015, 65 percent of adults were using social networking sites. While young people 18 to 29 are the most likely to use social media, usage among those 65 and older has tripled since 2010. So what could go wrong?
There is one thing you must understand about social media; anything you post is now public record. Social media can be used by almost anyone for anything, and if you can understand the privacy settings, you can limit the reach, but you can't stop it if someone is determined to find out more about you.
Man Loses $80,000 Legal Settlement
If you are involved in a legal matter of any kind, your posts may be used against you. There are some rather high profile examples of this recently.
As reported by CNN in 2014, Patrick Snay was Headmaster at Gulliver Preparatory School, a private school, until his contract was not renewed in 2010. About a year later, the school and Snay came to a settlement on his age discrimination claim for $10,000 in back pay and $80,000 damages, plus the school agreed to cover Mr. Snay's attorney's fees. But the agreement included a confidentiality clause so the settlement and the terms would remain private. Snay remained silent, however, his daughter couldn't wait to tell her 1,200 Facebook friends, "Mama and Papa Snay won the case against Gulliver. Gulliver is now officially paying for my vacation to Europe this summer. SUCK IT."
Gulliver informed Snay's attorney that the confidentiality clause had been broken, and he would not be receiving the $80,000 settlement. After some additional legal wrangling, the courts upheld Gulliver and Snay did not receive the settlement.
How Does This Compare to My Personal Injury Case?
It exactly compares. In your personal injury case, you are negotiating with another legal entity, the opposing insurance company, in a public arena, the courts, to obtain a favorable settlement.
The settlement has certain terms and conditions but, most importantly, your representations regarding the accident and your medical condition are sworn statements, and represent your narrative.
The adverse party, the insurance company, is represented by a legal team, whose job it is to minimize their exposure, that is to pay as little as possible. If your testimony or your credibility can be undermined, the opposing counsel will use it to nullify your claim, or at least reduce the settlement.
What Can I Do If I'm on Social Media and Have an Open Case?
This is so important, that we have devoted an entire page of our website to the subject. Our best advice, once you've decided to hire a lawyer to handle your claim, stay off social media until the case settles, and even then never mention it, or allow it to be mentioned on social media.
We suggest, if possible, that during your claim that you shut down your social media sites for the duration of your case. The insurance adjuster and opposing counsel will be searching for details regarding you and your injuries and will use it to their advantage.
If that is not an option, check out this handy infographic with seven suggestions for social media use when involved in a personal injury case.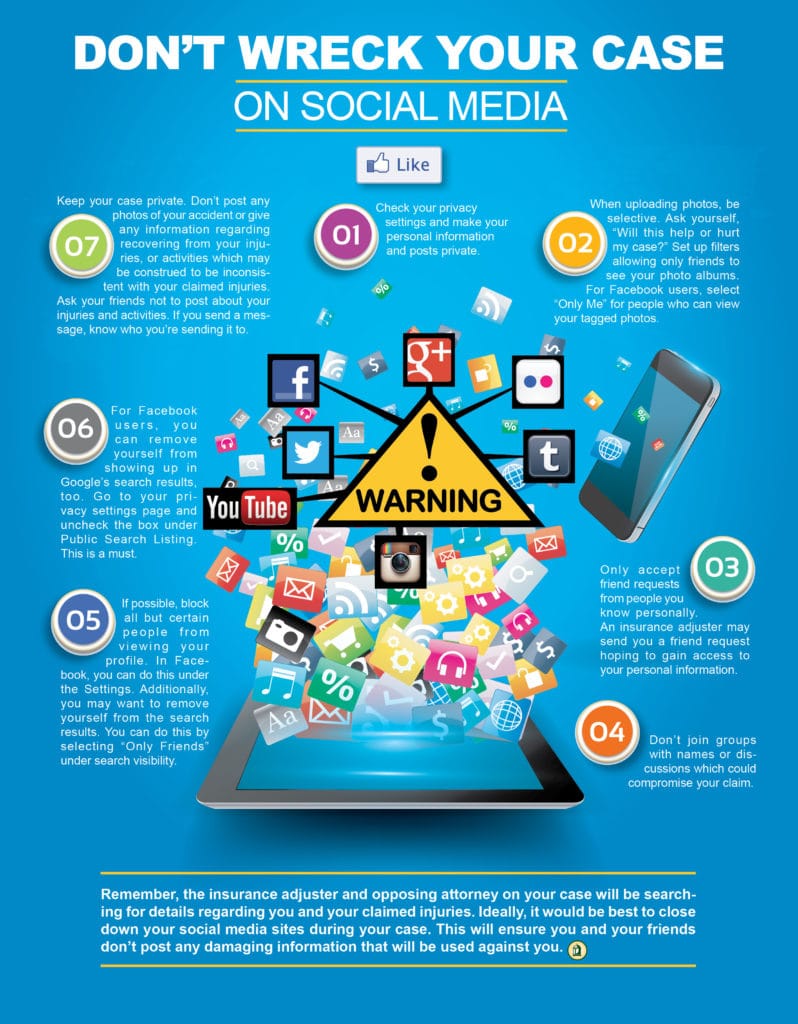 The Richard Harris Law Firm is committed to obtaining the most favorable settlement you're eligible for. If you've been injured in an accident through no fault of your own call us today to discuss your potential case at (702) 444-4444.