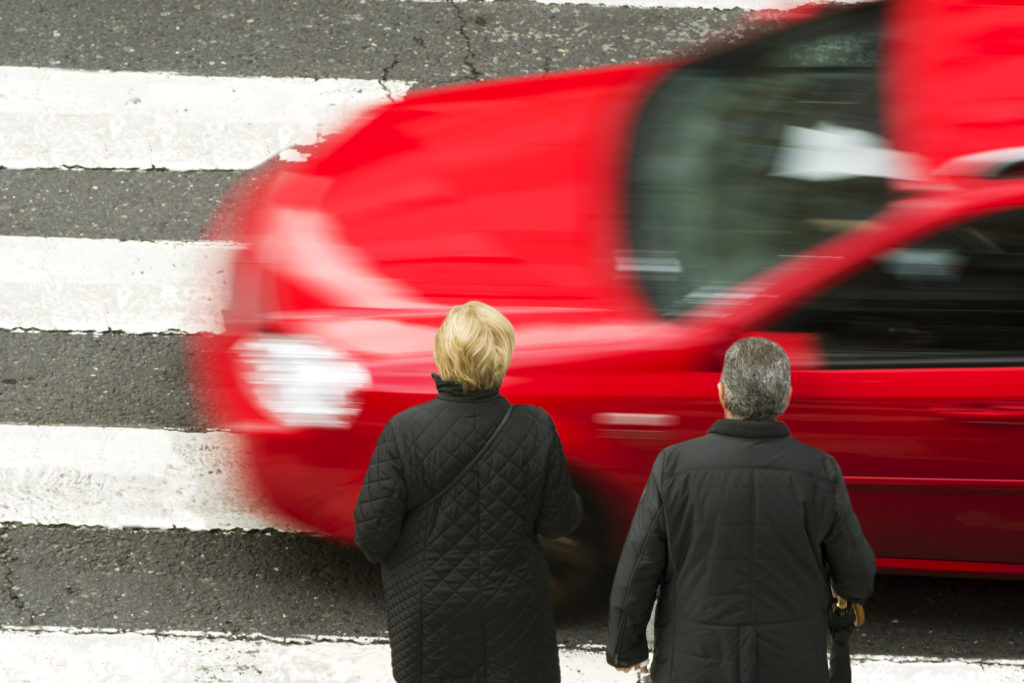 One of the more alarming trends in traffic news these days is the increase in pedestrian accidents. Almost daily, there's news of pedestrian accidents occurring in various places. Pedestrians involved in an accident almost always suffer serious injuries, with 70 percent of accidents resulting in death.
In Nevada, 2017 likely ended as the worst year for pedestrian accidents since records have been kept, and unsurprisingly, Clark County led the state. In Clark County, pedestrian fatalities in 2017 increased by 33 percent over 2016, with a preliminary total of 74 fatalities for the year.
Causes of Pedestrian Accidents
Las Vegas is unique, in many ways, being a desert oasis that nearly 40 million people come to visit every year from all over the world. When a visitor is involved in a pedestrian accident, it makes the news, and it's most likely to occur on the Strip, or in the Fremont Street area. But the huge influx of visitors doesn't fully explain the increase in the number of pedestrian accidents. The majority of pedestrian accidents in Las Vegas don't happen in those locations, and the majority of pedestrian accidents in our valley most often involve locals.
The Las Vegas Valley is also unique in the degree of growth that it has sustained in the last 40 years, growing from a population of less than 500,000 in 1977 to over 2.2 million in 2017. This kind of growth places a strain on infrastructure of all types. The number of vehicles has increased proportionate to the population, which places strains on roads throughout the valley, with roads carrying traffic loads well beyond what was envisioned when they were designed. And with the urban spread of the Las Vegas valley, it almost always requires a car to go places.
Nevada Department Of Transportation's (NDOT) spokesman, Tony Illia, speaking on the growth factor states, "Southern Nevada's breakneck boom growth has altered the makeup of many of these thoroughfares, resulting in greater street-level pedestrian interaction, as such, we are retrofitting several stretches of roadway to reflect their current usage, adding more midblock crossings and bike lanes, while widening sidewalks and improving lighting."
Speed is certainly a factor in pedestrian accidents, as is distracted driving. Poor lighting is a large contributor and perhaps explains why most pedestrian accidents happen after dark in poorly lit areas. The Las Vegas Review-Journal reports nearly half of pedestrian accidents occur between 6 p.m. and midnight.
Erin Breen, Director of UNLV's Vulnerable Road Users Project, commented, "We've created this environment that's great for cars, not so great for humans." She is among many other experts who have concluded Las Vegas roads are not designed in a pedestrian-friendly way.
Where are the Trouble Spots in Las Vegas?
By far, the least pedestrian-friendly roadway in all of Nevada, and the location where the most pedestrian accidents occur in the valley, is Boulder Highway from Russell Road to U.S. 95. Boulder Highway was one of the nation's first freeways. It was designed and built in the 1930's through mostly unpopulated areas at the time to allow construction workers to travel from the train station in Las Vegas to the Boulder Dam (later renamed Hoover Dam).
Residential population growth in the hotspot area brings an influx of pedestrians that were never conceived of when it was built. Until recently, sidewalks on long stretches of the road did not exist, and crosswalks were not well marked or signaled. Lighting on the roadway is far less than adequate to allow for the number of pedestrians in the area. Many improvements have been made in the last five years, and more redesign and construction of new pedestrian walkways and upgraded lighting should improve pedestrian visibility, and hopefully reduce the dangers to pedestrians.
Flamingo Road east and west of the strip, West Charleston Blvd, and Nellis Blvd are the most frequent pedestrian accidents locations after Boulder Highway.
The Richard Harris Law Firm Represents those Injured or Killed in Pedestrian Accidents
Pedestrian accidents usually end tragically, with either serious injury or death. Our lawyers will work diligently to investigate the facts, and obtain all compensation due to you from this type of unfortunate accident. If you or a loved one were injured or killed in a pedestrian accident, call our firm today at (702) 444-4444.
Read More:
http://ots.nv.gov/uploadedFiles/otsnvgov/content/Programs/2017%20MOTOR%20VEHICLE%20FATAL%20CRASHES%20with%20Unrestrained%20Occupants%2011282017.pdf
https://www.reviewjournal.com/traffic/pedestrian-traffic-fatalities-rising-in-nevada-across-us-report-shows/
http://www.lasvegasnow.com/news/2017-is-record-year-for-pedestrian-deaths-around-las-vegas-valley/858350648
https://www.ktnv.com/news/pedestrians-deaths-are-rising-in-clark-county