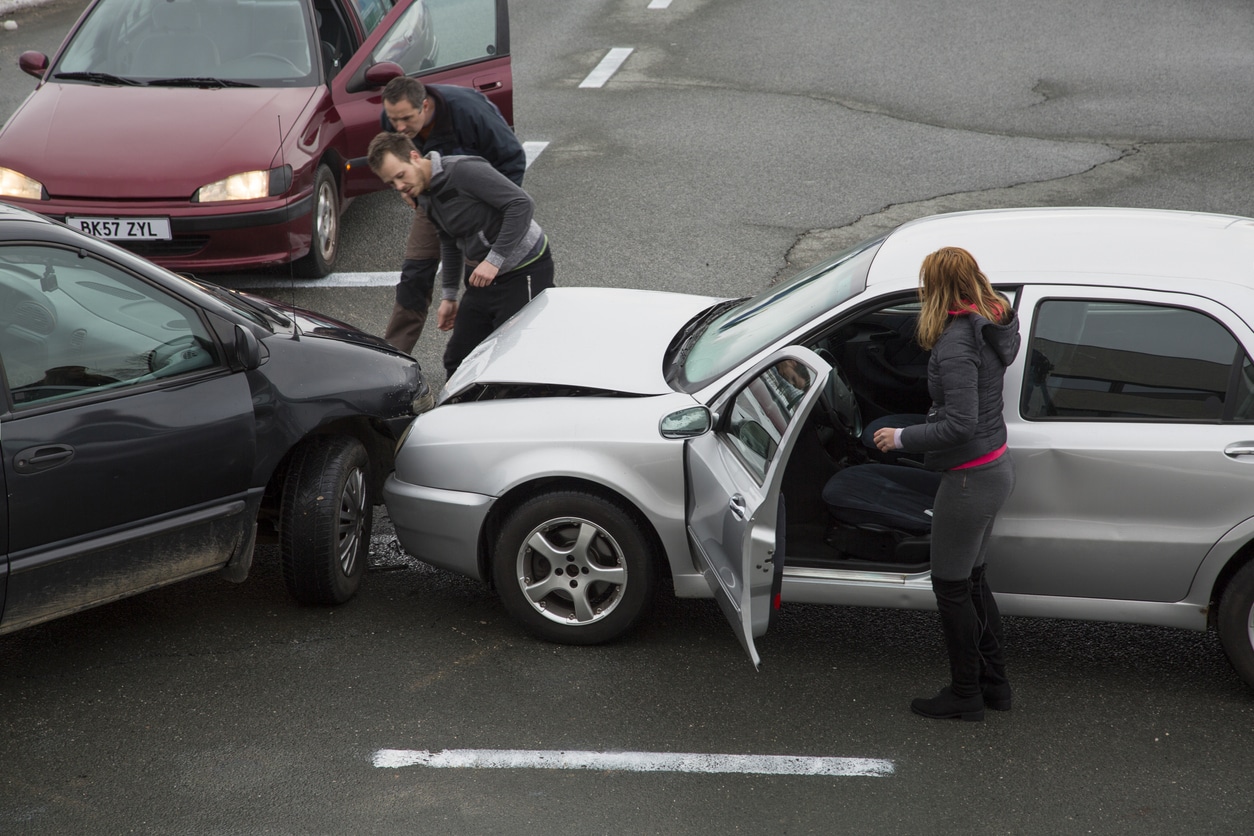 No one plans for an accident when they get in their vehicle.  But the statistics indicate that getting into an accident at some point in your driving career is likely.  In 2016 alone, over 3 million injuries occurred due to car crashes nationwide.  A little bit of advanced planning isn't a bad idea.  Some items which would assist in case of an accident are:
First Aid Kit
Cell phone (if it's a smart phone with a camera, even better)
Pad of paper and pen
Vehicle registration and insurance card, and driver's license
At the Scene
Your first reaction to an accident will possibly be panic, you may feel disoriented.  Before you get out of your vehicle, take some deep breaths, check on all occupants to ensure their safety and possible injuries, secure your vehicle and when ready survey the situation outside.
Call 911 to report the accident.  Report any injuries of anyone involved in the accident to the 911 operator, and they will dispatch police and emergency personnel to the scene.  If your vehicle is able, you should move your vehicle out of traffic but don't leave the scene.  Do not admit fault to other parties of the accident or to police, even if you think you may have contributed to the accident.  When police arrive, they will begin an accident report.  You should limit your conversations with police and others involved in the accident only to issues related to the accident to the best of your recollection without apologizing or taking responsibility for the accident.  The police will perform an accident investigation and will draw conclusions based on the evidence.
Exchange information with the other driver(s) involved, such as registration and driver's license, and insurance cards.  Take pictures of these items if you have a camera, or with your smartphone.  Take notes if you are able and if registration doesn't match the driver's license, notate the relationship between the driver and the vehicle owner.  If able, take photos of the scene and damage done to vehicles in the accident.
After the Accident
If your injuries are not severe enough to require immediate transport from the scene to emergency care, immediately go to an emergency room to have a doctor perform a thorough check.  Some injuries don't appear for hours to days after the accident.  It is important to document your injuries by a medical professional for any possible claim you may make after the accident.
You should follow all medical advice given by the emergency room doctor, or your own personal doctor.  Visit with specialists as directed.  Tell the medical providers of any pain or stiffness to help with their assessment of your condition.  Attend to all follow up appointments and follow the doctor's advice.  Your doctor will be noting all observations in your chart, which may become an important piece of evidence if you seek legal assistance.
Report the accident to your insurance company.  You are obligated contractually to do this.  You are not required to, and you should NOT discuss the accident with the other driver's insurance company via phone call, investigator or anyone associated with the other party's insurance company.  The other insurance company may offer a settlement within hours to days after the accident.  Do NOT accept this.  Their objective is to pay as little as possible as soon as possible.  Once you accept the settlement, your options for future settlements to cover your medical bills are closed.  This also indicates that the adverse insurance company knows they have a potential liability.
When you are able, as soon as possible after the accident and after seeking medical care, call an attorney to discuss your case.  Set an appointment for the initial consultation.  You should not be charged a fee for the initial consultation.  We will cover more about the initial consultation and what information you will need to bring in a future article in this series.  The next article will discuss the opposing insurance company and what their objectives are.
The Richard Harris Law Firm represents injured victims of Auto Accidents
With over 30 years of experience, the layers of the Richard Harris Law Firm know the law and have the experience to help you obtain the maximum compensation due to auto accidents.  Call our office today to discuss your potential case at (702) 444-4444.
Learn More:
https://richardharrislaw.com/after-the-accident/
(Video)  https://youtu.be/fndN82RSchA
https://richardharrislaw.com/post-auto-accident-checklist/
https://richardharrislaw.com/3-post-auto-accident-mistakes-that-could-jeopardize-your-claim/
https://richardharrislaw.com/5-things-you-should-never-do-after-a-car-accident/