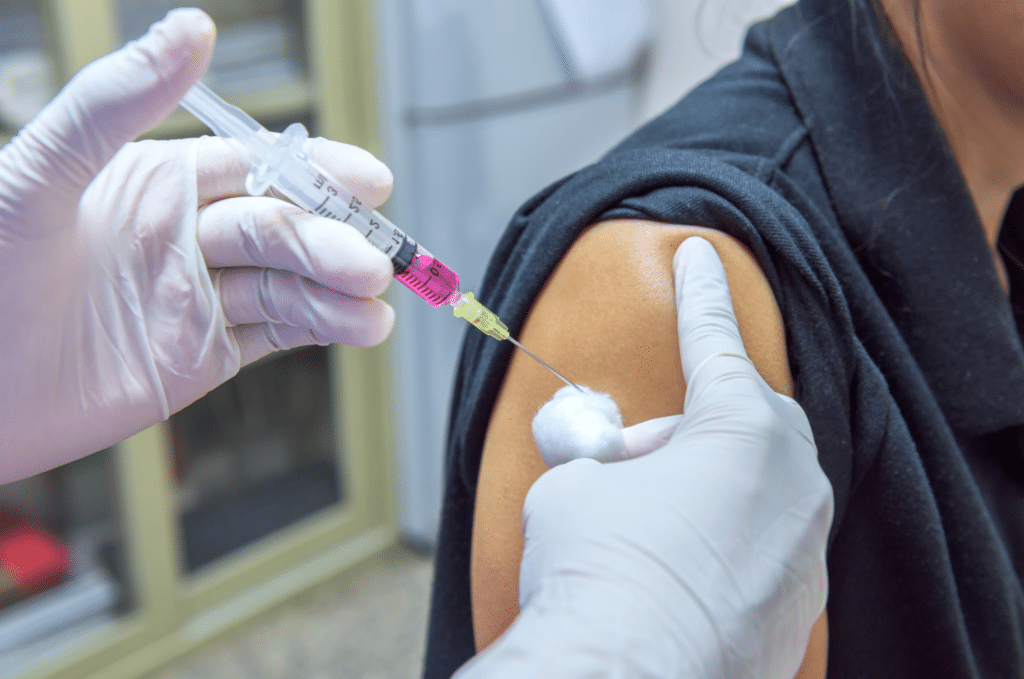 When you get a vaccine, you typically don't expect to actually get the disease the vaccine is meant to prevent. But many users of Zostavax, a vaccine manufactured by Merck & Company to prevent shingles (herpes zoster), have reported contracting recurring cases of a more severe form of shingles than normal, which is more difficult to treat. Side effects of this strain of shingles includes nerve damage, stroke, and even death.
Five months after receiving the Zostavax vaccine, a New York man named Norman Sukkar was hospitalized and diagnosed with acute transverse myelitis (inflammation of the spinal cord). He was left unable to walk as a result, and he has filed a lawsuit against Merck & Company in New Jersey.
Another plaintiff, a woman, filed suit in Pennsylvania when she developed blurred vision, dizziness, and headache within 24 hours of receiving Zostavax in 2014. She is still suffering from right eye injuries, elevated blood pressure, dizziness, and other physical and emotional injuries.
Side Effects of Zostavax
Our lawyers are now accepting cases from those who suffered these side effects within one to two years after being treated with Zostavax:
Autoimmune disorders such as Guillain-Barre Syndrome, chronic inflammatory demyelinating polyneuropathy, Meniere's disease
Bell's palsy (facial paralysis)
Cardiovascular events
Congestive heart failure
Death
Hearing loss
Herpetic neuralgia (nerve damage)
Myelitis (spinal cord inflammation)
Pneumonia
Postherpetic neuralgia (PHN) (Pain continues after Shingles blisters subside)
Encephalitis (brain inflammation)
Stroke
Vasculitis
Vision problems including blindness, eye infections, retinal damage, acute retinal necrosis
What is Shingles?
Shingles is a viral infection that causes a blistering rash and deep nerve pain. The rash can develop on the back or side of the body, or on the face. Shingles, also known as herpes zoster, is caused by the same virus that causes juvenile chicken pox. It is believed that the chicken pox virus recedes into the nervous system and is reactivated in adulthood by weakened immune function due to stress and other factors, although the mechanism for reactivation is not well understood. Those who have developed shingles are less likely to have recurrence, although it is possible.
What is Zostavax?
According to Zostavax.com, "Zostavax is a vaccine that is used for adults 50 years and older to prevent Shingles (also known as zoster)." "Possible side effects include redness, pain, itching, swelling, hard lump, warmth, or bruising at the injection site, as well as headache." "Zostavax contains weakened chickenpox virus."
However, many patients have suffered other, more severe side effects than those itemized on the Zostavax website. Zostavax is administered through a one-time shot given by your doctor. It is reported to be little more than 51% effective in preventing shingles. The Centers for Disease Control and Prevention (CDC) is now recommending a newer and more effective vaccine for shingles, called Shingrix, which is 98% effective against shingles for patients between 50 and 69 years old.
Zostavax was approved by the U.S. Food and Drug Administration (FDA) in 2006. Since then over 36 million doses of Zostavax have been given through 2017. Merck & Company generated $749 million in revenue from sales of the vaccine in 2016 alone.
Zostavax Lawsuit History
Several hundred Zostavax lawsuits have been filed against Merck & Company nationwide. Most are filed in California and New Jersey state courts. Over one hundred have been filed in federal courts. In August 2018, New Jersey consolidated approximately 800 state court cases into a Multi-County Litigation. The roughly 100 federal cases have been consolidated into a Multi District Litigation. There are 111 cases at the federal level as of September 2018.
These cases accuse Merck & Company of distributing a dangerous product with serious side effects, that the side effects are serious and can cause death, failing to warn patients and medical providers of the potential side effects of Zostavax, and that Merck & Company lied about the safety and effectiveness of Zostavax in order to generate revenue from this faulty product.
The Richard Harris Personal Injury Law Firm is Your Nevada Zostavax Lawyer
Drug manufacturers have a legal obligation to distribute products that are safe, and they must disclose side effects to patients and medical providers which they knew or should have known about prior to distributing the product. Zostavax is a drug which has serious side effects that the manufacturer, Merck & Company, has not warned of, and in fact which they deny. If you were given the Zostavax vaccine since 2006 and developed any of the side effects listed within one to two years after the vaccination, you may be entitled to compensation for your injuries. Call the Richard Harris Personal Injury Law Firm today to discuss your case at (702) 444-4444.