Las Vegas Taxi Accident Lawyer
Las Vegas is a popular tourist destination, attracting over 42 million visitors in 2019. Whether you come for the gambling, the shows, or the scenery, there is plenty to do in the Entertainment Capital of the World.
More often than not, visitors to Las Vegas make use of taxis to get around the city during their stay. Taxis are vital to the tourism industry and provide a convenient and reliable form of transportation when you don't have your own vehicle.
Unfortunately, though, residents and tourists alike are hurt in taxi accidents in Las Vegas as passengers, or as pedestrians each year. If you or a family member was involved in a Las Vegas taxi accident, call or text Richard Harris Law Firm at 702-745-8555 for a free consultation.
Taxi accident Resources
OUR PROCESS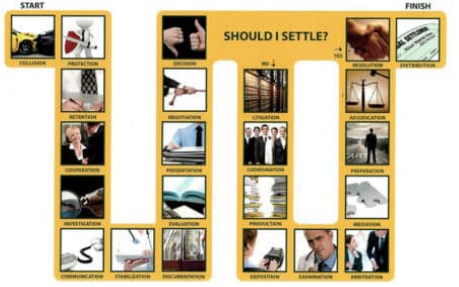 The timeline of a personal injury case can be complex and emotionally draining. At the Richard Harris Personal Injury Law Firm, we have a proven Case Resolution Process to ensure our team is communicating and preparing you for each stage and the best possible settlement.
Causes of Las Vegas Taxi Accidents
There are many state and federal regulations in place to increase roadway and taxi safety. Despite this, Nevada continues to see a large number of taxi cab accidents each year. Various dangerous actions and practices increase the risk of motor vehicle incidents, leaving thousands of victims year after year.
Distracted driving
Driving while distracted, whether that be due to using a mobile device or something else, poses a huge risk on the road. In fact, the National Highway Traffic Safety Administration (NHTSA) describes distracted driving as "any activity that diverts attention from driving."
Distracted driving can thus include:
Eating
Drinking
Changing radio
Checking navigation
If a cab driver is engaging in any of these practices, he or she is at greater risk of getting into an accident. These actions put you and others in danger, and the taxi driver should be held responsible for his or her negligence.
Driving impaired
Driving a taxi is not easy. Taxi drivers may work long hours, often early in the morning or late in the evening. To meet the demands of the job, some Las Vegas taxicab drivers rely on the use of drugs or alcohol.
Of course, while stimulants like cocaine and amphetamines may increase a taxi driver's ability to work extended hours, these substances are extremely dangerous, especially when operating a vehicle. This can result in erratic driving, speeding, and other risky behavior.
Poor vehicle maintenance
For a vehicle to function properly, it must be well maintained. This is especially true when it comes to taxis, as they are driven more frequently than a regular commuter vehicle.
Nevada law sets a standard for the maintenance of taxi cabs, regarding:
Tires
Brakes
Lights and signals
Steering mechanism
Door hinges and latches
If certain mechanical functions or car parts are neglected, the driver may have limited control of the vehicle and be unable to avoid an accident. When a Las Vegas taxi accident attorney investigates your case, he or she can see what hazardous actions contributed to the car accident. If you aren't sure about the details of your claim, a free consultation can help.
Who is Liable After a Las Vegas Taxi Accident?
When a taxi accident occurs, various parties can be held responsible for the crash, from the taxi company to yourself. Nevada follows a modified comparative negligence law. This means that if you were less than 50 percent at fault for an accident, you can pursue compensation from the at-fault party.
The amount you can receive is related to your percentage of fault in the crash. For example, if you were determined to be 20 percent at fault for the accident, you would only be eligible to receive 80 percent of the associated damages.
After a Las Vegas, Nevada, taxi accident, it can be difficult to accurately determine fault or liability. There might be the question of whether seat belts were functioning or used, for example. Multiple factors must be considered. When you work with a local Las Vegas taxi accident lawyer, he or she can investigate your case to identify who or what was responsible in line with Nevada law.
The taxi driver
While operating a vehicle, taxi drivers must make safe decisions. This duty of care means that each taxi driver should take reasonable steps to avoid personal injury to others.
If there was negligent driving involved, such as impaired or distracted driving, the driver (either the taxi driver or the driver of another vehicle) could be liable for the accident. If both parties are partly at fault, you may be able to pursue compensation from both of them for your damages.
The taxi company
There are many requirements that a taxi company must follow to legally operate in Nevada, for the safety of the taxi drivers, passengers, and others on the road. A taxi company that fails to follow these regulations puts others at risk and can be held responsible for their negligent role in the accident.
The car manufacturer
Defective vehicle parts can also contribute to a crash. Perhaps brakes, steering, or other essential mechanisms failed due to a manufacturing problem.
After investigating the details in your case and consulting with experts in the field, your Las Vegas taxi accident lawyer can determine whether a faulty car part played a role in the crash. This could mean that the company or companies involved are liable for the accident.
The municipality
At times, the roadway itself could be the cause of unsafe conditions leading to a crash. This might include missing safety features or insufficient road maintenance. In certain cases, a lawsuit against the State of Nevada can be filed due to the negligence of the state.
Compensation Available After a Taxi Accident
As with any type of car crash, taxi accidents can cause severe damages along with pain and suffering. Nevertheless, you may not realize all of the negative effects of your accident right away. Either immediately or with time, you could experience a drastic change in your quality of life.
When the team at Richard Harris Law Firm takes on your case, our personal injury attorneys will do everything we can to fight for your legal rights and make sure you get the funds you deserve. We understand that no settlement can fully compensate you for your physical, emotional, and financial losses. But we can help you receive the maximum compensation available for your case.
Medical expenses
After suffering personal injury as a result of an accident, medical bills can quickly start adding up. The costs of ambulance care, surgery, medication, and rehabilitation can be a huge drain on your finances, and these costs may continue to add up as you recover.
Be wary of all taxi cab accidents, no matter how seemingly minor. Even a light collision after stopping abruptly can cause long-lasting injuries.
When you work with a personal injury lawyer at Richard Harris Law Firm, you can have the confidence that he or she will work hard to secure the compensation you need to cover your medical bills.
Lost wages
Immediately following a Las Vegas taxi cab accident, you may be off work for medical appointments and treatments as you recover. Even after you are able to return to work, your hours or abilities may be less than they were before the accident.
Any past and future wages that have been lost as a result of the crash can be calculated as part of your compensation. This includes the wages lost due to temporary or permanent limitations in the type of job you are able to do.
Replacement services
Whether you were involved in a taxi accident as a pedestrian, passenger, or another driver, your injuries can be severe, perhaps leaving you with permanent damage or disabilities. You may find that tasks you often took care of at home are suddenly overwhelming. You might not have the ability or the energy for essential child care, home maintenance, or other jobs.
Since these tasks are essential, you may need to hire someone to take care of these responsibilities while you are unable. These replacement services can be compensated as part of your claim.
If you are unsure of your legal rights or next steps after an accident, contact us today to schedule a free consultation. We are available 24/7 to provide you with the legal assistance you need. Our law firm has helped thousands of clients receive fair compensation for the past 40 years, and we want to help you, too.
What Happens If Insurance Doesn't Cover the Damages?
According to Nevada law, taxis must hold liability insurance of $250,000 for bodily injury or death of each person, up to a total of $500,000. With serious taxi cab accidents, this amount may not always be enough.
A thorough investigation can help identify any parties in addition to the taxi driver or company who may be liable for the accident. You may also be eligible for compensation under your own insurance policy, such as uninsured or underinsured motorist coverage. A Las Vegas taxi accident attorney can help you investigate these options.
Insurance companies often try to find ways to lower the settlements they offer or even deny a claim completely. Not only is it frustrating to communicate with insurance companies, but it can also be dangerous if you do not fully understand your legal rights. Make sure you don't talk with the insurance company before consulting a Las Vegas attorney experienced in personal injury law and in handling taxi injury cases.
The attorneys at Richard Harris Law Firm will give your case the personalized attention it deserves. This may involve filing a claim or a lawsuit with multiple parties to recover sufficient compensation. No matter what it takes, our legal team will fight to the end when we take on your case.
Let Richard Harris Law Firm Fight On Your Behalf
After suffering a personal injury in a Las Vegas car accident, you need time to recover. When you work with one of our firm's experienced lawyers, you can start focusing on your recovery while we take care of your legal case. The claims process can be long, frustrating, and complex, and we don't want you to be forced to handle it on your own.
While the insurance company fights for their interests by downplaying your damages or trying to deny your claim, your attorney cares about your needs. With Richard Harris Law Firm's team on your side, you can be sure we will:
Listen to your story with compassion
Investigate your case thoroughly
Fight to ensure you receive fair compensation
Call or text us today at 702-745-8555 for a free consultation to learn how we can help you with your taxi accident case. Contacting an experienced Las Vegas attorney as soon as possible can help you move forward in life after a taxi cab accident.