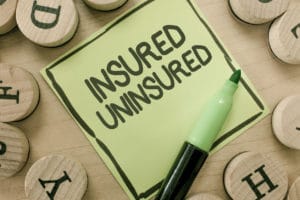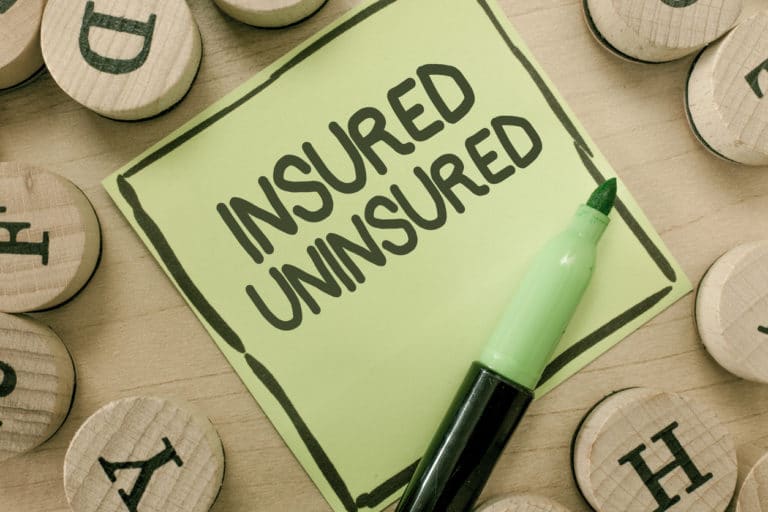 The scenario of being hit by an uninsured driver is not that uncommon. It's estimated that roughly 13% of drivers nationwide are driving without insurance. In Nevada it's about 10%, so you have a one in ten chance that the driver who causes an accident may not be insured. It's estimated that 15% of drivers in California don't have any insurance. Many more drivers carry only the state minimum insurance limits which means that the person who causes the accident may not have sufficient insurance to cover all the medical and other expenses that you suffer due to the accident.
When you're in an accident caused by an uninsured driver, your need for an attorney to handle your claim increases dramatically. Lawyers who specialize in car accidents know the liability laws surrounding these types of accident claims, and they have experience in negotiating with insurance companies which can increase your chances of getting the compensation you need. We recommend you don't attempt to settle a car accident claim with an uninsured driver without legal representation.
What are the minimum insurance requirements?
Throughout the United States, with the exception of Virginia and New Hampshire, it is actually illegal to obtain a driver's license without showing evidence of insurance to at least the state minimums of coverage. In Nevada, the DMV is very active in going after those who allow their insurance to lapse for whatever reason, but there are still nearly 10% of drivers on Nevada roads driving without insurance. Nevada's state minimums were increased in 2018 to their current level of 25/50/20. This cryptic notation translates to $25,000 bodily injury coverage per person per accident, $50,000 total bodily injury per accident, and $20,000 property damage per accident.
With that level of coverage, having two to three people in your car that gets hit by another driver with injuries that sends all to the emergency room, will use up the state minimum coverages and then some. If you are hit by a driver with no insurance, then it gets more complicated.
Options for coverage in an uninsured driver accident
If you are involved in an accident caused by an uninsured driver, state law allows the injured parties to directly sue the at fault driver. Prior to pursuing such a case, your lawyer will pursue whatever insurance coverages are available to cover the compensation of the injured parties.
If the at fault driver carried no insurance, but the vehicle was owned by someone else, either a private person or a company, coverages of the vehicle owner will be pursued first. A rental car company for example, may carry liability coverage on their rental cars. If there is no coverage that can be claimed against for the at fault driver, then it's possible that your own insurance may contain coverages for an uninsured driver accident. If you carry UM/UIM coverage on your own vehicle policy, a first party claim against that coverage may be initiated.
Your own insurance company at that point may begin to negotiate to reduce the payout. Insurance companies may bring contributory negligence into the negotiations, alleging that a portion of the accident was caused by you. Your best defense against this argument is proper record keeping of the police report, photographs that were taken at the scene of the accident, medical records and other bills for medical treatments, and receipts for all expenses related to the accident. UM/UIM coverage is an option in Nevada, but we recommend that all drivers consider carrying this inexpensive coverage to provide compensation for just this type of situation.
Your insurance company may attempt to limit the amount of your claim based on a formula calculation or may attempt to exclude property damage from any claim for against UM/UIM coverage. Your lawyer will appropriately negotiate with your insurance company to obtain a settlement which reflects the true value of your claim.
Finally, in an accident caused by an uninsured driver, the at fault driver may be sued personally to provide compensation for a legitimate liability claim. It should be considered however, what caused the driver to be uninsured to begin with. While coverage may be allowed to lapse due to an oversight or some other complication, most uninsured motorists do not have insurance because they can't afford it. In such cases a judgement against such a driver may result in insufficient funds to cover the cost of a claim, unless they possess an asset of value which may be attached to cover the claim. Your lawyer will assess all areas which promise to provide the compensation you are entitled to for the accident to cover all medical and other costs incurred due to the accident.
The Richard Harris Law Firm will obtain maximum benefits if you are injured by someone else
For 40 years the Richard Harris Law Firm has been providing legal representation to obtain just compensation for those injured in auto accidents. You can count on us to use all of our knowledge and experience to obtain the best settlement if you are injured in a car accident due to the other driver's negligence. Call our office today for a free consultation at 702-444-4444.