Las Vegas Hotel and Casino Accident Lawyer
Every year, 40+ million people flock to Las Vegas for conferences, shows, or just some good old-fashioned fun at our numerous casinos and hotels. If you come to Las Vegas and stay in one of our hotels or casinos, the last thing on your mind should be dealing with an injury. As one of the world's entertainment capitals, Las Vegas certainly has big draws but sadly has dangers as well.
Whether you are a Las Vegas, NV, resident or just come to visit, you deserve to be safe wherever you go. It's a property owners' responsibility to make sure that the premises open to you is safe. Whether on the casino floor or in the parking garage, maintaining safe conditions should be a priority. If you suffered a hotel injury in Las Vegas, NV, you may deserve compensation for your injuries.
After an accident or injury, it's hard to know where to turn. At Richard Harris Law Firm in Las Vegas, NV, we strive to be a source of information and comfort to our clients. We offer free consultations on all personal injury cases, so there's no risk involved. Contact us today at (702) 444-4444 to get started on your path to recovery.
Hotel and casino accident Resources
OUR PROCESS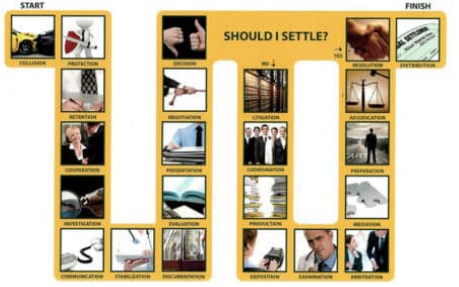 The timeline of a personal injury case can be complex and emotionally draining. At the Richard Harris Personal Injury Law Firm, we have a proven Case Resolution Process to ensure our team is communicating and preparing you for each stage and the best possible settlement.
Common Causes of Hotel and Casino Accidents
Downtown Las Vegas, where many hotels and casinos are located, is a chaotic mixture of traffic, sightseers, shoppers, and more. Often, hotels and casinos must host several large events every day, in addition to their regular guests. While it is a challenge to maintain these big buildings that are constantly in use, property owners are still responsible for preventing any dangerous conditions that may come up.
Injuries that occur at another person's property are often labeled "slip-and-fall" accidents but are legally known as premises liability claims. These claims may be brought against the property's owner for any injuries or accidents that occur as a result of an unsafe condition that could have been prevented.
Some of these conditions commonly include:
Broken furniture
Falling objects
Uneven walkways
Poor lighting
Lack of security
Slippery or wet floors (especially around the pool)
Damaged stairs or handrails
Unlabeled construction areas
In addition to these premises-specific causes of injury, it also may be possible to bring a claim for damage sustained to your motor vehicle on the property, food poisoning complications sustained after eating the casino's food, or injuries sustained in the facility's pool. While different from product liability cases, hotel injury cases can even delve into a wrongful death case, depending on the circumstances.
When the state of a casino's property harms guests or visitors, the owners need to be held liable. At Richard Harris Law Firm, our personal injury attorneys care about your well-being, and we want to work with you to help you get the compensation you deserve. Our Las Vegas injury lawyers know that the road ahead may seem long, but we will be with you every step of the way to help you get the money you need to recover from your accident.
Determining Liability in a Las Vegas Premises Liability Case
After a casino injury or hotel accident, you may not know who can be considered responsible. For example, if you slipped on an unmarked wet floor or tripped on some poorly lit stairs, who can be held responsible? The establishment owners are responsible for maintaining a reasonable level of safety in their place of business.
When owners fail to ensure that their properties are safe for visitors, they may be held accountable for an injured person's medical bills, lost wages, and more. However, there are a few things that the victim must be able to prove in order to win a premises liability claim.
First, it must be shown that the accident or injury was directly caused by preventable, unsafe conditions on another person's business. Secondly, that the owner or person in charge of the location had to have been aware of the unsafe conditions and had sufficient time to prevent the injury by correcting the safety issue. By proving these two points, the owner of a location may be considered negligent and culpable in causing your injuries.
While it may seem daunting to prove the owner or manager negligent, especially as you're facing mounting medical bills, lost wages, insurance claims, long-term care, and more – you're not alone. At Richard Harris Law Firm, our personal injury lawyers know what you're going through. We want to help you hold the responsible parties accountable for their negligence. To get started, contact us today for a free consultation.
Las Vegas Challenges of Hotel or Casino Accident Cases
All the city's visitors have to stay somewhere, and many hotels and casinos are the ideal places from which to explore all that Nevada's entertainment capital has to offer. However, when people get injured on their visits to Las Vegas, they may be unsure of what to do next.
That's where Richard Harris Law Firm comes in. Our injury lawyers often hear from hotel injury victims who expected the hotel to offer a settlement quickly and assumed that their insurance company would admit the negligence. Sadly, that is often not the case. In many cases of an injured person coming up against a big hotel conglomerate, the larger entity is not going to fight fair.
It's essential that the injured person gets legal advice from a skilled professional team of lawyers after their casino injury. Hiring a lawyer can help to protect your rights, ensure that evidence is gathered in a timely manner, and give you the muscle on your side that you need when going up against the big guys. What's more, a Nevada attorney will know how to collect security footage and more evidence to ensure your rights are protected.
Hotels and casinos are not in the habit of dealing fairly with injured guests. They are in the money-making business, and they don't like to part with their profit even for valid insurance claims. In order to get the compensation you deserve to help you cover your medical bills, lost wages, and more, you need someone on your side who isn't afraid to fight for your rights. You can find such support at Richard Harris Law Firm.
What To Do If You Suffer an Accident at a Casino or Hotel
After an accident at a Las Vegas casino or hotel, you may be embarrassed to seek medical attention or to make a big deal of things for fear of ruining your vacation. However, even seemingly simple slip-and-fall cases can cause serious injuries in the future.
Remembering to take these steps after your incident can protect your right to file a lawsuit in the future:
Get medical treatment, even if your injuries seem minor
Photograph your injuries, the scene of the accident, and any dangerous conditions in the area
Make the hotel staff aware of your accident and point out the causes of the incident
Never sign anything from the Las Vegas hotel or Las Vegas casino or their insurer without first consulting with a legal professional
Call Richard Harris Law Firm to schedule your free consultation on your hotel or casino case
By taking the above precautions, you could give yourself the best chance to recover fully from your injuries by winning your personal injury premises liability claim and receiving the settlement you deserve in your Nevada case.
Richard Harris Law Firm Can Help
If you were injured at a hotel or casino in Las Vegas, you may have a case to recover compensation for your injuries and pain and suffering. If your injury was due to an unsafe condition at another person's business, you should speak with a premises liability accident attorney as soon as possible.
At Richard Harris Law Firm, our Las Vegas personal injury lawyers have dealt with these types of cases before, and we're familiar with how the hotels and casinos operate. We have likely had dealings with that specific hotel before in our almost 40 years of experience. Accidents in Las Vegas hotels are not uncommon, and we know that each day could present the next time our attorneys are needed by a victim seeking his or her rightful settlement. We have helped injured people just like you to get the compensation they deserve for their injury claims.
Our personal injury attorneys have helped our clients to win – not a million – but a billion dollars in their personal injury and other cases. We can help you to receive fair compensation too!
Call our office today at (702) 444-4444. We offer every caller a free consultation with a legal professional. Your Las Vegas casino injury case discussion with an injury lawyer knowledgeable in Nevada legal proceedings will help you get answers to the questions you have. También se habla español.