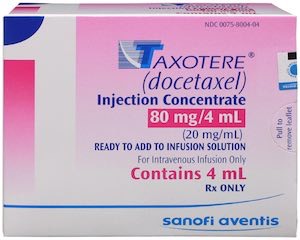 Hair loss is not uncommon as a side effect of chemotherapy. Most patients, however, can expect their hair will grow back after the therapy is complete. Complete and permanent hair loss, also known as alopecia universalis, however, is uncommon as a result of chemotherapy.
It has become apparent that use of the chemotherapy treatment, Taxotere, manufactured by the French pharmaceutical manufacturer, Sanofi SA, also known as Aventis, dramatically increases the risk of permanent hair loss, not just of head hair, but all body hair including eyebrows, eyelashes, underarm and pubic hair. One study, the GEICAM9805 analysis, concluded nearly 1 out of 10 users of the drug will lose all body hair permanently.
For its part, Sanofi-Aventis has allegedly engaged in a willful pattern of deception and negligence, by not informing patients and medical providers of the known risks of using the drug, while attempting to market the drug as a superior treatment. The U.S. Food and Drug Administration (FDA) has found no support for such claims of superiority and has, over a number of years, warned the company to cease such claims. Sales of the drug has generated billions of dollars of revenue for Sanofi-Aventis, topping sales of $3 billion worldwide in 2010.
As a result, patients who have used the drug and suffered permanent hair loss are now bringing suit against the company, alleging that, as a result of the company's long-standing pattern of deceptive marketing, they were unable to make an informed choice regarding their use of the drug and now are suffering from this emotionally and psychologically debilitating side effect for the rest of their lives.
Regulatory History of Taxotere
The drug was first approved by the FDA for use in the United States in 1996 for chemotherapy treatment after breast cancer. It subsequently won approval for other cancer treatments, and Sanofi-Aventis began touting the drug as superior to other chemotherapy products.
In 2003, the FDA sent a warning letter to Sanofi-Aventis regarding three direct-to-consumer print advertisements because "they suggested that Taxotere is more effective than has been demonstrated by substantial evidence or substantial clinical experience." This warning letter also mentioned that it had previously requested that a "Dear Doctor" letter be destroyed because it made misleading effectiveness claims overstating the drug's survival benefits.
In 2009, the FDA again warned the company against unsubstantiated superiority claims in marketing the product. The FDA stated that the company's marketing materials "misleadingly suggest that Taxotere is superior to paclitaxel in the treatment of patients with locally advanced or metastatic breast cancer after failure of prior chemotherapy, and overstate the efficacy of Taxotere. FDA is unaware of substantial evidence to support these claims."
Finally, in 2015, the FDA issued a Safety Information bulletin which included reports of patients suffering permanent hair loss. However, Sanofi-Aventis had knowledge of this side effect and were warning doctors and patients outside of the U.S much earlier.
Recent Legal Action
In March 2016, a woman filed suit (Dodson v. Sanofi SA, et. al.) in California court claiming that the company failed to disclose that Taxotere has this side effect in a large portion of its users, and additionally conspired to keep this problem from the public in order to maintain sales volume of the drug. This lawsuit suggests that the company "obtained billions of dollars in increased revenues at the expense of unwary cancer victims simply hoping to survive their condition and return to a normal life."
Also in March 2016, a suit was filed by an Ohio woman (Carson v. Sanofi SA, et. al.) which alleged that Sanofi had warned doctors in Europe as early as 2005, and had warned Canadian doctors in 2012 of the possible alopecia side effect.
In a suit filed in Illinois on July 7, 2016 (Wysocki v. Sanofi SA, et. al.), plaintiff Theresa Wysocki contends that she suffered permanent alopecia as a result of her prescribed and proper use of Taxotere. Ms. Wysocki underwent a lumpectomy in August 2014 and under the supervision of her oncologist, began chemotherapy which included Taxotere from September 2014 to January 2015, and has suffered permanent hair loss.
The suit contends that there were other treatments available which were at least as effective as Taxotere without the side effect of permanent alopecia, which could have been used as part of Ms. Wysocki's treatment, but because of Sanofi-Aventis's deceptive marketing practices, neither she nor her medical providers could make an informed choice of treatments.
The suit also indicates that Sanofi-Aventis knew of and had warned of permanent alopecia in other countries, such as Canada and the European Union, but had failed to warn of the side effects in the United States, their largest Taxotere market, until December 2015.
Nevada Taxotere Attorneys
If you have received treatment for breast cancer with the chemotherapy drug Taxotere, and have suffered permanent hair loss, you may have a case against the manufacturer, Sanofi-Aventis. The Richard Harris Law Firm, Nevada's largest personal injury law firm, is interested in helping you obtain due compensation for this debilitating side effect which was known by the manufacturer and withheld from the medical community and patients in the U.S. in order to maintain sales volume of this defective drug. Call us today to discuss your potential case with our representatives at (702) 444-4444.