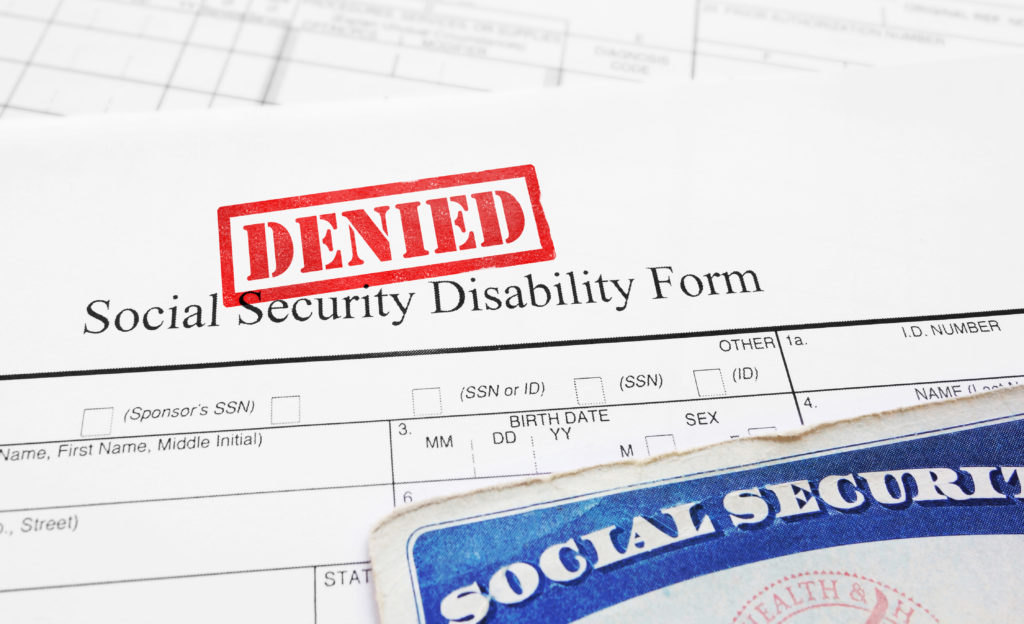 You've become disabled. You've applied to the Social Security Administration (SSA) for disability benefits, and they've rejected your claim. Perhaps the rejection letter received says something about insufficient medical proof of a disabling impairment. You're pretty discouraged at this point, but take heart; SSA rejects about 60% of initial claims. The SSA knows that a large number of you won't continue the process because it looks too complex and imposing.
But you're not one of that large number, you're re-applying… this time with a lawyer. But no matter how complex and imposing it looks, our Professional Disability Representatives know how the application process works and how to appeal continued rejections to keep your claim alive, and ultimately prevail.
Our firm accepts claims at all stages of the claims process, we can help from start to finish, even if your claim has not been rejected and will assist with completion of all applications and forms needed at each stage of the process. Medical records needed at each stage will be gathered and provided to SSA.
How Do I Appeal a Rejected Claim?
SSA has established a complex maze of rules and regulations in their system of appeals. It is important to have an advocate working for you, who knows this territory well.
The next step in the process is called the Reconsideration Stage. This first level of the appeal process, and is also designed to discourage you. Almost 90 percent of these claims are denied for a second time. There is however, another level of appeals, called the Administrative Law Hearing stage, and at this level, if you persevere, almost 80 percent of claims at this level are approved for benefits.
The Administrative Law Hearing is important, because you will actually have an opportunity to give testimony. You can also bring supporting witnesses, and medical and vocational experts who will testify on your behalf. Your Professional Disability Representative will help you prepare at each level, and help you know what to expect at each level of the appeal process.
While you're not required to have an attorney or representative with you at any level of the appeals process, having someone there who's been through the process hundreds of times and who can give advice and encouragement throughout is invaluable. We will appear before the Administrative Law Judge and advocate for you, and even if a rejection is received at this level, there is another level of appeal in the Federal Court system.
What Benefits are Available if I Become Disabled?
Two types of benefits are available under the Social Security Disability program. One is called Social Security Disability Insurance (SSDI) and provides monthly checks to help cover lost income due to the disability. The qualification for this benefit, comes from the years you spent working and contributing to the Social Security System, through payroll deductions. Under SSDI benefits you may also qualify for spouse benefits, or child benefits. We can help you determine which benefits you qualify for.
The other benefit type is called Supplemental Security Income (SSI). SSI is available to claimants who are disabled, and also have less than $2,000 in assets. There is no requirement of work time in order to qualify for SSI benefits. It is based on your disability and lack of income.
The Richard Harris Law Firm helps hundreds of SSD applicants every year.
Our attorney's and Professional Disability Reps assist with hundreds of applications each year. The reps at the Richard Harris Law Firm have been doing Social Security Disability for years. They know how the appeal process works and will be there every step of the way to guide and advise you through the process. If you have become disabled and are considering having a lawyer represent you with SSA, call us today for a consultation at (702) 444-4444.