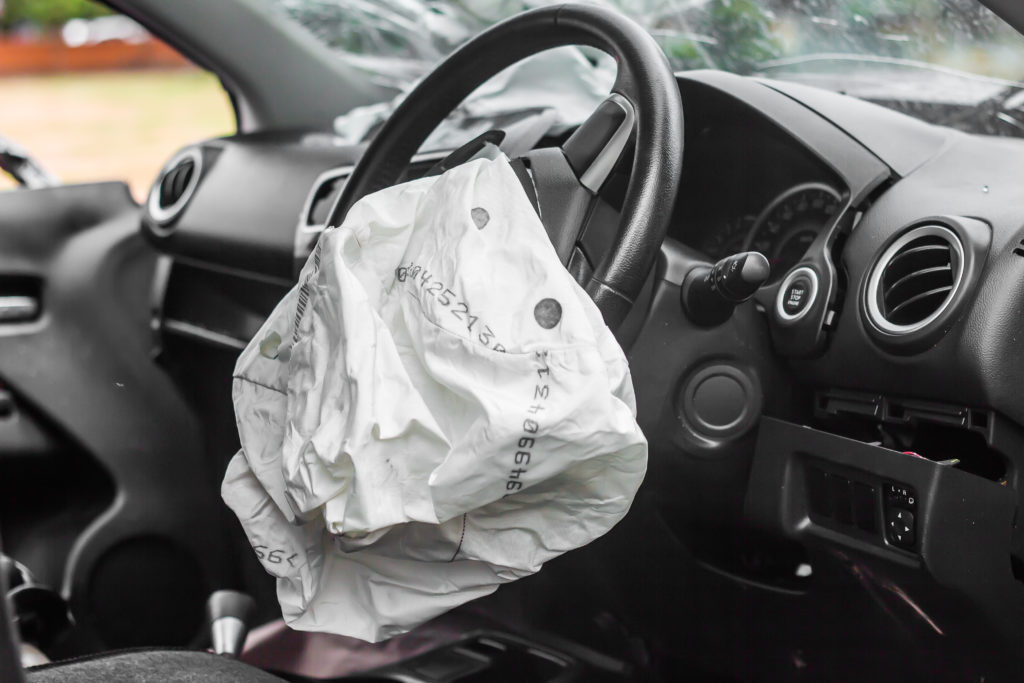 On March 3, 2017, Karina Dorado, 18, of Las Vegas, was driving her Honda Accord, which her father had purchased for her to drive to and from her job, when she got involved in a relatively minor traffic accident, caused by the other driver. However, the vehicle she was driving was equipped with a Takata Airbag, which deployed and sent shrapnel into her throat. After being rushed to a trauma center, surgeons removed several pieces of the airbag inflator from her vocal cords. She is now recovering.
What the family didn't know, was the vehicle had been declared a total loss due to an accident in which that vehicle had been involved in Phoenix in 2015. The vehicle had been purchased with a salvage title and had been repaired and resold in Las Vegas in March 2016 when Karina's father, Jose Dorado, purchased the vehicle. Furthermore, the family didn't know that when the car was repaired, a recalled Takata Airbag inflator had been installed in the vehicle.
Recalled Airbag was in the Vehicle
Honda engineers who inspected the vehicle after Karina's accident found that the serial number of the airbag was originally sold in a 2001 Accord, and although an airbag recall for that vehicle had been issued, it had never been replaced. Eventually, the inflator made its way to the body shop that repaired the Dorado's vehicle prior to their purchase. All of this is legal, as there is no federal or state agency that monitors such transactions.
The particular inflator involved in this accident uses ammonium nitrate as the propellant that explodes causing the airbag to inflate. Under normal circumstances, the canister in which the airbag is housed contains the force and directs it into the airbag. It has been found that when this type of airbag has been exposed to heat or humidity over time, that the propellant becomes unstable and burns faster than expected, which can rupture the airbag canister, sending pieces of the canister flying at a high speed into the passenger compartment of the vehicle.
Regulatory Action and Consumer Lawsuits
Karina is one of nearly 200 people who have been either injured or killed by Takata airbag inflators. Takata, a Japanese company, has supplied airbags to numerous brands of vehicles, such as Honda, GM, Ford, BMW, Mercedes Benz, Volkswagen, and many others over several years. Takata is currently considering a nearly $1 billion settlement with the U.S. Department of Justice (DOJ) over criminal charges associated with its recall of tens of millions of defective airbag inflators. This follows a settlement agreement already reached with the National Highway Traffic Safety Administration (NHTSA) wherein Takata was fined $200 million.
Neither of these actions resolves civil actions being undertaken by injured consumers or their surviving loved one who were victims of this defective product. It is estimated that nearly 70 million vehicles are currently involved in recalls associated with this type of Takata inflator.
Nevada Takata Airbag Lawsuits
The Takata Airbag is a dangerous product. Manufacturers are required to supply safe products to the consumer market. This product has been recalled from the market. However, due to lack of action by the manufacturer to adequately warn consumers of the dangers of this product and to have it replaced by a safer alternative, if injured or killed by a device of this kind, you or your loved ones may have a cause of legal action.
The Richard Harris Law Firm represents people who have been injured or killed due to the Takata Airbag. If you or a family member has suffered injury or death due to a Takata Airbag, call us today to discuss your potential case at (702) 444-4444.
Read More:
http://www.ktnv.com/news/attorney-faulty-airbag-nearly-cost-victim-her-life
http://news3lv.com/news/local/deployed-airbag-injures-woman-following-crash-on-the-eastside-of-the-valley
https://www.nytimes.com/2017/02/27/business/takata-airbags-automakers-class-action.html?_r=0
http://www.aboutlawsuits.com/takata-airbag-settlement-117357/