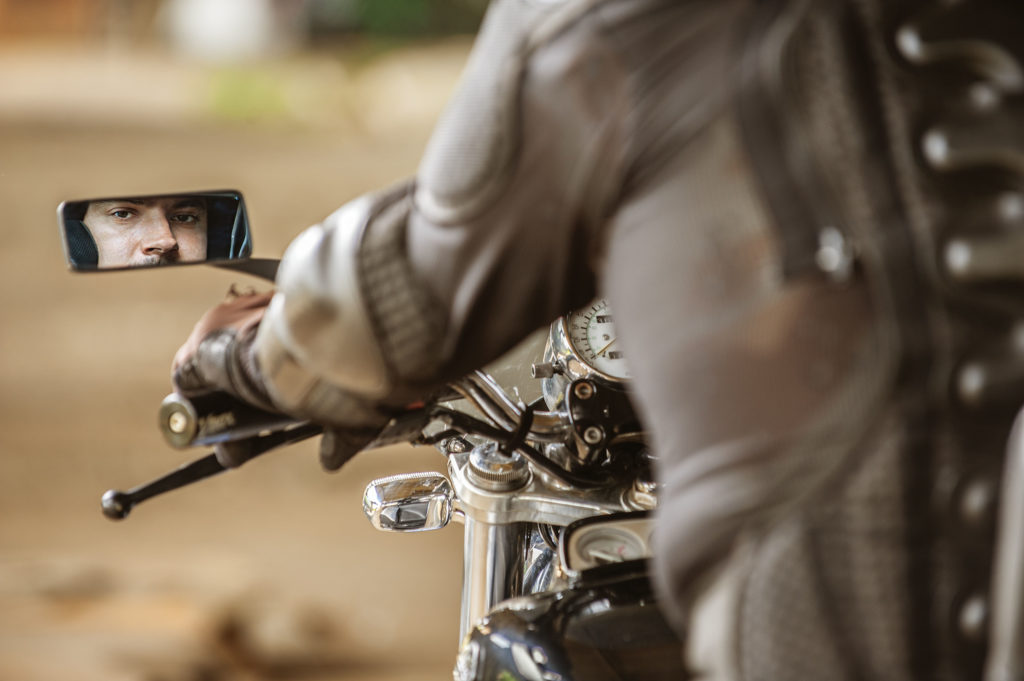 We've written about motorcycle safety previously on this blog, but unfortunately motorcycle fatalities in Clark County are still a growing problem. The State's Fatal Accident Reporting System (FARS) final report for 2016 shows a 53-percent increase in motorcycle deaths from 2015 to 2016, with 49 motorcycle fatalities in 2016.
Peter Vander Aa, administrator of the Nevada Department of Public Safety (DPS) Motorcycle Safety Program, says it's difficult to pinpoint an exact reason for the spike in motorcycle deaths. "Impaired riding remains the number one cause of motorcyclist fatalities," he said. "The incidence of drugs, or a combination of drugs and alcohol, has been rising steadily in Clark (County), and statewide, since 2013."
He continues that the unique characteristics of motorcycles present challenges from a public safety standpoint. "Motorcycles do not have bumpers, crumple zones, airbags, and a metal structure around them," Vander Aa said. For motorcyclists, "the only protection is the riding gear they are wearing.
The Nevada DPS indicates that motorcyclists are 26 times more likely to die in a traffic crash than a car occupant. This is in spite of the fact that the number of motorcyclists on the road is remaining nearly constant. In the last five years, motorcycle registrations are only rising roughly two percent per year.
Safety Tips for Motorcycle Riders
In 2013, we published a set of tips for motorcycle riders, and with the increasing number of fatalities, we offer these tips again.
 Take a motorcycle-training course.
As Honda's Jon Seidel states: "There is nothing we could say or advise more than to go find a Motorcycle Safety Foundation (MSF) riding course in your area. That's critical, absolutely critical."
The MSF is the foremost national organization promoting motorcycle safety. They have developed courses for riders ranging from beginner to advanced riding skills. Costs range from free to about $350, and some dealerships provide such training as part of the purchase of a new bike. Course completion may provide eligibility for discounts on insurance, and some states give credit toward obtaining the motorcycle endorsement on your driver's license. Talk to your dealership to find out about MSF or other like training organizations.
Build your skills.
Motorcycle riding is more than driving a motorcycle. It is a completely different skill set. Balance and coordination are required to ride a motorcycle to a much greater degree than driving. Especially if you're a new rider, take time to learn and build the muscle memory it takes to ride a bike. Stopping requires more than pushing a single pedal as in a car. An emergency stop requires a large amount of skill to successfully execute. Don't ride in a manner more advanced than your skill set can support.
Be Defensive.
Riders…to be blunt, by its very nature your vehicle is more dangerous than a car. If you wish to be safe on your bike, stay out of blind spots, and make sure drivers of cars and trucks can see you.
Unfortunately, roads are built predominately for cars, there are more cars on the road, and you need to accept the fact – when you're on a motorcycle with cars and trucks on the road – you're in a dangerous environment. Drivers are enclosed with either wind noise, or soundproofing (if the windows are closed) they can't hear you coming and may not see you, and if the driver is texting or talking on the phone, the driver may not be paying attention. When, or if the car changes lanes and you're in the blind spot, you may be completely within your rights, but you're going to lose that contest.
Accept this as a condition of the road, and ride accordingly.
Wear a helmet.
Riders without helmets are 40 times more likely to suffer a fatal head injury, and three times more likely to suffer brain injuries than those with helmets. Full-face helmets with a DOT certification sticker are the best choice. Helmets today are light and comfortable. If you want to protect yourself, wear a helmet.
Be alert at intersections.
Nearly 70 percent of motorcycle-vehicle collisions occur at intersections. Vehicles may turn in front of you or pull out from a side driveway or street. Slow down, check traffic, check traffic again, and be prepared to react quickly.
Assume you are invisible to other motorists and operate your motorcycle accordingly. Position yourself to be seen. Avoid the "No Zone" or blind spots on the right and left side of cars about even with and behind the rear wheels of the car.
The Richard Harris Law Firm Motorcycle Accident Lawyers
If you've been in a motorcycle accident and suffered injuries through no fault of your own, we want to be your go to law firm. Call us today to discuss your situation with our representatives. We will provide the kind of representation that will help you obtain fair compensation for your injuries. Call us today at (702) 444-4444.