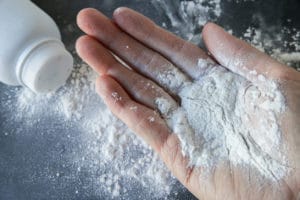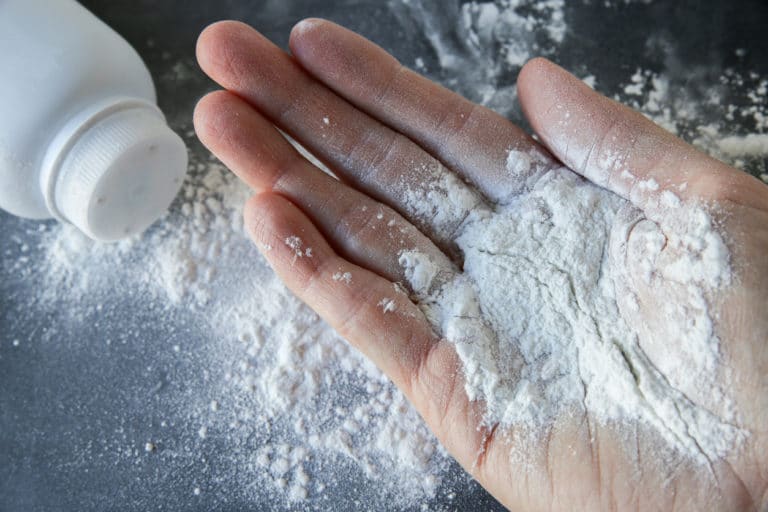 Johnson & Johnson (J&J) announced in late May 2020 that the company will no longer sell talc-based Baby Powder®, and Shower to Shower® in the U.S. and Canadian markets.  The move comes as the company finds itself under increased pressure from legal action by consumers, the Federal Government, and the majority of U.S. states for failing to warn users of these products of potential dangers of Ovarian Cancer and Mesothelioma by use of the products.
There are currently nearly 20,000 lawsuits in the United States in federal and state courts claiming damages against J&J for failing to warn users of the dangers of product use and concealing their knowledge that the talc products they were selling contained trace amounts of asbestos, a known carcinogen.  At the federal level, over 17,000 lawsuits have been consolidated for pre-trial discovery and motions into a Multi-District Litigation (MDL) in the Federal District Court of New Jersey presided over by the Honorable Freda Wolfson.  The remaining cases, nearly 3,000, are working their way through various state courts across the nation.
As these lawsuits proceed, the U.S. Department of Justice (DOJ) has launched a criminal investigation into J&J's knowledge of potential risks associated with the use of talc in its products; 41 state Attorneys General have joined in an investigation of J&J's marketing practices for talc containing products; and a Congressional subcommittee concluded a 14-month long investigation finding that J&J knew for decades that talc products they were marketing contained asbestos.
Talc and Asbestos
Talc the primary ingredient of talcum powder, is a mineral mined from the earth, then milled and refined into talcum powder.  Refined talc is used in industrial processes as a lubricant and absorbent of moisture.  Talc by itself presents potential problems when absorbed into the human body, as the body has no good way of breaking down the mineral.  As early as 1971, a study by British researchers found talc particles in the three fourths of the ovarian tumors they studied.  While a significant statistical relationship has been found between talc use and ovarian cancer, no causal link has been established.  However, studies of the accumulation of talc within the human body have warned of potential dangers since the 1970's.
More troubling is that talc is often found with asbestos mixed in, or adjacent to the asbestos mineral during the mining and refining process.  J&J has assured the public that its talcum powder products have been asbestos free since the 1970's, however tests of off-the-shelf Baby Powder and Shower to Shower containers during the ensuing decades have shown anywhere from trace amounts to surprisingly high amounts of asbestos contained within the finished product.
Verdicts in Cases favor Plaintiffs
Lawsuits against J&J by victims who later developed cancer have settled, with the earliest settlement in 2013.  The great majority of cases settle in favor of the plaintiffs with juries awarding significant punitive damages to the victims.
2013 – Berg v J&J.  Plaintiff alleged J&J knew about a link between talcum powder and cancer as early as 1982.  Jury found for the plaintiff and found J&J negligent, and guilty of fraud and conspiracy for not warning users of cancer risks of product use.
2016 – Three cases settle in Missouri state courts with three different juries awarding large damage awards to the plaintiffs.
Fox v J&J – February 2016 – Jury awards $72 million. Plaintiff died due to ovarian cancer alleged to have been caused by use of J&J talc products.
Ristesund v J&J – May 2016 – Jury awards $55 million. Plaintiff developed ovarian cancer and was a frequent user of J&J talc products
Giannecchini v J&J – October 2016 – Jury awards $70 million to plaintiff. Plaintiff developed ovarian cancer and was a frequent user of J&J talc products.
2018 – 22 Missouri women sued J&J due to ovarian cancer they maintain was caused by use of J&J talc products.  Jury awards $4.7 billion to plaintiffs.
2019 – Leavitt v J&J.  Jury in Alameda CA found in favor of plaintiff who alleged J&J talc products caused her mesothelioma.  Jury awards $29 million to plaintiff.
The previous cases were all in state courts.  In the federal court system, a series of representative cases are being prepared as bellwether cases in the MDL established for federal level cases against J&J.  While none of the cases have concluded to date, recent court orders from Judge Wolfson have paved the way for those cases to move forward.  Each of these cases will settle on the merits of the individual cases, however the results of bellwether cases can indicate how juries react to the evidence presented and, in many cases, can persuade a losing defendant to negotiate a global settlement for the outstanding cases, rather than face additional trial losses.  To date, J&J has appealed all judgement against them, and vow to continue to defend their products as being safe to use.
Supplier of Talc files Chapter 11 and sets up fund for future claims
In May 2020, talc mining company Imerys SA agreed to sell their North American mining operations at auction and allow the proceeds of the sale to be used as a settlement fund to settle over 14,000 lawsuits which claim the mineral caused cancer.  Imerys is J&J's sole supplier of talc.  Imerys has been in litigation for over 6 years and this settlement will end their involvement in the claims.  Cases against J&J will continue.
The Richard Harris Law Firm represents victims of Talcum Powder use
When companies sell products that they know or should have known present a risk to its users, they have an obligation to warn the consumer of the potential risks.  Court documents reveal that in the case of Baby Powder® and Shower to Shower ® J&J has shown a pattern of concealing and attempting to suppress studies which show potential harm to users of these products and continue to maintain and market the product as safe to use, while refusing to include warning labels of potential dangers.  If you have been a user of J&J talc containing products and later were diagnosed with Ovarian Cancer or Mesothelioma, you may be entitled to compensation to cover your claim.  Call our office today to discuss your potential case at (702) 444-4444.
Learn More:
https://globalnews.ca/news/6962555/johnson-johnson-baby-powder-pulled-canada-us/
https://www.cbsnews.com/news/johnson-johnson-talc-baby-powder-discontinued-us-canada-asbestos-claims-denied/
https://www.reuters.com/investigates/special-report/johnsonandjohnson-cancer/
https://www.reuters.com/article/us-johnson-johnson-talc-ruling-idUSKCN2292QC
https://www.cnbc.com/2019/05/31/johnson-johnson-must-pay-300-million-punitive-award-in-talc-case-company-will-appeal.html
https://obgyn.onlinelibrary.wiley.com/doi/abs/10.1111/j.1471-0528.1971.tb00267.x
https://pubmed.ncbi.nlm.nih.gov/7083145/
https://onlinelibrary.wiley.com/doi/full/10.1002/ajim.23106
https://www.insurancejournal.com/news/national/2020/05/18/568967.htm
https://www.imerys.com/sites/imerys.com/files/2020/05/15/Imerys_Talc%20AgreementPres_May%202020_EN.pdf