2016 Students with a Cause Submissions
Mackenzie Aker and Sabrina Arrington
Palo Verde High School
Video Description: This video is made of tips for people who love going on walks or walk from from school/work."
Jordan Dailey – WINNER
Palo Verde High School
Video Description: Texting and driving makes a person more likely to crash. Put your phone away when driving, just in case.
Kylie Staudenmaier and Talia Tenney
Palo Verde High School
Video Description: Don't drink and drive…just in case! You never know what could happen when you get behind the wheel after drinking.
Kevin Camelo
Southwest Career and Technical Academy
Video Description: A drivers license gives teenagers and young adults the freedom to explore, but what happens when freedom turns into tragedy? Who's responsibility is it? This video highlights the all too common speeder, and the responsibility that they hold. Meant to be shown on a social media platform such as Instagram, this video directly hits the hearts and minds of viewers, leaving them with the message to follow the rules of the road, #justincase."
Abby Stockwell
Palo Verde High School
Video Description: A stop motion of road obstacles to remind everyone to be aware of the road Just In Case.
Dominic Alexander
Palo Verde High School
Video Description: Robert is a young, law-abiding man, whom one day makes a fatal mistake whilst crossing thy road. #JustInCase
Dominick Alcala
Palo Verde High School
Video Description: Pedestrian safety. Look both ways before crossing street.
Madison Scinta
Palo Verde High School
Video Description: Our video is meant to portray the importance of locking your doors, just in case, because you never know if someone will try to enter your house uninvited.
Noah Badua
Palo Verde High School
Video Description: Our video is about littering. We give out facts from websites we researched about littering. And we demonstrate the action of the subject in our video.
Skyler Huang
Palo Verde High School
Video Description: Don't talk to strangers online!!! You never know who is behind that computer!
Carlos Garcia
Palo Verde High School
Video Description: A couple of thugs take advantage of someone not protecting their personal information. Always be aware of security threats to your identity!"
Anthony Adamyan
Palo Verde High School
Video Description: Make sure you wear a helmet! It will greatly make your life better and safer! #justincase
Tiffany Voss
Palo Verde High School
Video Description: Video made by Yasmine Tovar and Tiffany Voss from Palo Verde High School. Bullying should not exist and you shouldn't put your hopes down just like believing in pigs flying.
Alyssa Tygh
Palo Verde High School
Video Description: A tip if you are a new driver on the road!
Juan Pablo
Palo Verde High School
Video Description: Just in case someone asks for your personal information.
Seth Popham
Palo Verde High School
Video Description: A POV short telling witnesses of crimes to speak up, just in case they're next.
Hannah Schneidman
Palo Verde High School
Video Description: This video is about some quick tips for internet safety. We all know it's not the safest thing in the world, but hopefully these quick tips will help students know about the safety of it and what not to do on the internet.
Janisse Badere – WINNER
Chaparral High School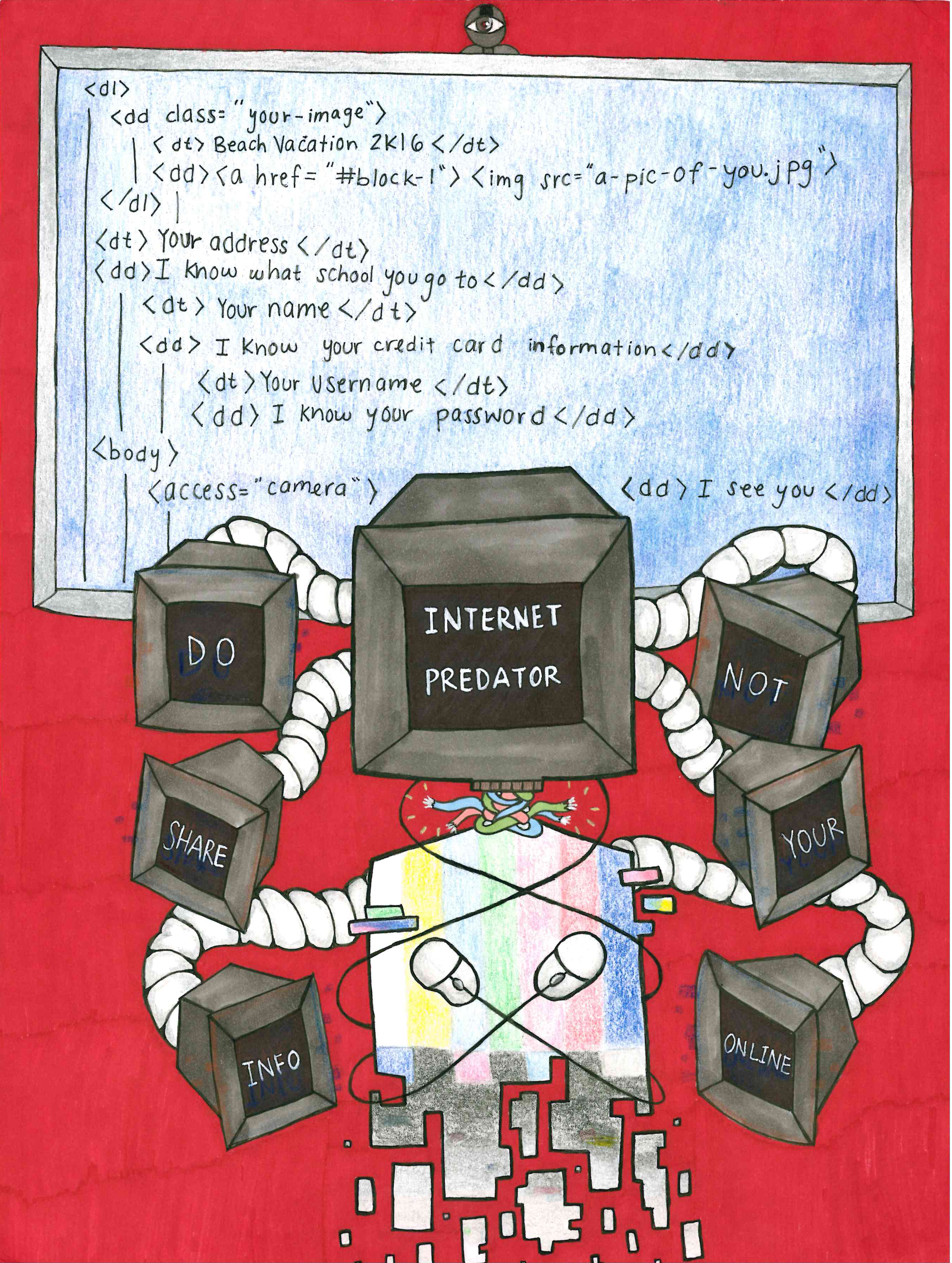 Artwork Description: My artwork represents the consequence of talking to strangers online and revealing your information which includes the fearful outcome of a hacker being able to discover your location, credit card information, or simply who you are. This crippling reality can be avoided before the worst happens by remembering to always stay safe online.
Anjelika Carson
Southwest Career and Technical Academy
Artwork Description: I tried to fit the "Preparations to make for an emergency" part of – theme. It wasn't exactly preparing for it, but I used items that people should be aware of to prevent one. The bottom half pertains to when you're driving, and the top half pertains to general safety equipment that should be used to prevent an emergency or used during one.
Short Story and Poem Submissions
Katherine Metzger
Northwest Career and Technical Academy
Description: This is a poem I wrote about all the things you should do or have to be prepared for unexpected situations.
When something wild happens
And you get a little scared
Don't worry, panic, or freak out
Just next time, be prepared!
If you're going on a hike
Bring an umbrella for the rain
And if you drop spaghetti on your new white shirt
There's no need to complain
Just throw it in the wash
(as fast as you possibly can)
And use the special cleaning spray
Which you should always have on hand
If your flashlight batteries burn out
I know you will not shed a tear
Because you'll remember the extra pair
That you always keep so near
Always keep some band aids
For little scrapes and cuts
And keep a good spare tire on your car
Or else it'll drive you nuts!
Keep a tool bag handy
For quick fixes around your home
And bring an emergency radio
No matter how far away you roam
Soon you will discover
If you haven't learned it yet
That life throws curveballs everyday
But there's no need to fret
As long as you prepare
And plan for a rainy day
You'll have everything you could possibly need
And you'll be on your way!
Ingrid Oliver Mori
Legacy High School
Description: The submission is a short story based on a true story that I experienced and thought it was applicable for the theme proposed.
The unexpectancies of life
During my fourteen years of life I have encountered many "Just in cases." From moving countries to moving schools countless times. I have been through many situations that I had to learn new languages. I have also been through a circumstance in which I had to learn how to adapt myself to new environments. Just in case I would have to face everything again, I will work hard in order to accomplish my goals and make them come true. Just in case someone criticizes me, I would take it only as simple advices for me to improve myself.
At the age of three I had to adapt myself in Japan. It was not actually hard for me because I was just a little kid and I did not even care about moving to new countries and making new friends. Since then, I had to go back to my original country, Brazil. I was born in Brazil and I spent my whole childhood there. I had a lot of friends and I was already adapted to it. But the fact that life was getting harder for us and we could not live in Brazil anymore, pushed my family to start a new life in a new country. We decided to live in Peru for three months, but then, my mom wanted to give a better education to my sister and I. Consequently, my sister and I were the first ones to go to the United States. My parents had to stay in Brazil for a while.
Everything was so different from Brazil. In the beginning of this journey, I admit, it was not easy for me and my sister to live without our parents . I believe that moving to the United States was harder than moving to Peru. I had to stay for one year in a program called ESL, which is a program for students that do not speak English. My sister was one of the reasons why I handled these situations. She was always there for me, to help me and support me. And just in case I move out again, I know I will be prepared to face anything.
I would love to have the opportunity to get this scholarship. I am going to make this money useful. I want to be able to retribute all the things my sister and my parents have done for me. I want to graduate from High School and attend an university. And just in case that things do not work out as I want, I will still keep trying over and over again. No matter what happens, I will always have my family by my side and they will always support me and encourage me to have new experiences in my life."
Samantha Fabela-Andaya – WINNER
Advanced Technologies Academy
Description: I am a junior in high school who has learned to recognize the power of the words "just in case."
In adolescence, many of the lessons I learned were through experience; for example, after dipping my fingers into my father's boiling hot coffee when he wasn't looking, I learned to be careful around hot drinks.
There are some lessons, though, that I learned solely by word of mouth. "Just in case," is a generous slice of wisdom that is given by those who wish to spare you some pain and tragedy. At such a young age, there was no way I could have learned about "just in case" without these wise words coming from my mother, father, or sisters. "Just in case" is not only a warning, but a testimony and in most cases, as my family has shown me, a declaration of love.
"Brush your teeth, in case you get cavities."
"Don't run down the stairs, in case you fall."
"Be nice to animals, in case they try to bite."
As I grew older, started attending school, and developed the ability to make decisions for myself, these warnings increased in frequency.
"Look both ways before you cross, in case a car is coming."
"Don't talk to strangers, in case they try to hurt you."
"We're getting you a phone, just in case you need to reach us."
These cautionary tales continued to come, aging with me. Each time my mother told me, "Keep your legs closed, just in case someone gets the wrong idea," she wasn't trying to make me self conscious or to blame me for provoking thoughts in other people. She was simply admitting that, despite all of her motherly efforts, she can't protect me all the time. When she's not around, these "just in case" premonitions remind me of what might happen if I don't keep my head on straight.
It was somewhere around this time that I finally realized these lessons and suggestions were the results of previous rough experiences and the desire to aid loved ones in avoiding them. So I understood when my sisters gave me a talk about boys, just in case their advice would help me dodge a heartbreak. I soon found myself sharing such admonitions with my nieces, in the hopes of saving them from a mistake or two.
The concept of just in case kind of stuck with me, maybe too much, at times.
Some peaceful and serene mornings, I would wake up panicked and utterly grief stricken, convinced that a family member has died because dreams do peculiar things like that sometimes. When the heartache dulled and my mind emerged from the pool of drowsiness, I realized that the person in my dream is most definitely alive and well.
Worried, I made a point of trying to revive that broken relationship or fill in gaps of lost time with someone, thinking, at the back of my mind, "just in case something happens to them."
This kind of thinking has actually come through in a few, tragic instances.
In the ninth grade, I put together a heavenly sandwich, with lettuce, tomato, turkey, and even an egg, and as I prepared to indulge my creation, I saw my dog sitting idly by, peering at me, in the hopes of getting a treat. I thought to myself, "Why not? He should enjoy the time he has, just in case anything were to happen to him." He was always prone to running out of the house, bolting as soon as the door opened, making us chase him for sometimes over an hour, but when he ran away later that week, we couldn't catch him fast enough and he was hit by a car.
About two months ago, I made note of a journey I took. The note read, "Today, I'm visiting my parents because my father is old." I've been living with my sister since the 6th grade and within the past year, my father's health, both physically and mentally, has been declining. That note I wrote defined a new chapter of my life-one where I am aware that I no longer make playful trips to see my parents. They are trips made out of concern.
I learned I had a right to be worried. A few days after I left, my father was checked into the emergency room for severe abdominal pain and later diagnosed with colon cancer. He was bed bound for weeks; I was glad to have made that trip, to see him walking and laughing, just in case that was the last time I'd see him out of bed. After he was checked in, I went again, to see my dad before he had surgery, just in case the anesthetic was too much for his aging body. His surgery went well, yet every other weekend, I made a trip down there.
His recovery was arduous and, to be honest, surprising, but it's not over yet. He's still fighting the battle and I've learned to be there, just in case he needs me.
"Just in case" is a declaration of love, I understand now, with far more complexity, tenderness, and spirit than anyone recognizes.
Kristina Davidson
Boulder City High School
Description: Using social media on a daily basis is a typical activity in the lives of teenagers. It is a good tool to stay connected but can be very dangerous if people are not aware that they have to be careful about what they post. There are more than 500,000 predators online everyday, according to patch.com, and with that number rising, people need to be aware of what to do in order to prevent the interaction with the predators or else if people are not aware they might decided to hang out with the person who they believe is behind the screen when in reality they can never really tell who that person is. This free verse poem is used as device in order to see just how easy people can contact you and seems friendly even if they are not.
Turn it on,
Check your status,
Follow your friends,
Receive follows back,
Comment on pictures,
Gain some likes,
Harmless.
Desire more followers,
Open account to the public,
Gain followers but not enough,
#follow4follow #like4like,
Follow several strangers,
Harmless.
Post a school photo,
Receive a direct message,
From the unknown
but soon to be known.
Chat for weeks about school,
Harmless.
Decide to meet,
Arrange activates to do,
Plan for a public place,
Populated areas are good.
Nothing could go wrong.
Harmless.
The day arrives
You tell me that you left,
Waiting for me to arrive,
but I am already here.
Waiting for you
Harmless.
The day goes well,
We talk like old friends
I go for a hug,
You fall into my arms
I bring you to my van
Harmless.
People do not worry,
They just think you are drunk,
All because you went public,
You are soon to be private.
I would have never
Found you.
You came to me and now
You will be gone.
Think about your account now.
What will you do?
Once gone your followers will leave
So tell me, was it really worth it,
Following harmless me?"
Pablo Cortez – WINNER
Advanced Technologies Academy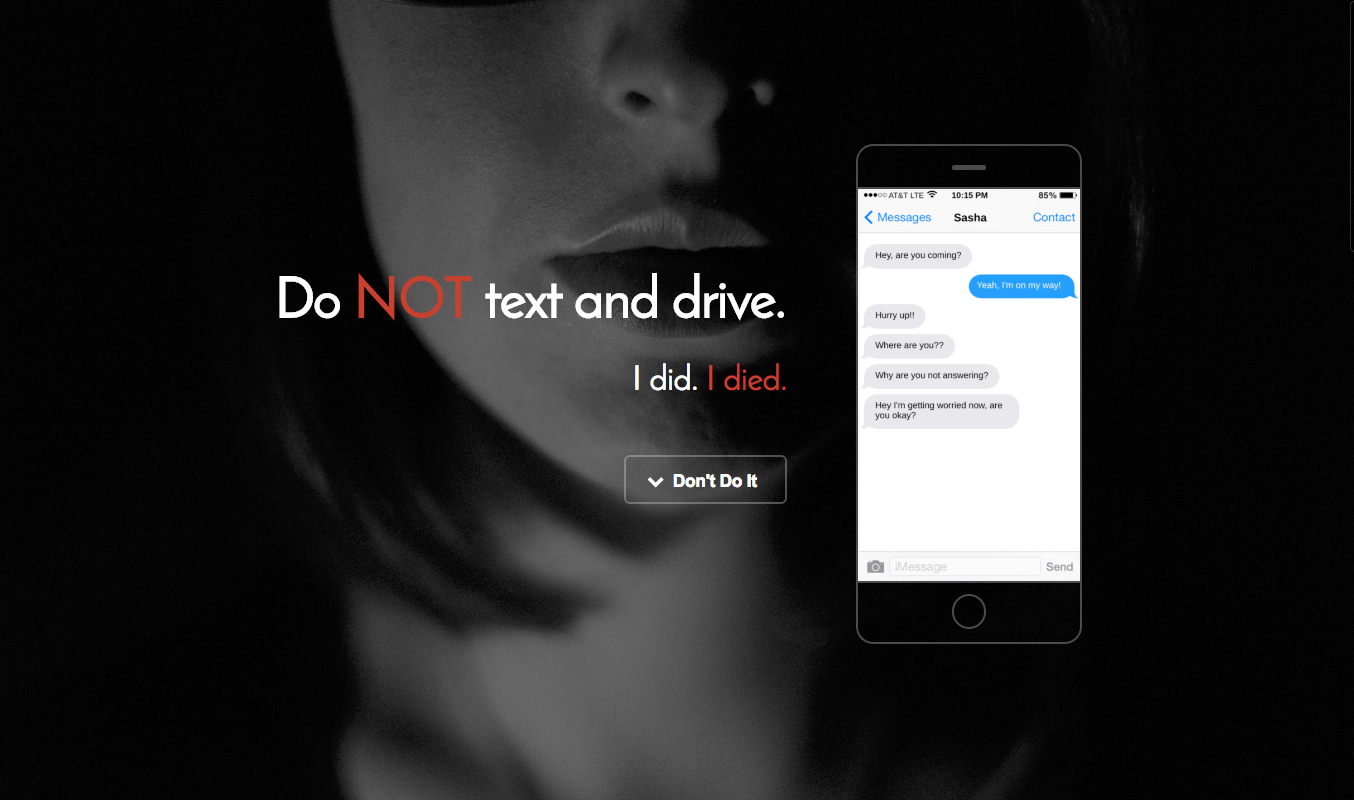 Website Description: My entry is titled ""I wish."" The beginning is written from the point of view of an unnamed girl who dies in a car crash because of texting and driving. The beginning of the website is aimed to be intriguing and even shocking in order to catch the viewer's attention. The rest of the website is aimed to be informative, and reads like a brochure with facts and statistics gathered from the FCC (Federal Communications Commission) and the DMV.
Texting while driving is no minor infraction. I have personally been affected by this by almost getting hit while crossing the street by a woman who was distracted by her phone.
Hopefully, this website can raise awareness to this prevalent issue, not only among teens, but also adults, since this problem affects everyone. (click image above to view website).