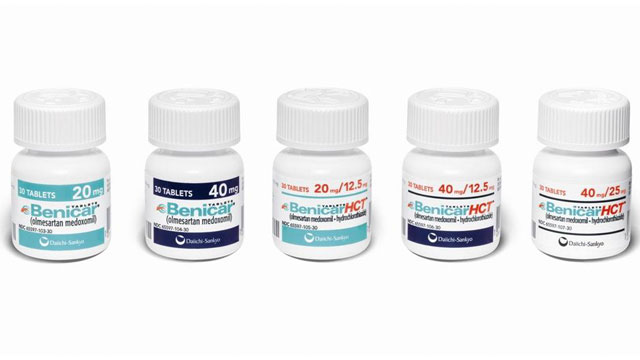 The hypertension (high blood pressure) medication marketed under the names Benicar, Azor, and Tribenzor have been linked by the U.S. Food and Drug Administration (FDA) and others, to Sprue Like Enteropathy (SLE). This drug has an active ingredient of olmesartan medoxomil and is part of a class of drugs called Angiotensin II Receptor Blockers (ARB). It works by dilating the blood vessels making blood flow easier, and thereby reducing blood pressure.
It is manufactured by Japanese pharmaceutical maker, Daiichi Sankyo and marketed in the U.S. by Forest Laboratories. In 2012 over 10 million prescriptions were written for nearly 2 million patients. The FDA approved it for use in the U.S. on April 25, 2002.
History
After more than a decade of use, associations began to surface between olmesartan and the negative side effects of Sprue Like Enteropathy (SLE). Symptoms of this condition include severe chronic diarrhea, substantial weight loss, abdominal pain and fatigue. These symptoms were difficult to associate with olmesartan use, since the onset of symptoms may occur months or years after beginning use.
In June 2012, the Mayo Clinic published findings that associated olmesartan with SLE. When patients suffering from this condition were biopsied showed Villous Atrophy, a condition of the digestive tract where the villi, the small finger like tentacles that line the intestinal wall and are responsible for food absorption, were eroded away, leaving a flat surface. Since food absorption is impaired, malnutrition can be present in the most serious cases.
This study also found that when olmesartan was discontinued the symptoms showed improvement, including the villous atrophy. Prior to this study, many cases caused by olmesartan were mistakenly diagnosed as celiac disease, which is also accompanied by villous atrophy.
At the same time as the Mayo Clinic study, the FDA was finding this same association in their Adverse Event Reporting System (FAERS) and other FDA resources.
One more study published in 2013 concerning celiac disease, found many patients with villous atrophy were not caused by celiac disease, but rather by olmesartan use.
Regulatory Action
The FDA published a Safety Announcement on July 3, 2013 with the results of these studies and required labeling changes for the drugs. This warning included the concern of Sprue Like Enteropathy resulting from use of the drugs in some patients.
Legal Action
Drug manufacturers have a responsibility to warn doctors and patients of possible negative side effects of the products they produce. Due to the failure of Daiichi Sankyo and Forest Laboratories to warn of these side effect, lawsuits were filed, which have now grown to over 1,000.
In April 2015, the suits at the Federal Court level were consolidated into a Multi-District Litigation (MDL 2606) before Judge Robert B. Kugler in the District of New Jersey, for the purposes of discovery and pre-trial motions. These cases retain their individual status and will settle based on the merits of each case, but will be unified in their discovery findings and pre-trail motions. The cases may be remanded back to the court of original jurisdiction after this process is complete.
Nevada Benicar Lawyers
The Richard Harris Law Firm is interested in discussing your potential case, if you were prescribed Benicar, Azor, or Tribenzor for hypertension, and developed Sprue Like Enteropathy, which includes severe chronic diarrhea, significant weight loss, and abdominal pain. If you or a family member have experienced symptoms such as these after using Benicar or its sister medications, call us today to discuss your case at (702) 444-4444.